Construction of a fitness court in Pacific Park enters the second phase this week with additional ground work. Crews were out working Tuesday morning, cementing a blue layer of the project to the concrete foundation. The project should really start taking off, now that the foundation has had the requisite month to set.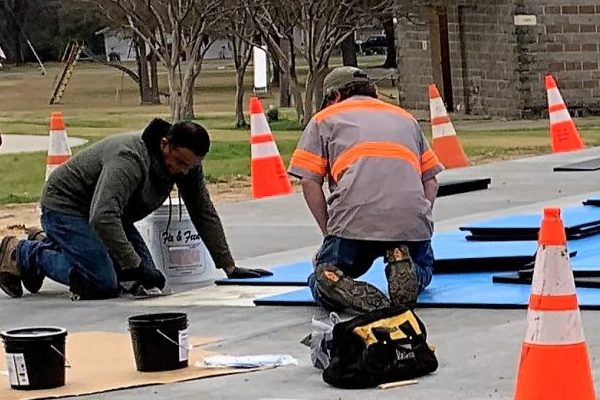 The concrete slab for the fitness court had been poured by Nov. 29, 2021, and is required to set for 28 days before any additional work can commence. Crews had begun taking advantage of the unseasonably warm weather on Dec. 28, 2021, to begin the next phase of construction on the fitness court.
"This is an outdoor gym that offers free fitness opportunities to any residents and visitors and is fully accessible for all ages and abilities," Sulphur Springs Assistant City Manager/Community Development Director Tory Niewiadomski explained during a July 2021 City Council meeting.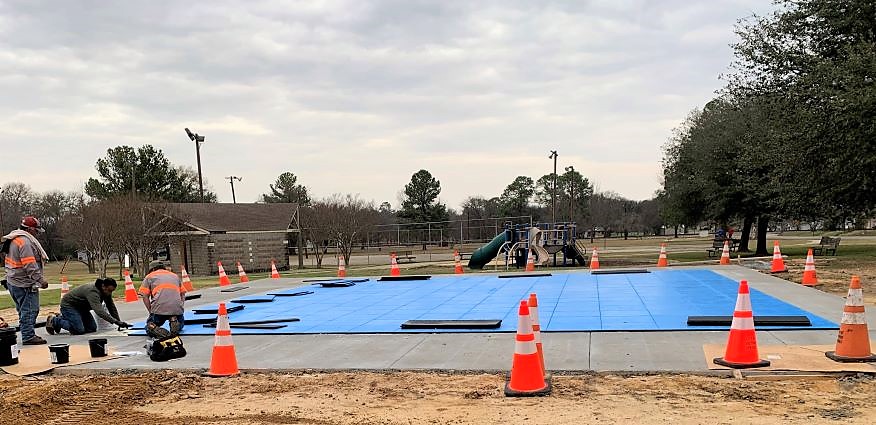 The City of Sulphur Springs applied for and received a $25,000 grant from the National Fitness Campaign to construct a fitness court. After an evaluation of the city's park facilities, the appreciable improvements planned at Pacific Park made it the recommended location for an Outdoor Fitness Court.
The outdoor fitness court is among several updates and renovations identified by the community for Pacific Park during the planning process for an updated Parks and Recreation Open Space Master Plan for city recreational facilities.
Pacific Park Renovations
Sulphur Springs voters in November 2019 approved funding for Pacific Park renovations as well as a new Senior Citizens Center to be constructed on Oak Avenue. Construction of a new Grays Building using that funding was completed in June 2021, along with new sidewalks around the building and front facing parking spaces.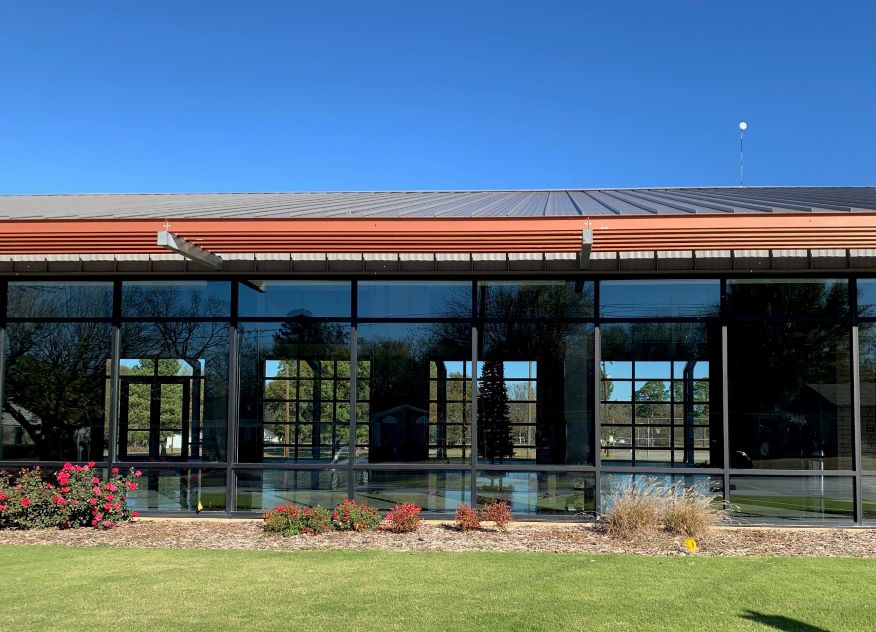 On August 27, 2020, the Texas Parks and Wildlife Department (TPWD) Commission approved the City of Sulphur Springs' grant request for $1.5 million, with a $750,000 match contribution from the city. The TPWD grant will go toward additional renovations in Pacific Park. Crews have already worked on some drainage issues around the park.
New playground equipment, ordered through BuyBoard purchasing cooperative, is reported to be in. The area has to be prepared and weather hold for that project to move forward. The $245,000 project designed by MHS Planning & Design and provided by Whirlix was preferred by 84 percent of community members who responded to a March 2021 online survey.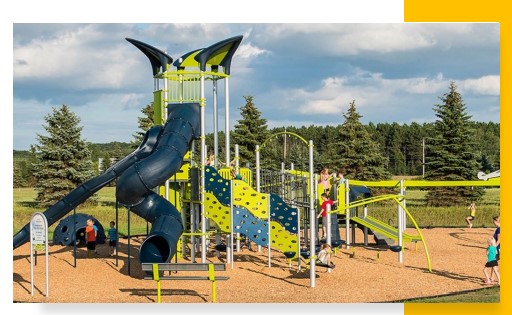 Additional improvements planned at Pacific Park include the basketball pavilion and new restrooms. Walking paths and landscaping are expected to follow thereafter. Funding permitting, city officials are hoping to be able to irrigate the park so that it will continue to be lush like Celebration Plaza.
Senior Citizens Center
Construction of a new activity building for senior citizens using the voter approved funding has been on hold for several months, first due to skyrocketing costs of materials which have contractors holding off bidding on projects and others guaranteeing prices only for a week. Availability of construction crews too has had another impact on construction projects, putting some contractors behind schedule. The city made the decision to hold off for a little while in the hope that construction costs, especially for steel and lumber, stabilize soon. Now, the city is holding off as an application is being prepared for submission for yet another grant.
A Texas Community Resiliency Program grant from Texas Department of Housing and Community Affairs would allow the City of Sulphur Springs to not only enlarge the new Senior Citizens Center building to be constructed on 301 Oak Ave. If fully funded at the requested amount, the new design plan would include all wish list items for the new facility,
The city accepted proposals for grant administration services for the project through 10 a.m. today (Nov. 30). During the regular meeting on Tuesday, Dec. 7, the City Council agreed to contract with KSBR LLC for grant writing services at a rate of 13% of the Community Resiliency Program grant. The city plans to apply for $1.5 million in grant funding, which would double the total project budget. That should not only cover additional costs of materials but also allow the city to increase the size of the new senior citizens center building from about 8,500 square-feet to about 11,000-square feet. That, Niewiadomski noted, is "kind of what our desired output was from the onset, but due to budget constraints we had to reduce things to try to make it work."