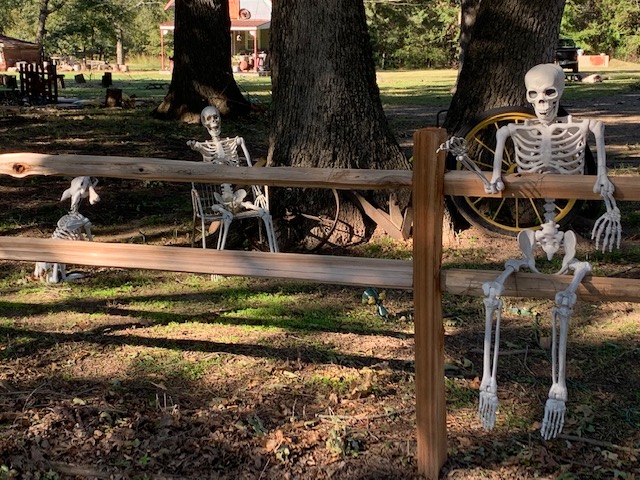 At times, Charleston, Texas can be an exciting place! Like back in 1910 when a 500-pound meteorite fell to earth near the burg of Charleston during the passage of Halley's Comet, bringing some publicity to the community. Nowadays, it's exciting when hunters and fishermen come through on their way to their best spots on the South Sulphur River. And definitely during wedding season, when the Charleston Sky venue brings new folks to town. During the Halloween weekend 2021, I visited Charleston and found it to still be a 'scream'!
HERE'S SOME FACTS ABOUT CHARLESTON, TEXAS FROM THE TEXAS STATE HISTORICAL ASSOCIATION.
Charleston is on Farm Road 895 some nine miles east of Cooper in southeastern Delta County. It is bordered by Evans Branch on the east and McGuyer Branch on the west. The area, originally part of the D. A. Sey Survey, was within Hopkins County until Delta County was formed in 1870. Settlers in 1854 traveled from Charleston, South Carolina, and named the site for their former home. Local residents exploited the abundance of oak and elm trees, and the first local industry was hardwood lumbering.
In 1857 a post office opened at the community, with Zachariah R. Terrell as postmaster. In 1861, during the Civil War, local citizens organized the first Texas militia brigade and chose to fight for the Confederacy. The Charleston school district was organized in 1867. When Delta County and its county seat, Cooper, were established in 1870, the new shipping center attracted much of Charleston's business. In 1884 Charleston had 250 residents, three cotton gins, several stores, two wagonmaking enterprises, a flour mill, a sawmill, a gristmill, a church, and a school.
In 1890 mail was delivered tri-weekly from Paris. The population of Charleston had increased to 400 by 1892, when the community also had a weekly newspaper, the News, and a new municipal government. From 1892 to 1897 A. J. Street conducted a teacher-training school in the community. In 1904 the town had 183 inhabitants. Near Charleston, on May 19, 1910, a 500-pound meteorite fell to earth during the passage of Halley's Comet, bringing some publicity to the community. In the 1920s and 1930s Charleston reported a population of 225, a school, a church, a cemetery, and five or six businesses, including a factory. In 1930 the local school was merged with the Vasco, Cleveland, and Long Ridge districts. Ten years later the school was in East Delta Number 2 District.
By 1950 Charleston's population was 150. A 1964 map showed two churches, a cemetery, and a cluster of dwellings at the site on Farm Road 895. By 1970 local children attended classes within the Cooper Independent School District. The Charleston post office closed in 1972. By 1976 area residents had built the Charleston Community Center. In 2000 the community's population was 120.