Hopkins Energy LLC Agreement Amended By 1 Year, Stampede Solar Road Maintenance Agreement Granted
Sulphur Springs ISD Education Foundation was approved to be submitted to the list of charities to which Hopkins County jurors may donate their daily reimbursement for jury service. Hopkins County Commissioners Court also amended and restated a 381 agreement with Hopkins Energy LLC, a road maintenance agreement with Stampeed Solar Project LLC and financing for an equipment purchase.
Jury Duty Charity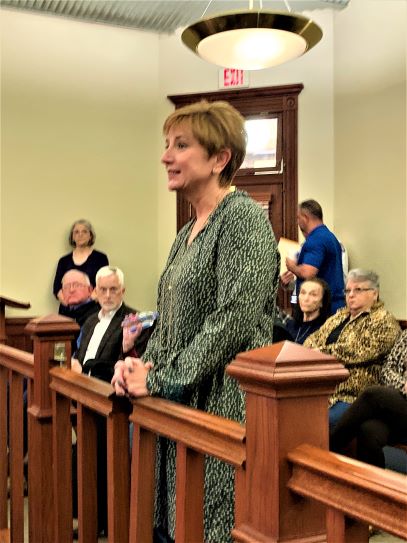 SSISD Education Foundation President Gena Prickette asked the Commissioners Court during their regular meeting this week to consider adding the Education Foundation to the list of possible charitities that jurors may donate their fee to.
The SSISD Education Foundation, she noted, is a nonprofit organization with the sole purpose of supporting the school district. The foundation does that in three ways: through classroom grants teachers can apply to the foundation to request something for their classroom that is outside their regular budget; scholarships to graduating seniors; and to help support paraprofessionals in the district who would like to go back to school to become certified teachers in SSISD by supplementing their tuition on a semester basis.
When asked by Precinct 1 Commissioner Mickey Barker how the program is funded, Prickette said funding comes from private donations which, she pointed out, can be made through the program website, ssisdeducationfoundation.com (which is also accessible from the main page on the school district website, ssisd.net). Donations may be made in honor, memory or support of someone, and can even be a recurring monthly gift. The foundation's big fundraiser is an annual golf tournament.
The Commissioners Court approved the request that the SSISD be considered for addition to the list of charitable organizations Hopkins County jurors can select to donate the funding they receive for jury duty to.
County Judge Robert Newsom said the court would talk with 8th Judicial District Judge Eddie Northcutt, 62nd Judicial District Judge Will Biard and County Court At Law Judge Clay Harrison about getting SSISD Education Foundation on the approved charity list of charities that jury service reimbursement can be donated directly to.
Election Canvassing
Hopkins County Commissioners Court was slated to canvass the county votes from the Nov. 2, 2021 Texas Constituational Amendment Election at the regular meeting Monday, Nov. 8, but postponed doing so until next week in order to meet all legal requirements.
County Clerk Tracy Smith, who also serves as the county's election official, explained that there was one outstanding Federal Post Card Application (which military personnel can obtain for their unit voting officer or service or state department voting action officer for in order to vote by absentee ballot) that could still come in. The law requires that the county give until Nov. 9, for the FPCA to come in by mail.
The vote must be canvassed by Nov. 15, but can be done in a special setting, and only two members of the court required to be present for it, Smith noted.
Newsom told Smith to let the Court know when that will be or they can put it on the next court agenda.
Budget Amendments, Equipment Financing
County Auditor Shannah Aulsbrook presented for and received court approval to make two budget amendments for Precinct 4.
She reported Precinct 4 had received a $4,674.38 in insurance proceeds from a vehicle that'd been involved in an accident, as well as another insurance check for $138,767.50 a tractor that burned. She requested approval to move the insurance funds for the truck into the Precinct 4 repairs and maintenance fund so that the funding can be used to pay for repairs to the truck. The other funds, she said, should go into the Precinct 4 machinery and equipment fund to replace the burnded tractor.
Aulsbrook also recommended accepting City National Bank's quote of 2.55% to finance a Bomag reclaimer, which the Commissioners Court in a previous session granted approval to Commissioner Mickey Barker to purchase for $307,500 for Precinct 1. The county received only two finance quotes for the equipment purchase. Alliance Bank's quote was for 3.25%. CNB was recommended based on the lower rate. Barker plans to put a $50,000 downpayment on the equipment, leaving $257,500 to be financed, with payments to be made over the next 6 years.
The Commissioners Court also unanimously agreed to finance the Precinct 1 equipment purchase through CNB at a rate of 2.55%.
381, Road Maintenance Agreements
Hopkins County Commissioners Court was asked to consider granting Hopkins Energy LLC's request that the 381 agreement with the county be extended or postponed by one year as the project has been "postponed because of various circumstances." Judge Newsom noted the request was no different than requests the county had approved from several other companies.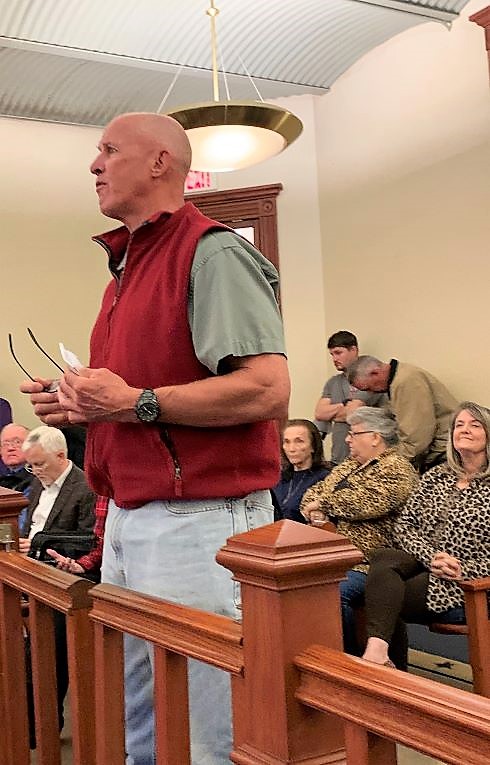 Prior to voting, the court allowed anyone from the community who might wish to speak to do so.
Michelle Barnes asked how community members can get a copy of the agreement, since the Comptroller's office is now taking all paperwork online, not by email or mail. She said it is her understanding the court has 14 days to file the document, and asked how community members would know when it is filed and how they can get a copy of it once it is.
Newsom said the County Clerk's Office would file it. Smith said it would be filed in the court minutes and could be obtained from that. Barnes said she didn't know if it would be available online so she wouldn't have to go see anyone to request it or bother anyone, to get a copy of the document.
The county judge said if an email adress is provided, his adminstrative assistant could email it to her home.
That was the second time Barnes addressed the Commissioners Court during the regular Nov. 8 session. During public forum held earlier in the meeting, Barnes sated that contrary to what Bill Pentak with Open Windows who provides public relations for the parent company behind the planned Dike solar project, Dike residents' efforts to have their community incorporated is not an effort for more government control. She said it is the opposite.
"Well, the main purpose of incorporating is to make sure the people of Dike, Texas are heard before decisions are made that can affect the residents," Barnes said. "That is the main goal that we are having."
Barnes also said, based on her research of Sampson solar facility in Cunningham, she believes the court will "more than likely" receive not only funding from the solar company, but also more money from the people who live around it.
"I have found out that those that lost their ag exemptons, their property tax went up by 90 percent. Properties without ag exemptions in the pastand located at the near fartherest northwest quadrant of the solar power plant saw 7-28% increase in property assessments," Barnes said during public forum. "There was even a property in the middle of Cunningham that had no solar power panels on it that went up by 215%, and even the Cunningham Baptist Church which is tax exempt, they don't owe taxes, their assessment went up 318%. So, all of these raised property values were done from 2020 assessment to 2021, just one year after solar power plant went in.
"So, I and a lot of Dike residents are wondering, what is the purpose of the solar power plant, if you're going to be replacing all of the agriculture with solar power plants. You've already redistricted it to be an industrial thing, what is going to happento the taxes? Are you going to be taking even more money from the residents in Dike by assessing the property taxes that we actually have out there that's compared to right now? And, what's going to happen after the solar power plant?" Barnes asked during the public forum.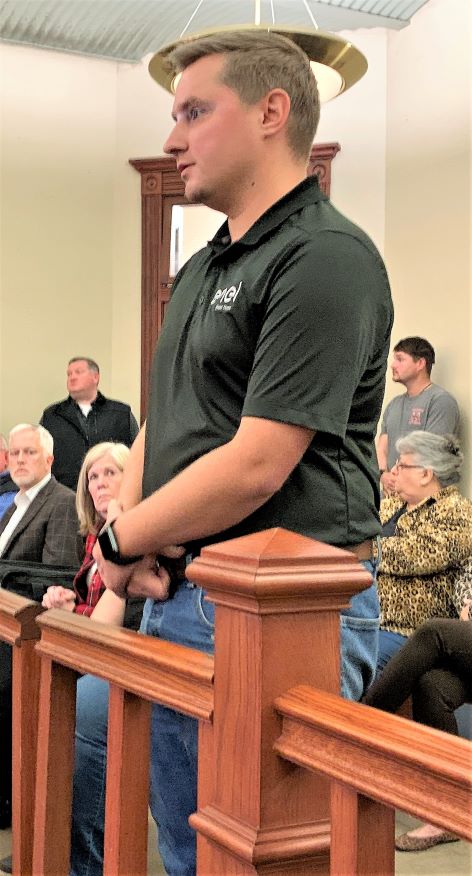 Newsom thanked Barnes for her comments during public forum, but the Commissioners Court did not make any further comments or response to her questions and statements, but instead moved on to the next item on the court agenda.
David Knaus, owner of property on County Road 3520 in Dike, also addressed the court when the amended agreeement and restatement of the Hopkins Energy LLC agreement was presented. He asked if there would be anything specifically that would be different in the amended and restated agreement as proposed.
"It's one year. It extends it one year. Instead of starting in 2022 it starts in 2023," Newsom said.
"So to be clear, the only thing that's been changed is the date. Do we have any dates, the expiration of this agreement, the exact date it will expire?" Knaus asked.
"It will expire in 2032. It's a 10-year agreement," Newsom said."There's a 2023 start, if they do any work befor that time – if the project were to start work in 2022 – because it's postponed, any work before that would be appraised by the local appraisers for the amount of money owed in taxes. The agreement is a payment in lieu of taxes; the first year, the county would receive $400,000, part of which would go toward maintenance of county roads."
He said a payment of $256,000 would then be made for the next nine years. Any agreements between Hopkins Energy LLC and the shools or the hospital district would be separate agreements from the county agreement.
After both Barnes and Knaus' comments, the Commissioners Court unanimously approved the amended and restated agreement with Hopkins Energy LLC as presented.
The Court then was asked to consider approving a road maintenance agreement with Stampede Solar Project LLC. Precinct 3 Commissioner Wade Bartley said it was his understanding the county had received all of the required documents and documentation, including a letter of credit for $50,000, needed for a road maintenance agreement with the company planning the solar project in Saltillo.
Newsom said he had seen the agreement, but had not yet seen the letter of credit, and asked the company representative if he had that ready. Zach Precopia, project manager for Stampede Solar LLC developer Enel Green Power, said the information was emailed on Friday, and the judge's adminstrative assistant should have a copy of it as well.
The road maintenance agreement with Stampede Solar Project LLC received unanimous approval of the Commissioners Court.
Asset Disposal
The Commissioners Court approved disposal of assets from the Civic Center, Precinct 3 and Precinct 4.
The Civic Center plans to place into Auctioner Express' online auction panels, gates, posts, roping shuts, bleachers, folding chairs, and a Kabota tractor with loader.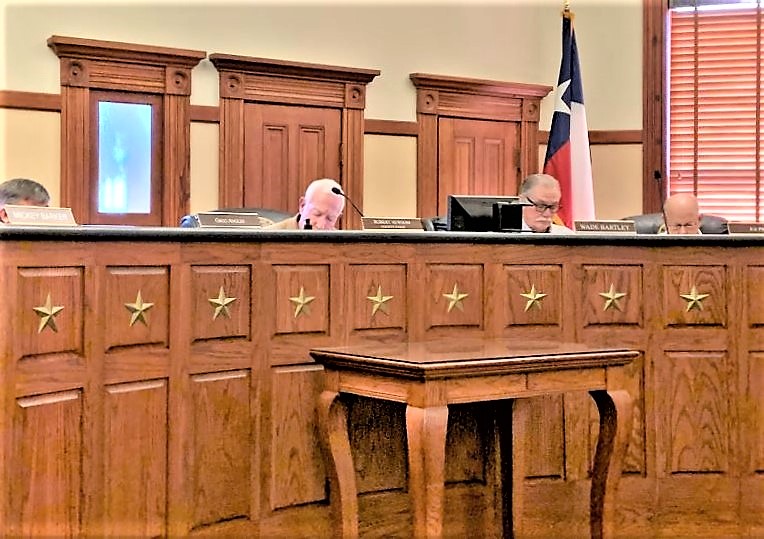 Precinct 3 also has a Ford F250 pickup that Commissioner Wade Bartley said is old and worn out that will be replaced with another service truck, a Miller welder that's also very well worn, an industrial air compressor and possible 1-3 other items that have already been replaced. The air compressor and welder are not dependable, so Bartley plans to replace them with new items, and offer them for auction on November 20 at Calvary Auctions in Commerce.
Precinct 4 had previoulsy put some items in an auction, but they did not sell because they are really old. 1977 chip spreader, boomer mower slide fold joystick and bushog shredder. Those items have been scrapped through Dubb's recycling and received $2,106 for them. Commissioner Joe Price noted the chip shreader did receive a $100 bid, but was worth more to scrap them, so that's how they were disposed of.
Other Business
Precinct 1 Justice of the Peace BJ Teer was recognized for successfully completing 14 hours of training in the medicolegal death investigation, specifically "A Review of Cause, Manner and Mechanism of Death," a course hosted Nov. 1-2 by Legal and Liability Risk Management Institute.