COMMERCE, Texas — Texas A&M University-Commerce will continue its storied tradition of honoring our nation's veterans by hosting the 31st Annual Veterans Vigil. The event is scheduled for Nov. 12, and the theme is "The Forever Oath."
Brigadier General Mike H. McClendon (Ret.) is this year's guest speaker for the opening ceremony. McClendon is a 1975 graduate of the U.S. Air Force Academy.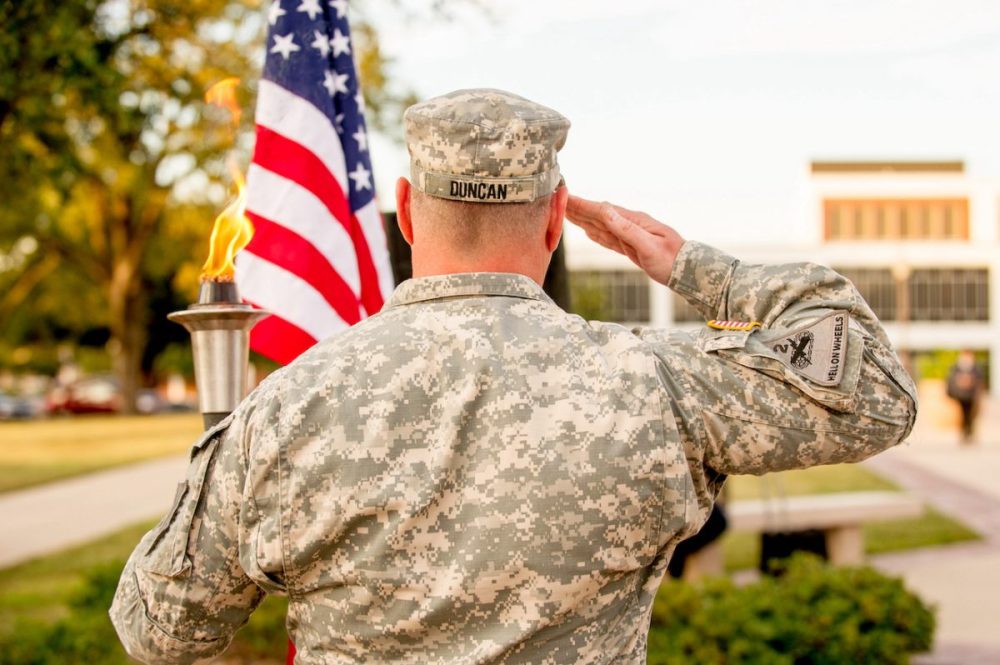 He initially flew the A-7D fighter in Tactical Air Command and was part of the initial cadre to introduce the A-10 into the U.S. Air Forces in Europe. From the USAFE, McClendon attended the Air Force's Experimental Test Pilot School at Edwards Air Force Base in California. He was a chief A-10 test pilot and director of flight tests. He also served as the deputy program manager for the highly classified special program.
Later, he performed consecutive tours with the Air Force in research and development and senior leadership roles, including the F-22 System Program Office, Air Force Material Command Headquarters Directorate of Operations, Air Force Research Laboratory and the former AFC2ISR.
McClendon is a senior pilot with over 10,000 hours in more than 35 aircraft types, ranging from helicopters to fighters to transports. As a civilian, he is a captain for a major airline, flying internationally.
Some of his major awards and decorations include the Distinguished Service Medal, Legion of Merit, Air Force Meritorious Service Medal with four oak leaf clusters, Air Force Commendation Medal, Air Force Achievement Medal, Combat Readiness Medal, National Defense Service Medal with two bronze stars, Global War on Terrorism Service Medal and the Armed Forces Reserve Medal with a bronze hourglass.
A&M-Commerce is proud to announce that scholarship winner Major Christopher Brecheisen (Ret.) will host this year's Veterans Vigil. Colonel James Bass (Ret.) will serve as honorary flame lighter.
From Nov. 9 through 12, veterans will receive a 10% discount in the Sam Rayburn Student Center Bookstore on clothing, supplies or gifts with their military ID or veteran status proof. Veterans will also receive a free lunch courtesy of Sodexo on Nov. 11 with military ID or veteran status proof.
The Vigil will begin with a reception starting at 10 a.m. in the foyer outside Rayburn Student Center Conference Rooms. The opening ceremony will follow at 10:30 a.m. in the Conference Rooms.
Following the opening ceremony, a vigil flame will be lit. It will burn continuously until it is extinguished at the Closing Ceremonies held on the walking mall of the RSC at 4 p.m.
For more information on the Veterans Vigil or activities, view the website at tamuc.edu/Veterans-and-Military-Services or contact Dustin Pearson at [email protected] or 903.886.5123. 
---
About Texas A&M University-Commerce­
Texas A&M University-Commerce serves rural and metropolitan East Texas with a dedicated mission to Educate. Discover. Achieve. With an enrollment of 11,624 students, the university is the third-largest member of The Texas A&M University System. The 2,100-acre Commerce campus provides many opportunities for students to learn and grow. The university offers more than 130 degrees at the undergraduate and graduate levels. A vibrant student experience includes 14 NCAA Division II athletic teams, a thriving Greek system and more than 120 student-led organizations. Classes are delivered on-site in Commerce, Corsicana, Dallas, McKinney, Frisco and Mesquite. In November 2021, the university will open A&M-Commerce at Dallas, located at 8750 North Central Expressway.