Hopkins County Clerk Tracy Smith received approval to enter into a software agreement which will allow her to directly post certain records updates to the county website. A re-plat request, correction to the June 25, 2021, meeting agenda minutes, disposal of two Precinct 3 trucks and a bond for the newly appointed deputy treasurer were also considered Monday by the Hopkins County Commissioners Court.
Software Agreement
Hopkins County Clerk Tracy Smith asked Hopkins County Commissioners Court to allow her to sign an agreement with Integrated Data Services which will better enable her to make available online certain county records. The agreement, for instance, would allow Smith to put Commissioners Court minutes, as well as monthly reports, and election results and information that Smith's office is required to post regarding elections.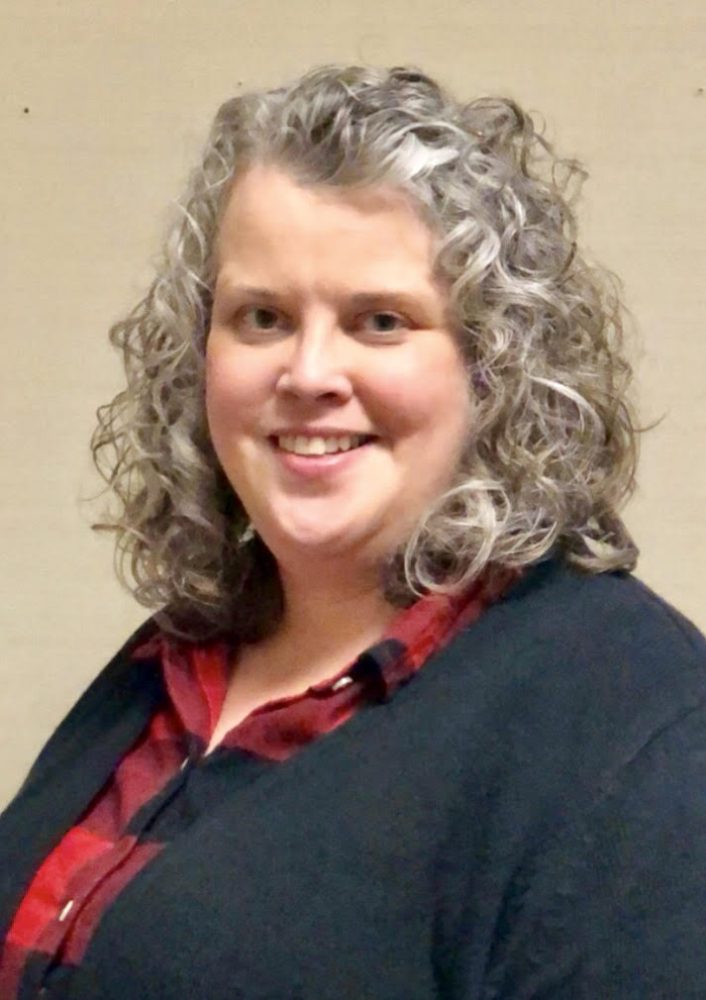 "It's going to be something that I can do myself," Smith said. "We are working on some other things that it maybe could do."
Smith noted the $4,400 is "very reasonable," and includes 16 hours of training and cost of the first year's maintenance. The fee then would only be $1,200 per year after the first year for maintenance. The software service would be paid for out of the county record management budget.
Bill Wilder, who submitted the bid, is a local vendor, Bill Wilder. She said Wilder is already working on a conversion to get some of the county's older commissioners Court meeting minutes ready to be uploaded online.
Precinct 1 Commissioner Mickey Barker asked if other county officials or employees, such as the Hopkins County Judge's Administrative Assistant Donna Goins, would be able to access and utilize the system to make posts, such as Commissioners Court minutes or agendas. Smith said currently Commissioners Court minutes are on Laserfiche, which is not very user friendly.
Wilder's software would enable any of the county offices to post things. It also would make the information more readily available.
"It'll be more like a Google search, Smith said. "So it's going to be easier to find the documents you're looking for."
Currently, the information that is posted on the county website is sent to Texas Association of Counties, who posts it. This will cut out a step, allowing Smith to post information and documents directly herself to the county's website.. The software will be a bit more efficient and quicker.
The request received unanimous approval of the commissioners court.
Other Agenda Items
County Clerk Tracy Smith explained that the property owner requested that the court allow Lot 3 of H.W. White Addition to be re-platted into to separate plats. Lot 3A, as proposed, would be 8.71-acres and Lot 3B as proposed would be 23.60 acres.
Precinct 3 Commissioner Wade Bartley reported he has two trucks, a 2015 GMC C55 cab and chassis and a 2008 Dodge 1-ton crew cab, cab and chassis, that he wants to sell at Cunningham Auction in Commerce on Saturday. The motor in each truck has gone bad and needs to be replaced, which would cost more than the vehicle is worth, so he would like to try to sell rather than repair them. The rest of the court gave unanimous approval for the trucks to be sold at auction.
The consent agenda, which included a correction to the June 25, 2021, regular meeting minutes, as well as minutes from the June 25, 2021, work session were approved by the Commissioners Court. The revision corrected the time frame for the county's health program; the approved program is for the 2021-22 year, according to County Judge Robert Newsom.
Also approved was the bond for the deputy treasurer, approved as a transfer from human resources to the treasurer's office to better align with state law, and paying of bills, , revenues and expenses, payroll and financial statements as presented.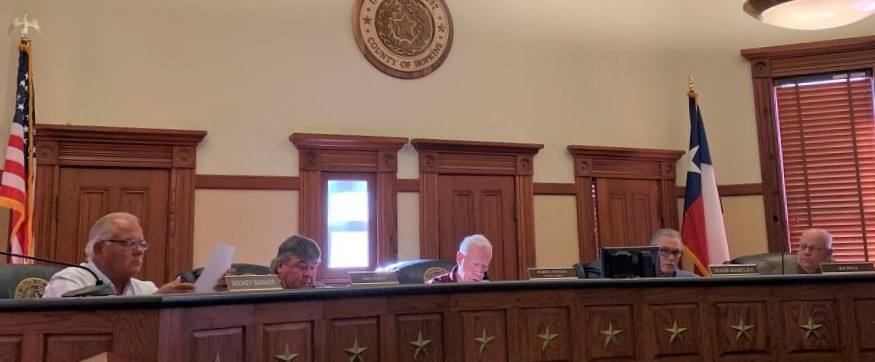 Public Forum
Dike resident Michele Barnes also addressed the Commissioners Court during public forum Monday, borrowing quotes from "powerful people of the past" to help further describe her disapproval of and to challenge of the elected officials' decisions regarding the solar facility planned for development in the Dike, Texas community. She quoted Thomas Jefferson, John F. Kennedy, Martin Luther King Jr. and Ronald Regan.
Thomas Jefferson, Barnes noted, predicted "future happiness for American" if the government is prevented from "wasting labors of the people under the pretense of taking care of them." Newsom, she said, has cited the 400 jobs construction of the power plant will bring to the community as cause for approving a tax incentive which the solar company sought in order to build in Hopkins County. Barnes, however, contends that most of those jobs will be "brought in by Engie's list of contractors." The economic growth from construction workers renting spaces for RVs, being fed at local restaurants and receiving other services provided by local businesses might help the Sulphur Springs community but won't directly help Dike and its residents.
She accused the Commissioners Court of "hiding the truth of what was really going on" by calling the project a solar farm instead of a "huge power plant with sub-stations and inverters." She said if the Commissioners Court had talked to Dike residents regarding the solar project they would have quickly learned that "no one wants this solar plant in our community." Granting the agreement with the solar company, Barnes contends, showed that "Dike residents mean nothing to Hopkins County," that money is more important to them than repairing roads properly instead of "throwing rock, tar patches – on our county roads."
"This Commissioners Court did not realize they woke up a sleeping giant, and the Dike community will not stop fighting until Hopkins County and Engie stop building. You should each be concerned with the people that elected you into office to take care of them – that that live in the county, not the city of Sulphur Springs," Barnes concluded.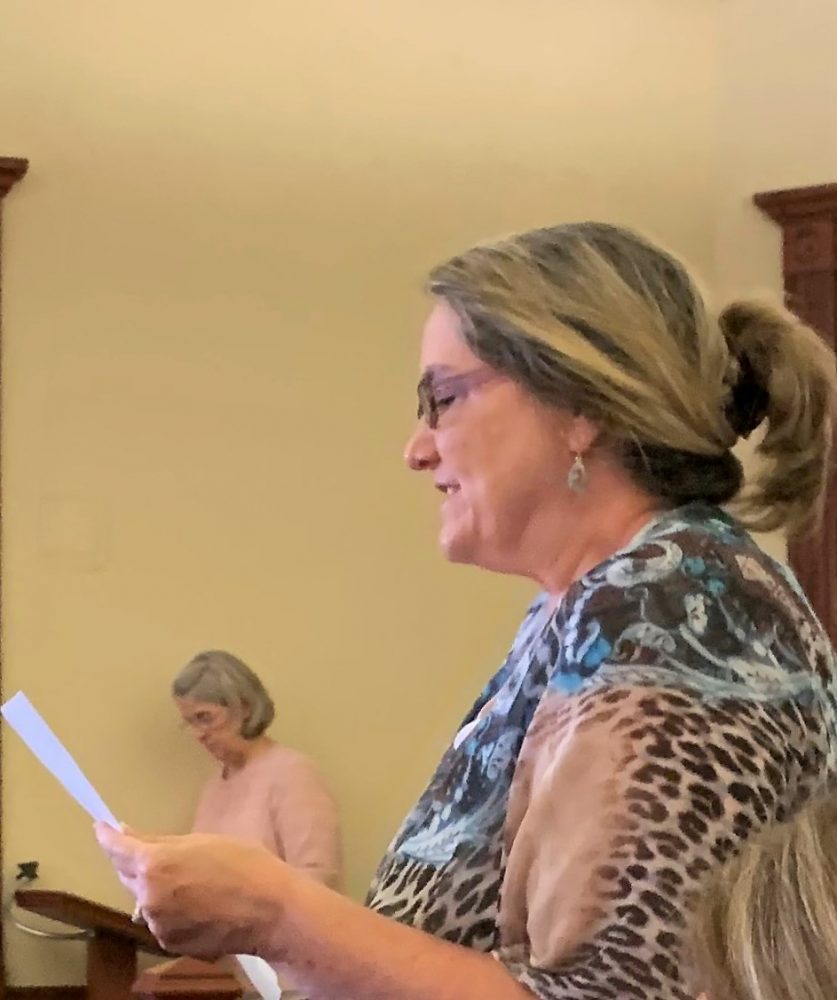 "It is somethings that I believe is going to be a benefit to everyone as a whole for Hopkins County. I realize it is very difficult for those who are living next door to it," Newsom said, encouraging any who have not yet done so to go see the Lamar County solar farm, as it will be a similar project to the one planned for Dike and show "what we're facing here."
He pointed out that the Lamar County farm in progress encompasses about 15,000 acres as opposed to about 2,000 acres planned in Dike. He then directly asked Barnes if she'd been to see the farm.
She asked if he was talking about the solar farm in Cunningham, and admitted she'd seen the small one that was completed, but was unable to gain access to it because it had fences all around it. The larger farm he's referring to, she noted was and is still being constructed.
"It wasn't loud was it?" Newsom asked.
"Well, it's not done," Barnes replied. "In fact, they were just building the substation."
Newsom encouraged her to go, get out of the car and stand next to the fence at the completed solar farm, to listen to it in operation.
"It's a very quite neighbor. It is there. It's just the way it produces electricity; it's just there. Anyway, we've got a lawsuit going now so we'll see just see how that turns out." Newsom said, referring to the petition Cynthia Martin filed on June 29, 2021, in the 62nd Judicial District Court against Hopkins Energy, LLC, and Hopkins County asking for "equitable relief," a temporary restraining order, as well as temporary and permanent injunctive relief. The county and solar company representatives were notified via certified mail of the 96-page legal document filed, and the
Martin, according to the petition, is seeking "monetary relief of $250,000 or more, attorney's fees of an amount to be determined, and non-monetary relief of declaratory judgment and injunctive relief." The Plaintiff also is asking for a jury trial in this action. The first hearing on the matter is scheduled just after 9 a.m. July 19, 2021, at Hopkins County Courthouse with Judge Will Biard presiding.