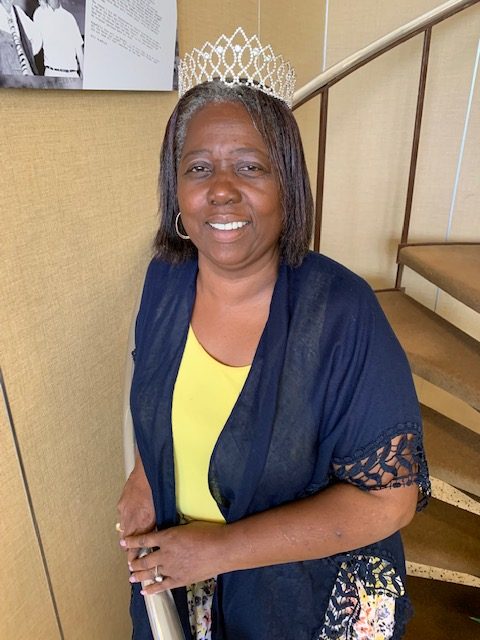 A servant's heart and an encouraging smile are the first things you notice when you meet Vender Wright, a 2019 contestant in the local seniors pageant. Little did anyone know what lay ahead for all of us in the months to follow in 2020, the year of the Covid-19 pandemic. Vender's crown encouraged her even further in assisting people in need and doing what she could to ease the loneliness and isolation of homebound seniors and those confined at nursing homes. As the months wore on, she became the first local senior winner to hold the title for a double term, because the 2020 Pageant was cancelled due to Covid concerns. However, she used those two years to bless others as has become her mission. Strong in her faith and loaded with personality, Vender Wright will appear at the 2021 Pageant set for Saturday June 12 at 6pm in the Civic Center Convention Hall. And you can bet you will hear her testimony in song and spoken word when she joyfully crowns the new Ms. Hopkins County Senior Classic.
Eight senior ladies will compete in Philosophy of Life, Interview with Judges and Evening gown categories. Not a beauty pageant, the Senior Classic pageant series is a celebration of aging focusing on the inner beauty and talent, as well as the wisdom and grace displayed in today's senior woman. Friends, neighbors and family of the contestants are invited to attend, was well as the entire community. Admission is free. You will enjoy some great talent presentations as well.
In Vender's 2019 talent presentation, she performed a gospel song titled 'Just Stand". The sentiment in that song remains a good lesson today about being strong, faithful and resilient, one learned by all of us from our experiences during the Covid pandemic. Come and enjoy an evening of fellowship and upbuilding entertainment and find out who will become the 2021 Ms. Hopkins County Senior Classic. The event is sponsored by BT Medical and the Sulphur Springs Senior Citizens Center.