The Zoning Board of Adjustments and Appeals granted two variances Tuesday evening, a Cranford Street lot and setback variance and an Industrial Drive sign variance.
Cranford Street Variance
Susan Stearns asked the ZBA to allow a variance for the lot and setback requirements for 639 Cranford St. Essentially, Community Development Director Tory Niewiadomski explained the variance would allow Lots 2C and 3C in Block 34 1 to be subdivided. The property, zoned single family, has a 25-foot front yard setback, 6-foot side yard and 10 foot rear yard setback and minimum 6,000 square foot lots. The lot currently contains two homes, with a total lot size of 11,314-square feet. It is not possible to create two 6,000 square foot lots based on its existing footprint.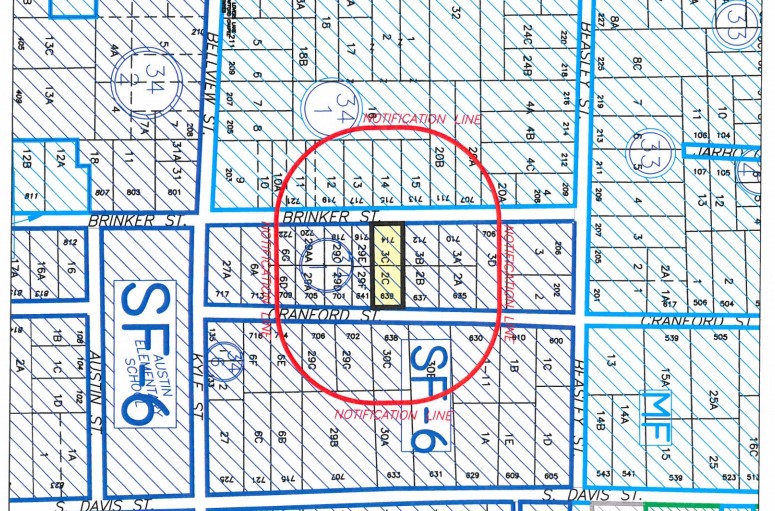 While the city's ordinance regarding lot standards within a subdivision recommends avoiding double frontage lots, most of the lots between Brinker ad Cranford streets in that section of the city have two homes, some separate lots have less than 6,000-square feet each. there are no utilities running through the middle of the proper.
Allowing 639 Cranford to be separated into two lots meets the spirit of the ordinance, thus city staff recommended approving the variance. Records checks showed no initial plat records for the property, Niewiadomski noted.
Stearns, in her application, noted that there had been no interest in buying the house with a loft in the rear.
The ZBA granted the variance with setback, receiving approval from all voting; Janet Martin abstained because her "for sale" sign is in front off the property.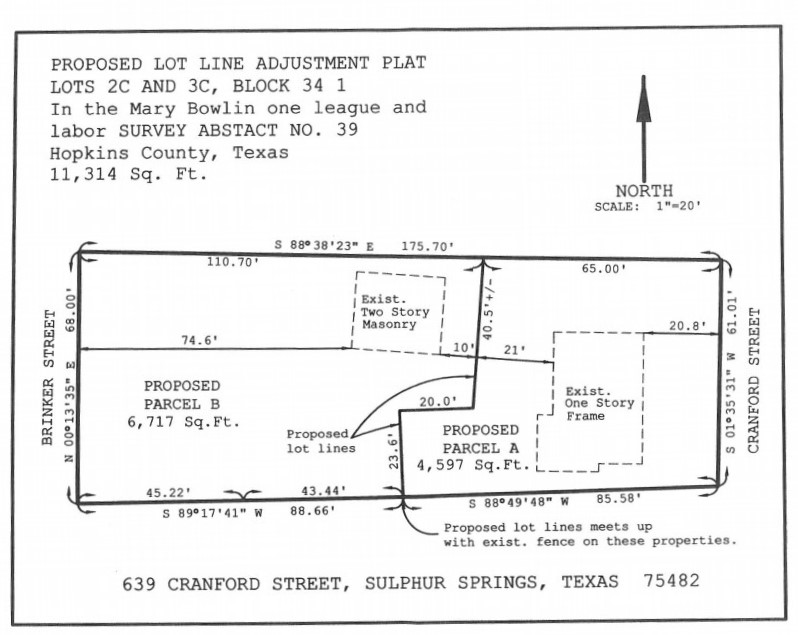 Industrial Drive Variance
The ZBA was also asked to consider approving a "meritorious exemption" to the sign ordinance to Kramerica Outdoor Advertising for property at 430 West Industrial Drive. The existing billboard was demolished and Kramerica proposed replacing it with a digital billboard. The existing sign was a double stacked sign with two 10.5′ x 36′ signs totaling 756 square feet. The applicant is proposing to install a smaller 672-square foot sign.
The sign ordinance allows billboard on I-30, SH 19, SH 154/South Broadway south of I-30, Loop 301, SH 11/Wildcat Way. Signs must be monopole design, cannot exceed 300 square feet or 40 feet in height, cannot be closer than 2,000 feet from an existing billboard, and must conform to TxDOT sign rules and regulations when on a state highway, and may be digital. These sign requirements were drafted to ensure against the kind of signage that results in low visual quality and guarding against overregulation of signage.
While the proposed billboard doesn't meet the location and spacing standards, it is more compliant than the previous billboard. It's more than 2,000 feet from another billboard on the same side of I-30, but there are two signs across the highway within the 2,000-foot separation requirement. It would not obstruct surveillance from emergency vehicles, would provide efficiency communication without being overwhelming and doesn't detract for its surroundings.
Niewiadomski noted that city staff did recommend approval of the sign, which is smaller than and more conforming than the previous sign, and would be located more than 2,000 feet from another billboard on the same side of I-30.
The Zoning Board approved Kramerica's application for a variance to the sign ordinance for 430 West Industrial Drive.