As summer approaches, a lot of folks want to travel more, but with everyone being stuck at home for a year, the demand for airline flights and hotel rooms is going up rapidly, and so are prices. A good way to offset the cost is to use points (or miles) from a hotel or airline loyalty program to pay for part or all of the costs. If you don't have enough points, the best way to jump start the amount of points you do have is to earn a sign-up bonus for a new credit card. Some of thes offers have gotten very attractive, especially for hotel chains.
The two largest worldwide hotel chains: Marriott and Hilton both have offers to help boost your points balance. Check the fine print from the links below to see if you qualify for these bonuses.
Marriott Offers:
Marriott Hotels has a new offer that is going to make travelling a lot easier, and potentially a lot cheaper (if not FREE). By signing up for one of the Marriot credit cards through Chase and complete the required spend, you could earn three certificates for three free nights. Each Free Night Award E-Certificate is valid for a one night hotel stay at a property with a redemption level up to 35,000 points. This is a huge offer, that we have just not seen before. Some of the hotels that you can book with a 35,000 point certificate include Gaylord Texan, St. Kitts Marriott, and even the Sheraton Kuaui.
There are actually two offers, and you should read the fine print for each and decide which one may be right for you. Both card require some initial spending to trigger the "free night" rewards and although one card does not charge an annual fee, the card with the bigger offer does charge $95 per year (and also gives you an additional free night award on the anniversary of your account opening each year thereafter).
Each card also earns a different amount of points on all purchases as you use the card. See all the details here: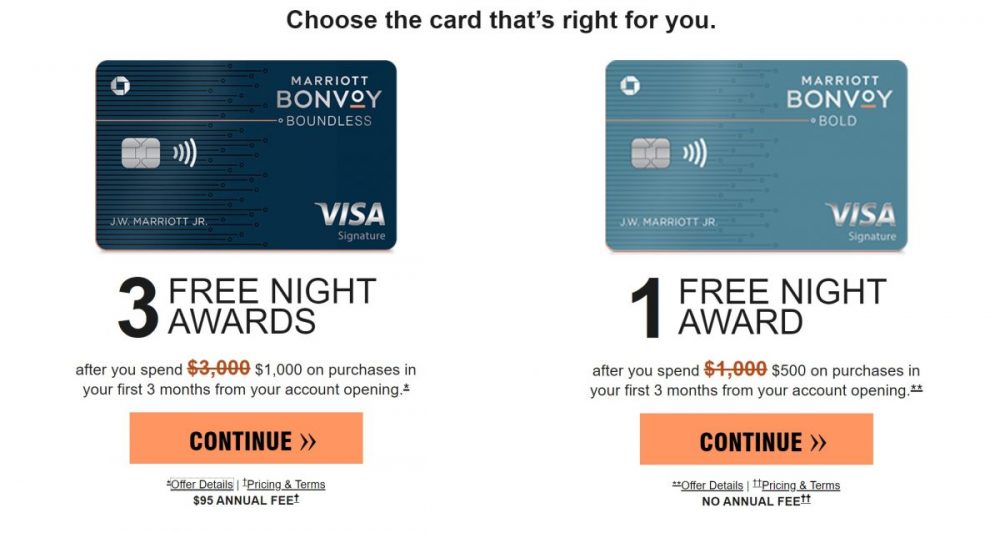 Hilton Offer:
One of our favorite hotel chains is Hilton. It seems no matter where we go in the world, there is always a Hilton property. This current offer not only gives you enough points to stay several nights at many of the different types of Hilton properties, but gives you some perks while you stay at any Hilton property such as Complimentary Gold Status. Another perk you receive on longer stays is "5th Night Free" which you will receive by booking 5 nights with points and only having to use points for four nights. All the details can be found HERE: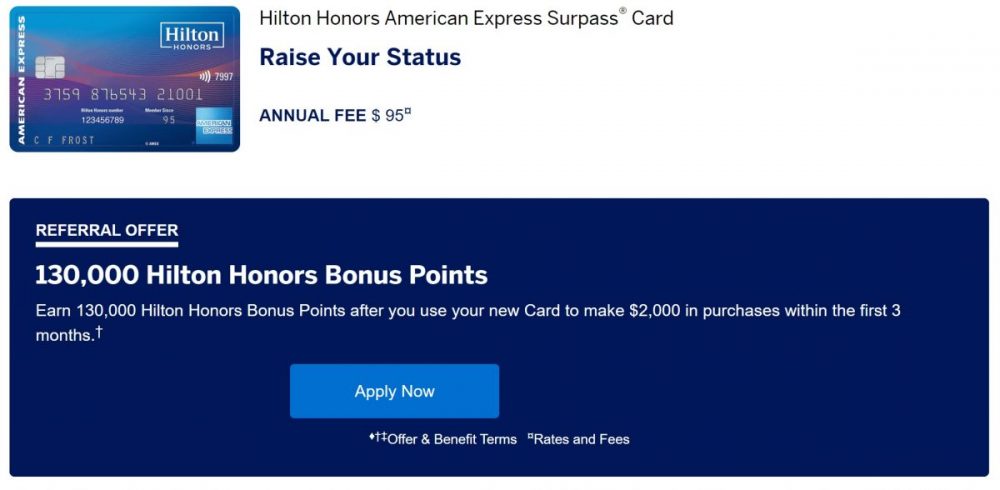 All of these offers are "referral offers" and myself or a family member may receive bonus points for anyone using the link and being approved for the offer.