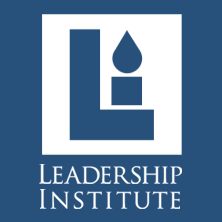 2021 Leadership Institute Campaign School
A MESSAGE FROM LEADERSHIP INSTITUTE
Dear Friend,
Since you're a Texan, you'll get this. It's one of the biggest projects I've worked on at the Leadership Institute (LI) … so, of 
course, it's in Texas.
What do I mean?
This summer, the LI will offer the Texas Campaign School Tour: 32 campaign workshops across Texas, from El Paso to Houston and Amarillo to Brownsville – with 28 stops in between.
These campaign workshops are the secret weapon for conservatives who want to run – and win – with smart, effective, genuinely 
grassroots-focused campaigns. Just ask the hundreds of conservatives who have used their LI training to win elected office.
At a one-day training near you, you'll learn exactly what you must do from announcement to Election Day. You'll learn:
•       How to write a campaign plan that will guide you from your announcement to Election Day.
•       How to raise money for your campaign including through personal solicitation.
•       How to create a compelling message.
•       How to calculate vote goals and run an effective volunteer operation.
These workshops aren't full of generic best practices or broad, vague ideas. Instead, they're the practical, tactical lessons you must learn to run a winning campaign. If you're serious about running for office – or working or volunteering for a campaign – then you owe it to yourself to sign up right now.
Find the campaign workshop nearest to you and sign up for just $25 right now.
In one day at the LI campaign workshop, you'll get the very best advice from campaign experts who have spent decades in the campaign world – dedicating thousands of hours to working or volunteering for conservative causes and candidates – and they're willing to share with you what it takes to win. Put simply: you get the advantage of years of direct, personal, hard-won campaign experience in just one day.
Sign up for your campaign workshop right now
I'm not sure when we'll do a campaign workshop tour like this again, so if you're serious about helping conservatives get elected, you owe it to yourself to sign up right now.
Have questions? Email me at [email protected]
I look forward to seeing you this summer.
Robert Arnakis
Senior Director of Domestic and International Programs
Leadership Institute