Diversified Storage System is the Community Partner.
Grab and Go continues to be the distribution method for the weekly Wednesday meals. After 11:00 a.m. meals are "handed out" as cars drive under the covered area on the Northeast Corner of the First United Methodist Church campus.
MENU: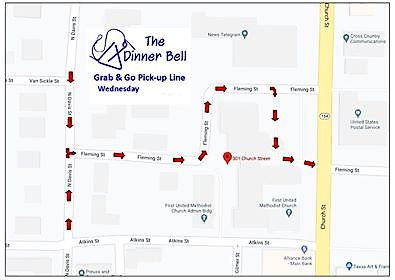 Chicken Casserole with Mushrooms
Rice Pilaf
Bacon Infused Green Beans
Garden Salad
Buttered French Bread Slices
Iced Brownies
PLEASE WEAR MASKS in PUBLIC. WASH YOUR HANDS OFTEN. KEEP DISTANCES.
GET YOUR COVID INOCULATION. DINNER BELL CARES ABOUT YOUR HEALTH!!!
HEALTHY. DINNER BELL CARES!!!
Dinner Bell remains a Grab and Go distribution system for meals. Meals may be secured by driving under the covered driveway on the Northeast Corner of The First United Methodist Church Campus after 11:00 a.m. on Wednesdays.