Many SSISD Band Students Recognized For Achievements During Award-Winning Year
Community members will have an opportunity to hear some of the the award winning SSHS Band students perform tonight downtown. SSHS Wildcat Jazz Band students will present "Jazz on the Square" staring at 7 p.m. April 22 on Celebration Plaza.
All are welcome to stop by downtown Sulphur Springs to hear the free concert, which will include music by Toto, Paul Simon, Stevie Wonder, Phil Collins and the Blues Brothers. SSISD Band program invited everyone to bring a lawn chair and stay for the big event, with will feature professional sound and lights.
These students are among the man who contributed to the stellar year the SSISD Band Program has had. Not counting managing to stay well with no band students having to miss due to COVID-19 and still being able to play at Friday night games even during the pandemic, the students have tied a school record, according to Sulphur Springs ISD Director of Bands Spencer Emmert
---
Band Awards
For only the second time in school history, all four SSISD bands – including two middle school bands, made straight first division ratings at all UIL contests, according Emmert.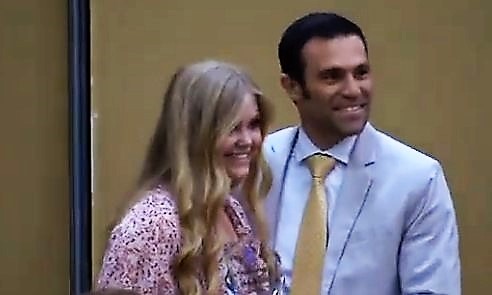 The SSHS Band earned first division ratings at the Mesquite and Celina Marching Festivals, then went on to take the UIL sweepstakes award after capturing first division ratings at the Region UIL Marching Contest. The SSHS Wind Ensemble and Concert Band also captured first division rates at the District UIL Concert and Sight Reading Contest. The marching band went on to capture second at the Area Marching Contest, as well.
Sixteen 9th graders made the Freshman All Region Band, 15 made the High School All Region and 27 soloists earned first division ratings at the UIL contest.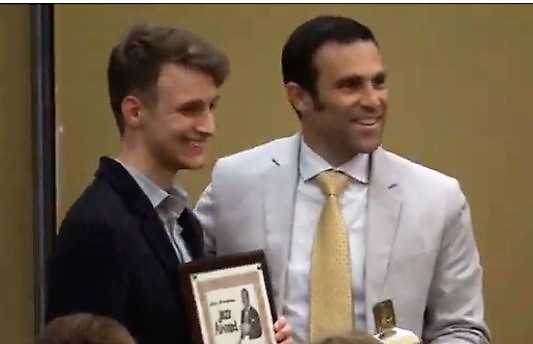 Cameron Beard, Tyler Burnett, Matthew Sherman and Joel Villarino were area qualifiers. Burnett also made the Texas Music Educators Association All-State Band. State solo qualifiers included Adam Arnecke, Brooklyn Arneson, Beard, Matthew Harper, Kendall Little, Sherman, Trison Stewart, Alexis Villarino and Brandon Williams.
Four SSHS ensembles are also state qualifiers. They include the following:
Saxophone ensemble – Sherman, Emma Eddins, Uriel Santacruz, Clayton Boykin;
Brass ensemble – Levi Caton, Ronaldo Sanchez, Arneson and John Moser;
Jazz ensemble – Colby Albritton, Arneson, Anthony Arroyo, Beard, Burnett, Eddins, Moser, Sanchez, Hannah Hughes, Kaden Kirkland, Little, Lauren Maynard, Jakson Medelline, Matthew Sherman, Trinity Sherman, Madison Sperry, Michael Shirley, Stewart and Catherine Starzyk; and
Brass Ensemble – Stewart, Medelline, Galilea Sosa, Arroyo and Qunicey Chisom.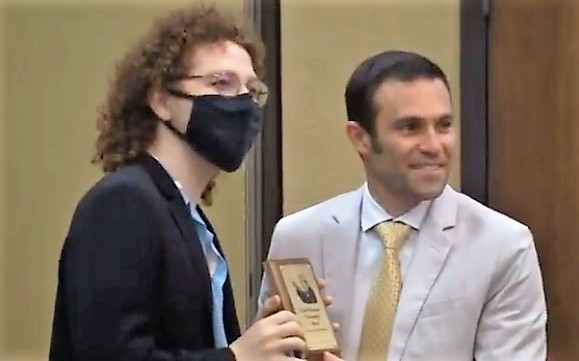 All of these SSHS Band students were recognized at this year's annual band banquet, along with awards for outstanding students at each grade level and most improved students. Seniors were recognized for their continued dedication to the band and music.
Receiving Outstanding Leadership awards were Joel Villarino and Clayton Boykin
A Rex Wilemon Award, given annually to students who have gone above and beyond in a special way to continue the legacy of what the band program means, were presented to Galilea Sosa and Qunicey Chisom.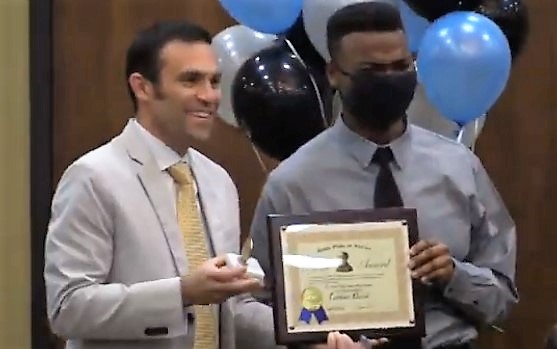 A newer award created and presented by Emmert is the Double Duty Award. Emmert noted the importance of highlighting students who give 100 percent to the very demanding band organizations and other organizations are too. To do so all the way through high school, Emmert said, is admirable. Emma Eddins received the Double Duty Award for setting an example for many years to come.
The Director's Award, a national award given across the country to one student in a school's band program who is most likely to become another staff member, by leadings by example, went to senior drum major Triston Stewart. Emmert noted he "plays a really good guitar and base too" and is among those scheduled to perform at Jazz on the Square tonight downtown.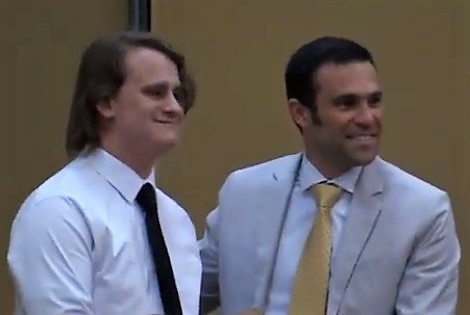 The Louis Armstrong Jazz Award, given to a student who has achieved the most in the area of jazz is "our fantastic drummer" and SSHS Class of 2021 salutatorian Kendall Little.
The Leonard Bernstein Award, named after the one of the most important composers in American music history and given to someone who is "a musician through and through," went to Anthony Arroyo.
Receive the John Philip Sousa Award, a national award given to high school students across the country who has achieved the most went to Cameron Beard.