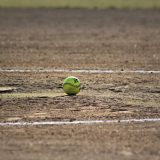 The Saltillo Lady Lions softball team fell behind early and could not recover, losing at Como-Pickton on Friday, Apr. 2 by a score of 10-1.
Saltillo put a run on the board to start the game, taking a 1-0 advantage against the home Lady Eagles. But Como-Pickton struck back, and with fierce tenacity, scoring three runs of their own in the bottom of the first to take a 3-1 lead after one frame.
The Lady Eagles were not done there, though, as they added on two runs in the bottom of the second and third inning to take a quick 5-1 lead after three full frames.
Como-Pickton applied salt to the wound when they added on four more runs in the bottom frame of the fourth to take a 9-1 lead over the visiting Saltillo Lady Lions. The Lady Eagles added on one more run in the bottom of the sixth en route to a demanding 10-1 victory over visiting Saltillo.
In hitting, Chandler Bain was 0 for 4 with 1 walk. Ryleigh Redar fared a bit better, going 2 for 2 at the plate with 1 walk. Paisley Kastner hit 1 for 2 adding a walk, and Maddy Smith, Regan Speir, Julianna Giles, and Ofelia Cabrera all hit 1 for 3 from the plate.
With the loss, the Saltillo Lady Lions softball team is now 3-3 overall for the season (3-0 in district). Next up, Saltillo will be hosting Rivercrest on Tuesday, Apr. 6. That game is scheduled to tee of at 4:30 P.M.