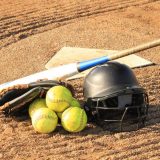 Saltillo's softball team scored efficiently and often to get a big 17-2 win over Yantis on Tuesday, Apr. 20.
The win clinched the district 17-1A championship for the Saltillo Lady Lions.
The game started out slow for both teams at Winnsboro Citi Field, as neither team managed to score a run in the first inning. That changed in a big way in the second inning.
Saltillo exploded for nine runs in the second inning to make it 9-0 over the Lady Owls. Yantis did not score in their next at-bat, but the Lady Lions did, adding on 4 more runs to make it 13-0.
The Lady Owls scored their only runs of the game in the bottom of the third, as they got two runs home to make it an 11-run, 13-2 deficit.
Saltillo's offense added on a run and three more in the fourth and fifth en route to a smashing 17-2 victory over the Yantis Lady Owls in Winnsboro.
Chandler Bain got the win, pitching a complete 5 inning game, allowing only 2 runs while striking out 4 and walking two.
In hitting, Chandler Bain went an astounding 4 for 4 at the plate with one walk. Julianna Giles did not fare as well, going 0 for 3. Ryleigh Redar went 3 for 4 on offense, and was walked once. Paisley Kastner had a respectable 2 for 5 offensive output, and Maddy Smith was an impressive 3 for 4 with one walk.
Regan Speir went a perfect 3 for 3 at the plate with one walk. Gabby Ross was 3 for 4. Ofelia Cabrera batted 2 for 3 in the victory over Yantis with a walk. Calli Morris rounded out Saltillo's offense going 1 for 4 at the plate.
With the win, Saltillo's season record is now 6-5 (6-0 district). According to Coach Casey Riddle, the Lady Lions are 1A District champions.