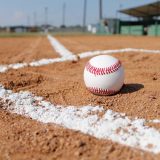 The North Hopkins Baseball Team lost a wild one at home Tuesday coming up just short in a 16-14 loss at home to Alba-Golden. The Panthers built an 8-0 lead after 3 innings.
Alba-Golden answered with an 8 run top of the fourth to tie the game. North Hopkins took back the lead with 2 runs in the fourth to go up 10-8. Alba-Golden had a 6 run fifth to take the lead for good, 14-10.
Alba-Golden added 2 more runs in the sixth for a 16-10 lead. The Panthers came back with 4 runs in the bottom of the sixth to get within, 16-14 and that's the way it ended. Both teams hammered out 14 hits and made 6 errors.

Karson Jenkins started for the Panthers going 3 1/3 innings giving up 7 hits and 8 runs, all unearned. Dakota Smith took the loss pitching 1 inning allowing 3 hits and 6 runs, only 2 of which were earned. Tate Smith went the last 2 2/3 innings giving up 4 hits and 2 runs.
Myers was very good at the plate going 2 for 5 with 4 RBI's with 2 runs scored and a walk. He was also hit by a pitch. Carson Mathis was 2 for 3 with 3 RBI's, a run scored and a walk. Smith was 1 for 4 with 2 RBI's and 2 runs scored and he was hit by a pitch. Landry Breckeen was 1 for 4 with an RBI and a run scored with a walk and stolen base.
Gavin Buccieri had an RBI and he walked. Aaron Nguyen was 2 for 5 with an RBI, a double, a stolen base and 2 runs scored. Jenkins was 4 for 4 with a double, 3 runs scored, a walk and a stolen base. Robert Perry was 1 for 1 with a sacrifice, a stolen base and a run scored. Braydon Nguyen was 1 for 4 with a run scored. Dylan Minick scored a run and he walked.