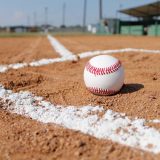 The North Hopkins Panthers are heating up. Friday (March 26) they bested Saltillo at home, 9-3.
The Panthers scored the games first 7 runs to go up, 7-0. The Lions scored 3 late runs but it wasn't enough.
North Hopkins outhit the Lions, 10-6.
North Hopkins' Dakota Smith got the pitching win going the first 6 1/3 innings allowing 6 hits and 3 runs while striking out an impressive total of 15 and walking only 1.
Tate Myers closed out the game going 2/3 of a inning allowing no runs or hits while striking out 2.
Smith also had a big day with the bat getting a hit while driving in 3 runs including one with a sacrifice fly. Karson Jenkins was 3 for 4 with 2 RBI's, a double and 2 runs scored. Landry Breckeen was 1 for 3 with 2 RBI's and a run scored. Braydon Nguyen was 1 for 2 with an RBI, 2 runs scored and a walk. Myers was 2 for 4 with a run scored and a stolen base. Gavin Buccieri was 1 for 4 with 2 runs scored and a stolen base. Aaron Nguyen was 1 for 3 with a run scored.
Carson Mathis stole a base and had a walk. Robert Perry stole a base.