Diversified Storage Systems is the Community Partner
MENU
Chicken Pot Pie with Biscuit Topping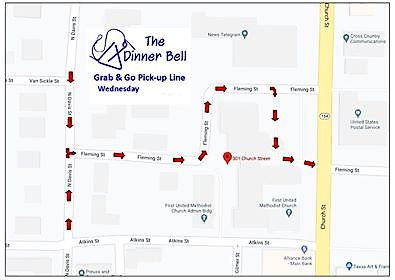 Bacon Infused Green Beans
Garden Salad
Toasted Walnut Spice Cake
We hand out boxes of food lovingly prepared for you under the covered driveway on the
Northeast corner of the Furst United Methodist Church campus.
PLEASE PLEASE continue to WEAR MASK. Get your SHOTS when you can. STAY SAFELY from OTHERS. WASH YOUR HANDS. OFTEN. DINNER BELL CARES ABOUT YOUR HEALTH.
THANK YOU 1ST CHOICE HOME HEALTH, Stephanie and Warren Mitchell, for the GENEROUS DONATION of 350 pounds of ground beef to Dinner Bell. This has been their practice for several years. A freezer is FULL!!!
Dinner Bell remains a Grab and Go distribution system for meals. Meals may be secured by driving under the covered driveway on the Northeast Corner of The First United Methodist Church Campus after 11:00 a.m. on Wednesdays.