Atmos Energy donated a multi-gas detector to Hopkins County Fire Department to help keep them and the company's crews work safer when dispatched to an incident involving any type of gas leak.
"We received this a few months back, but due to COVID, we were not able to do an official presentation. Atmos has really stepped up this past year. We've actually had some training done at the fire department in cooperation of Sulphur Springs Fire Department. We're able to keep all first responders, including the workers at Atmos, safer on scenes," Hopkins County Fire Marshal Andy Endsley said.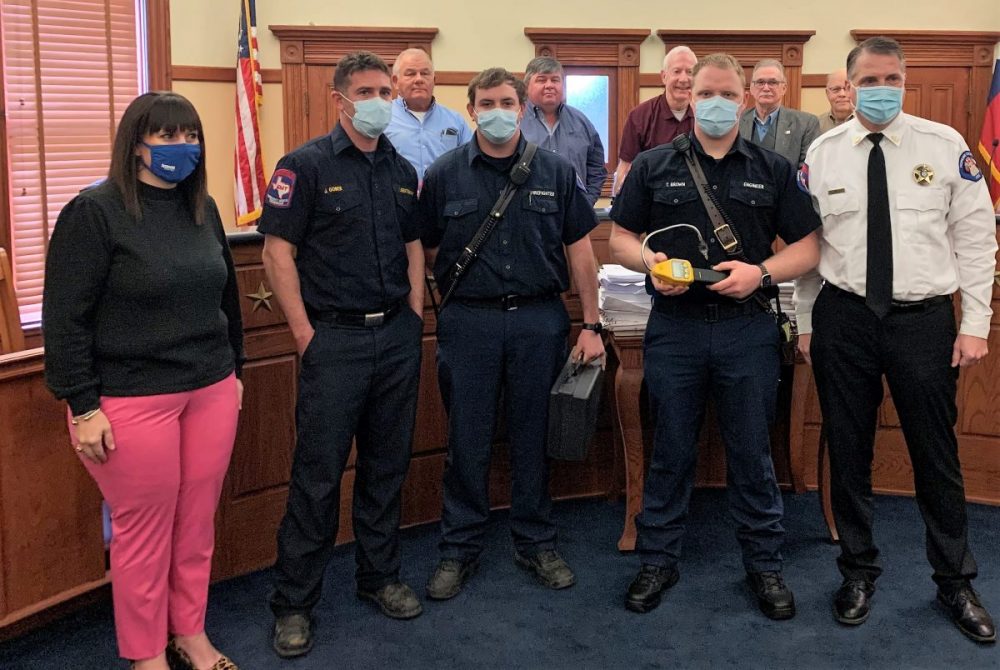 The device could be used in a number of situations, including a vehicle backing over a gas meter or a gas line that breaks under ground. The device detected four different types of gases including propane.
"That way we can help one another. The agencies know what they are needing from each other. This multi-gas meter actually helps us when we're going out, whether there's a gas odor, or whatever it might be. It helps us detect what kind of gas it might be that way we'll know the appropriate channel to take on that. It's a very much needed tool that goes in our toolbox. Atmos donated that to us. We are very appreciative of that and want to recognize that for what all they did for us," Endsley said.
"We really appreciate our partnership. Chief Endsley has been really wonderful to us too as well as in the county. We did do a training. We offer that just as a service. It's really a service to us. I know that it's a service to them to, but it helps us when our guys get a hit line, whether it's from a contractor or a community worker or anything. I always tell people nine times out of 10 its somebody building a fence in their backyard and they don't call locates," said Beth Dattomo, Atmos manger of public affairs. "This helps us. This is the detector that our guys, every single one of them, has on their truck. So it helps us for you guys to use it on yours."
Atmos also offers for the department to calibrate the devices at the Atmos offices, which they've done with both Hopkins County and Sulphur Springs Fire Departments, according to the Atmos public affairs manager. That, Endsley said, was very beneficial not only in the service but also financially, as the department was not out the cost of having the device calibrated.
"Anything else we can contribute or donate, I always tell them, please reach out if they are working on something. We just appreciate our partnership with you guys," Dattomo said.
"They are always out there to help us. We always appreciate Atmos and what they do for us," Endsley said.
The meter matches the one donated last year to Sulphur Springs Fire Department. Endsley said they asked that they be the same so that regardless of which personnel grabs it, they'll know from their training how to read and work them during situations involving gases.
Atmos was recognized for the donation during the regular Feb. 8 meeting of Hopkins County Commissioners Court.
Other Business
Also during the meeting, Endsley asked the Court to approve a memorandum or understanding with Statewide Interoperability Coordination (known as SWIC). Endsley said officials were made aware of the MOU last year when they were finishing up a no match Homeland Security grant that allowed the county to purchased six mobile radios to go in the county's mobile command trailer. SWIC makes sure that all frequencies are in check and that the county has all of the required licensing. During that, he did not realize that the county was required to have an MOU with SWIC for that. The MOU is an administrative formality to have that in place. The court approved the MOU with SWIC.
Endsley also asked the court to consider approving a Homeland Security grant application to be sent to the Office of the Governor requesting $18,315 to purchase two thermal imaging cameras to be used not only by the fire department but also by the law enforcement on the SWAT team. Thermal imagers are "very useful tools" that could be utilized for hazardous materials situations, structural firefighting and for the SWAT team as well.
"We need this resolution to move forward on this Homeland Security grant. It's a great program that we do it every year. We have done some years joint with the City of Sulphur Springs. They have since then stopped the regional grant, and are just moving forward with individual counties and cities doing their own. It's a very good program. The City of Sulphur Springs actually did this same grant last year for thermal cameras for their fire department and haz-mat team," Endsley said. "It's a very useful tool"
The court gave unanimous approval of the resolution approving the submission of the grant application for the imaging devices.