HHS Aug. 25 Reports 1 Assisted Living Facility Resident Recovery
Hopkins County Emergency Management officials at 5 p.m. Tuesday, Aug. 25, announced they'd received notification of 2 new positive COVID-19 cases in Hopkins County, which increases the total of active cases to 42. There were no recoveries reported Aug. 25.
That brings the total so far in August to 83 new positive COVID-19 cases and 94 recoveries. The cumulative totals since midMarch for Hopkins County are 235 positive cases and 193 recoveries.
Officials reported only one patient in the COVID-19 unit at CHRISTUS Mother Frances Hospital-Sulphur Springs on Aug. 25, the same as was reported on Aug. 6. That's one less patient in the COVID-19 unit than officials reported on Aug. 24; local officials did not have information as to whether or not the patient was discharged or transferred to another floor or another facility.
COVID-19 Death Reports
Texas Department of State Health Services's COVID-19 dashboard Tuesday, Aug. 25, reported another death for Hopkins County, bringing the total to 5 COVID-19 fatalities. Previously, DSHS/Health and Human Services reported Hopkins County residents died on July 17, Aug. 23, Aug. 2 and Aug. 4. The latest Hopkins County resident to die as a result of COVID-19 reportedly died on Aug. 17.
Deaths are added to the DSHS COVID-19 dashboard based on death certificates sent to the state Vital Statistics office which list COVID-19 as cause of death.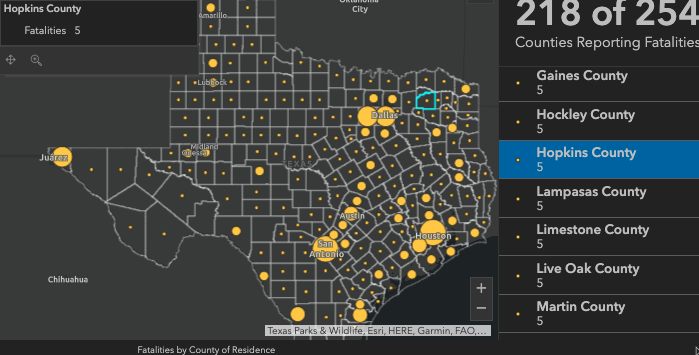 Nursing and Assisted Living Facilities
Texas Health and Human Services Commission reported no active cases in the nursing facilities in Sulphur Springs as of Aug. 11. One of the four facility has, in the past, had three employees who tested positive for COVID-19, but those cases were no longer active on Aug. 11. There have been no nursing home residents in Sulphur Springs who have tested positive for COVID-19, according to the state data.
One assisted living facility in Sulphur Springs on Aug. 11 continued to have three active cases among employees. One additional resident recovered from COVID-19, increasing the number of resident recovering to two and reducing the number of active COVID-19 cases among residents to six, according to the Aug. 25, HHSC report.
Data for nursing and assisted living facilities is typically 2 weeks behind. It is self-reported by facility staff to HHSC, and is then reviewed for data entry and transcription errors. HHSC investigates every assisted living facility that reports a COVID-positive case for compliance with health and safety regulations. Data on any resident after discharge from a facility would not be reflected in the state report, according to HHSC.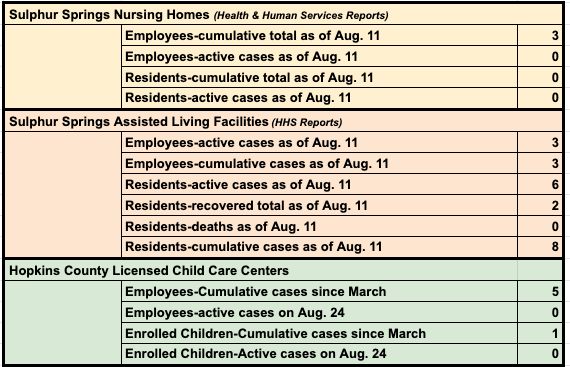 Child Care Centers
Texas health and Human Services reported no changes in COVID-19 cases among licensed child care centers in Hopkins County since the state first started making the data available on Aug. 19. There were no active cases among the four child care facilities in Hopkins County as of Aug. 24. Two of the facilities have reported one employee who has tested positive for COVID-19 since March. One of the facilities has had two employees test positive since March. The fourth facility has had one enrolled student and one employee test positive for COIVD-19 since March, according to the HHSC report.
This state report includes only data licensed child care centers, school-age programs, and before or after-school programs had self-reported to Texas Health and Human Services Commission as of Aug. 24.
Free Testing Offered At Civic Center
Free oral COVID-19 testing will continue to be offered at Hopkins County Regional Civic Center to anyone. Symptoms are not required in order to be tested. Children can be tested, provided they are accompanied by an adult.
Those testing are asked to register online at GoGetTested.com prior to arrival.
Testing began Thursday afternoon, continued Friday and Saturday, and is expected to continue to be offered at the Civic Center from 9 a.m. to 5 p.m. every day except Sunday for another week. At 5 p.m. Monday, officials reported 139 tests had been given out at the Civic Center.