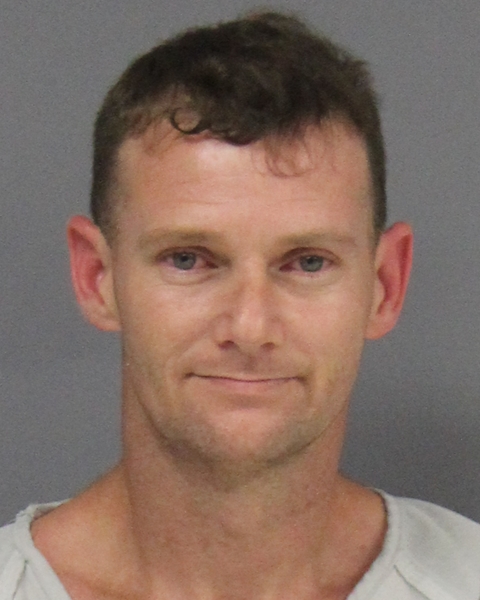 A 36-year-old Yantis man allegedly tossed morphine pills when running from sheriff's deputies Thursday.
Hopkins County Sheriff's Cpl. Todd Evans and Dustin Fisher spotted a suspicious person, a man walking near the back yard of a residence in the 1100 block of Georgia Street.
When contacted, the resident said there wasn't supposed to be anyone in her back yard. Deputies searched the area for the suspicious man, reportedly locating him in a garage further down the block on Georgia Street. When officers attempted to contact the man, however, he took off running across Lee Street and into the backyard of the residence; they caught up to him in the 300 block of Lee Street and took the man, identified in arrest reports as 36-year-old Adam Joshua Hodges of Yantis, into custody, according to arrest reports.
While retracing the path Hodges took while running from them, they alleged finding a small red plastic bag containing more than 1 unidentified pill. Hodges and the pills were taken to Hopkins County jail, where the pills were eventually determined to be morphine. Hodges was booked into Hopkins County jail at 2:37 p.m. July 23 on for possession of 1 gram or more but less than 4 grams of a Penalty Group 1 controlled substance, tampering with or fabricating physical evidence (the pills), and evading arrest or detention, according to arrest reports.
Hodges was released from Hopkins County jail July 24 on $2,000 bond on the evading arrest charge and $10,000 each on the controlled substance and tampering with evidence charges, according to jail reports.
July 23 was the second time in 2 months and third time in the last year that Hodges has been jailed in Hopkins County. He spent Sept. 24-27, 2019, in Hopkins County jail on a Franklin County assault charge and a violation of parole warrant. He too was arrested May 19 on a driving while license invalid charge, according to jail reports.
---
The Hopkins County Sheriff's Office is located at 298 Rosemont St., Sulphur Springs, TX 75482.
Non-emergency calls can be made to (903) 438-4040.