Dave Campbell's Texas Football found a lot to like about this year's Winnsboro Red Raiders' football team. The magazine predicts Winnsboro will finish in 2nd place in their District 5-3A, Division I, behind only Pottsboro, preseason ranked #3 in Class 3A.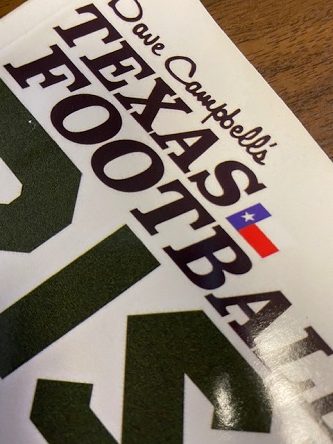 After the Red Raiders, DCTF predicts Mineola 3rd, Mount Vernon 4th, Emory Rains 5th, Commerce 6th, Howe 7th and Bonham 8th.
The Red Raiders head coach is Josh Finney. In his first season in Winnsboro last season, he led the Red Raiders to an 8-5 record taking them all the way to the Regional Semifinal game.
The Red Raiders have 19 returning lettermen including 5 returning starters on offense and 7 on defense. Texas Football lists these Red Raiders as players to watch: running back and defensive back Dominique Allen, linebacker and fullback Zeb Fulmer, defensive lineman Kid Cole, defensive back Rance Brown, tight end Jed Carroll and defensive back Rey Soto. Other prospects include: running back Tayshun Runnels, linebacker Kobe McAdoo, linebacker Logan Minick, and running back Lakeedrian Jones.
Texas Football notes Winnsboro should be helped by a JV team last year that ended up undefeated. Allen, a 1,600 yard rusher last season, returns along with backs Runnels and Jones to handle the rushing load. The Red Raiders also have experienced hands on defense with lots of tackles last year. Included are Fulmer, Cole, Brown, Soto, McAdoo and Minick.
Texas Football says big things are brewing in Winnsboro.