Things are ever changing due to Covid-19, and the Relay For Life Tri-County, TX Event Leadership Team has made changes this year to keep the community and survivors safe. Although later than normal, a modified Relay For Life event will still be held June 12.
This year's event will not include the normal survivor lap and booths. A survivor "parade" will at Buford Park, on the corner of North League Street and Connally Street, and an online silent auction is planned later this month.
"While I am sad that we will not have our normal event this year, I am excited that we have been able to collaborate with the city to come up with a plan to honor our cancer survivors in the community!" said RF Event Leadership Team member Gina Giguere, "We are so sorry for the many changes this year, but we are trying to adapt to the situation while still honoring our survivors. We appreciate your understanding."
Community members and survivors from Hopkins, Franklin and Wood counties are invited to participate in this year's modified Relay For Life event.
Survivors will line up in their personal vehicles in the visitor's parking lot at Gerald Prim Stadium at 7 p.m. Enter at the north entrance on Houston Street. The home parking lot at the stadium has been reserved for a horse show.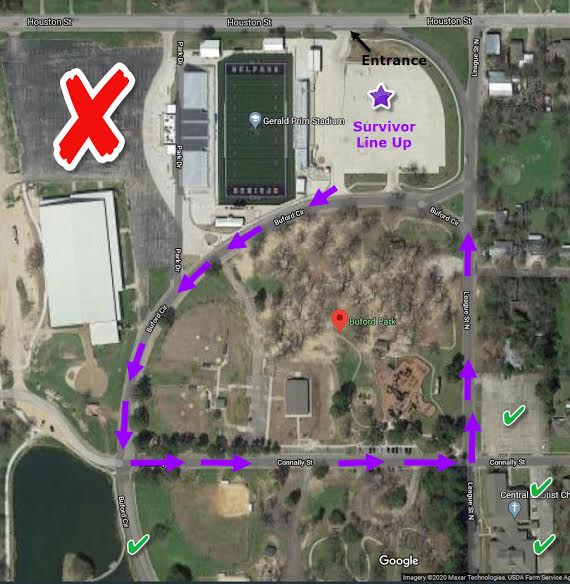 Starting at 7:30 p.m. Friday, survivors will proceed down Buford Circle, then, turn left onto Connally Street.
Survivors are encouraged to decorate your car and/or put a sign with your name on it. Wear purple or an old Survivor t-shirt.
"We will still have our luminary bags in honor or in memory of those affected by cancer! The bags will line Connally Street on the parade route," Gina Giguere stated.
If you haven't bought a luminary bag and would like one, call Gina at 903-573-2064. Luminary bags are $5 or three for $10 this year.
Instead of booths and a walk, community members are asked to show support for cancer survivors by turning out along the parade route.
"We are asking our community to come together to make this special for our area cancer survivors. We would love Relay teams and members of the community to make signs/noise makers, wear purple and line the parade route in Buford Park where you see purple arrows. We'd like to have the streets as full as possible while still maintaining social distancing," Gina Giguere said.
Central Baptist Church has graciously given RFL permission to park in their parking lots.
"Community members are asked to please park in the green checked areas of the map, along the street on the south side of Buford Circle or along the street on League Street," the leadership team member said.
RFL will also have a silent auction online this year to raise funds.
"We have some amazing items to auction off. More details to come on the silent auction, but the plan is to start the Silent Auction on Monday,
June 15," Gina Giguere said.