Three additional positive cases and five recoveries were reported at 3pm on Friday afternoon (June 19th). This continues a trend this week of more recovered cases than new positive cases. On Tuesday, June 16th, two new positive cases and seven recoveries were reported. Although this news is hopeful, care should be taken, and social distancing guidelines should be followed. KSST News interviewed one local resident who could attest to the fact that the dangers are certainly real for anyone contracting the virus. You can read that story here: Local Resident Describes Experience
Overall testing has remained low this past week, but another state testing site will be available at Shannon Oaks Church on Saturday, June 20th. The mobile testing is scheduled to be conducted from 9 a.m. to 5 p.m., but registration is required. People will be screened if they have COVID-19 symptoms, according to the information released by Hopkins County Emergency Management officials. Mobile test collection is conducted as a "drive-thru." People arrive as scheduled in their vehicle, follow the vehicle line as directed to the designated personnel. The tested person will remain in the vehicle they are in at all times. Test swab will be processed at a lab other than the collection site, and the individual will be notified if the test shows a positive result.
To register for the mobile testing scheduled this Saturday, go online to txcovidtest.org or call 512-883-2400.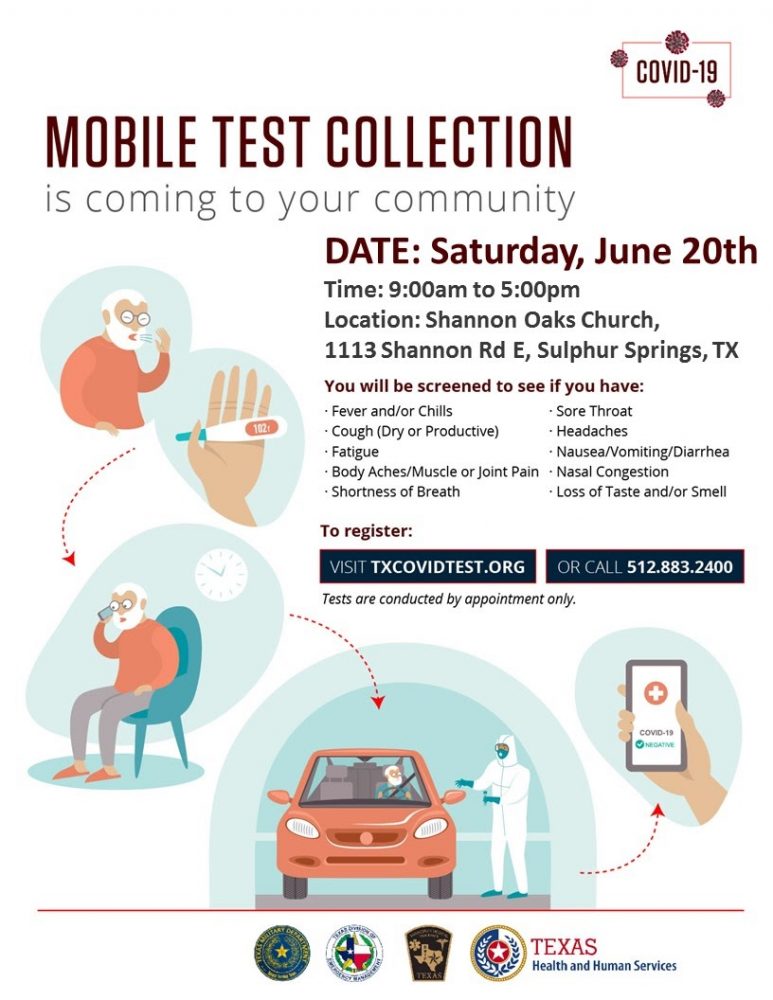 ---