Hopkins County Emergency Management Team officials announced another COVID-19 mobile testing scheduled this Saturday in Hopkins County. This will be the third mobile test collection offered in Sulphur Springs.
Unlike the April and May mobile testing conducted by the National Guard, the June 20 test collection will not be conducted at Hopkins County Civic Center. Instead, Shannon Oaks Church, located at 1113 East Shannon Road, will serve as the mobile test collection site for Saturday's testing.
The mobile testing is scheduled will be conducted from 9 a.m. to 5 p.m., but registration is required. People will be screened if they have COVID-19 symptoms, according to the information released by Hopkins County Emergency Management officials. Mobile test collection is conducted as a "drive-thru." People arrive as scheduled in their vehicle, follow the vehicle line as directed to the designated personnel. The tested person will remain in the vehicle they are in at all times. Test swab will be processed at a lab other than the collection site, and the individual will be notified if the test shows a positive result.
To register for the mobile testing scheduled this Saturday, go online to txcovidtest.org or call 512-883-2400.
Can't make it to the Saturday testing, but still want to be screened? Click on the Collection Site Map to view current and upcoming testing locations as reported to Texas Department of Emergency Management. Those scheduling through the map should be aware that unless otherwise stated on the map and site information, deductible, co-pay or co-insurance may apply. Depending on insurance, that could also require physician referral or prior authorization. Those testing are encouraged to call the testing site to verify costs.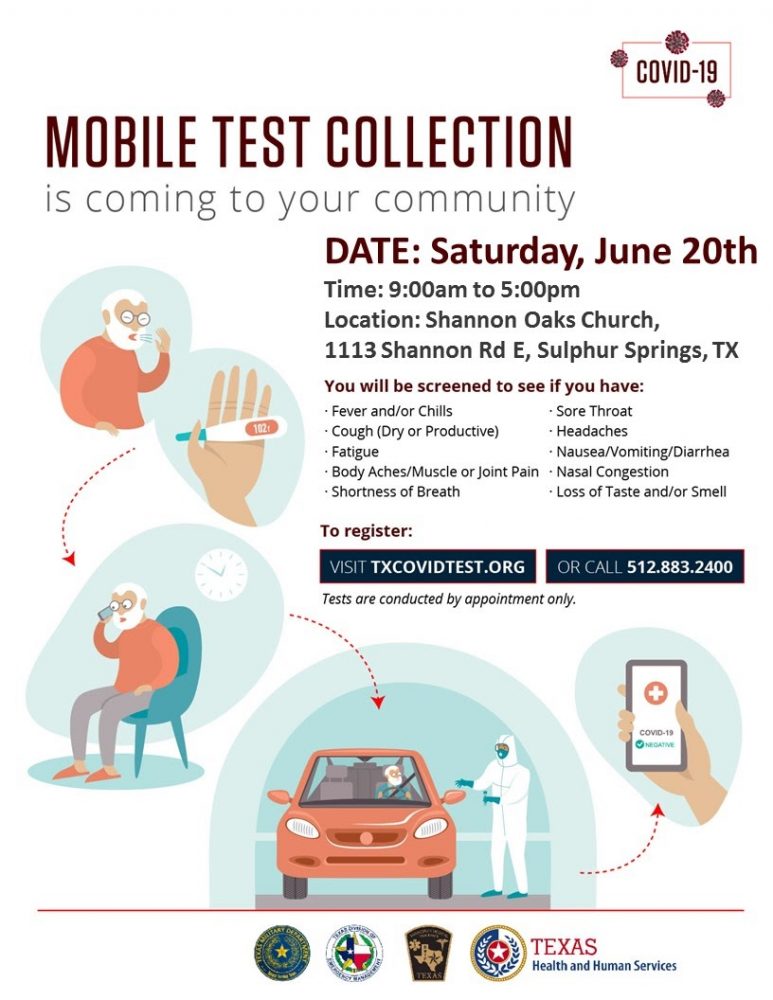 ---