http://www.hopkinscountytx.org/Hopkins County Commissioners Court will be asked Monday morning to consider renewing the public health emergency disaster declaration due to the COVID-19 pandemic.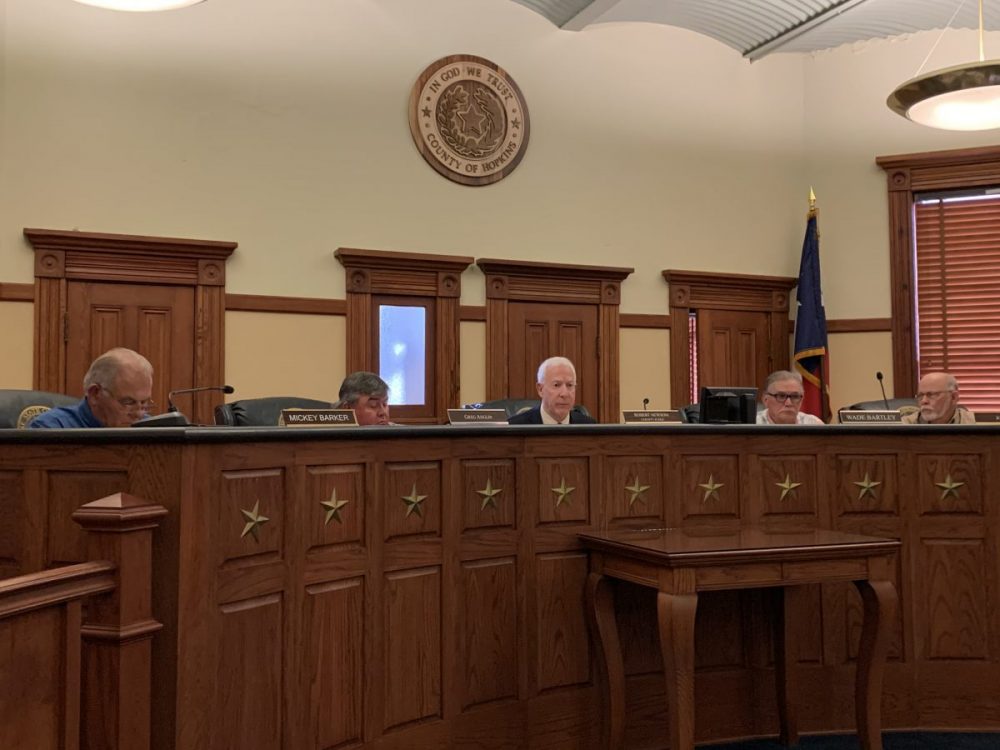 Disaster Declaration
April 6 will be the second time the court is asked to approve a health disaster declaration due to COVID-19. On March 23, the court extended until April 3 the emergency disaster declaration, put in place by County Judge Robert Newsom on March 18 due to COVID-19 pandemic.
After Executive Order from Governor Greg Abbott on March 31, Newsom April 1 extended the county's disaster declaration to match the governor's stay safe, stay in place order. Emergency disaster declarations by the judge typically expire after 1 week if no other action is taken to extend them. Thus, in order for it to remain in place through the full month to match the governor's order, the Commissioners Court will need to approve the extended designation.
Contracts, Appointments
The Commissioners Court will also be asked at the April 6 session to consider approving a "change order with Baird Construction in regards to RFP2019-007" and to appoint a sick pool board.
Approval too was given at the March 23 meeting for a contract with Peoples to drop the monthly price of Internet for Hopkins County Regional Civic Center for over $900 a month to about $250 a month. Peoples agreed that if additional internet was needed for specific events, People will provide it for the event for free. Civic Center staff will only need to contact their representative to have it temporarily increased. Kaybro will help monitor usage, according to Civic Center General Manager Lonnie Fox.
Power Distribution
The Commissioners Court too will be asked at the special meeting April 6 to consider a request from Oncor Electric Delivery to construct electrical power distribution facilities across County Road 3515, south of FM 69 north in Precinct 3. The court in recent months have approved at least one similar request for power distribution facilities at each regular meeting.
At the March 23 meeting, the court agreed to let Farmers Electric Cooperative Inc. construct electrical power distribution facilities over County Road 4744, northeast of CR 4742; over CR 4128, wet of CR 4131; and over CR 3528, north of CR 3600.
Prior Approval
Equipment purchases were also approved at the March 23 regular Commissioners Court meeting  for Precincts 2, 3 and 4; and a contract for internet service at the Civic Center.
Precinct 2 Commissioner Greg Anglin had previously been approved to purchase a Caterpillar reclaimer. The equipment cost was $310,168. Anglin planned to put down a deposit of $155,000 of the total cost. Of the two quotes received for financing for the lease purchase agreement, Alliance Bank's bid was selected as the better deal, saving $59.31 over the span of the loan. Also bidding was Guaranty Bank but their bid included a $300 document fee, which made the overall cost a little bit higher, Hopkins County Auditor Shannah Aulsbrook explained.
The Commissioners Court also granted approval for Precinct 3 Commissioner Wade Bartley to purchase a reclaimer through Sourcewell, a cooperative purchasing group similar to Buyboard or Tips, which allows the county to make a purchase through the group instead of having to go out for bids for the equipment. Bartley reported the machinery was located somewhere else and he'd like to look at it upclose before making a purchase. The first quote he receive for it was $307,000.
Precinct 4 Commissioner Joe Price received Court approval to purchase an Alamo Boomcutter through Buyboard as well as a Case tractor purchased through Tips. A purchase order was required to move forward with those. The items have to be ordered and won't be paid for until they come, but a purchase order is required to order them. Initial quotes for these items were $63,300 for the boomcutter and $87,500 for the tractor. The two pieces of equipment will be used together for work in Precinct 4.
Meeting Basics
Hopkins County Commissioners Court meetings are held in the Commissioners Courtroom on the first floor of the courthouse at 9 a.m., immediately afterward the court is slated to enter into a work session, to be held in the third floor meeting room at HopkinsCounty Courthouse.
Anyone planning to attend either the special 9 a.m. Commissioner Court session or the work session will need to contact the judge's office for admittance as the courthouse, like all county and city buildings, is closed to the public except by appointment as a health safety precaution due to the COVID-19 pandemic.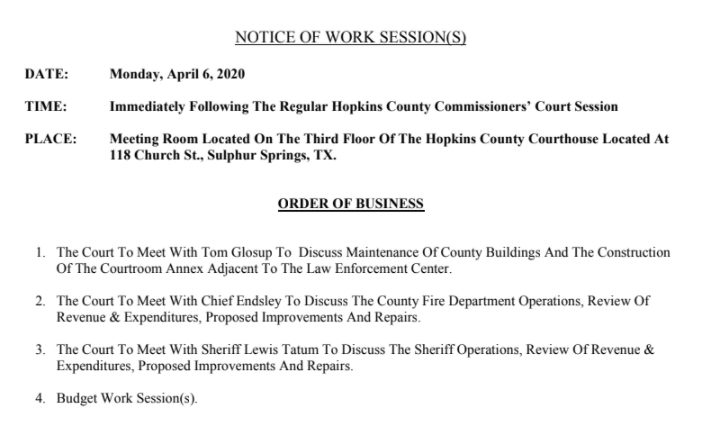 ---