The City of Cumby Thursday morning, April 2, issued another boil water notice. Cumby residents who live on Grove Road and FM 275 south are recommended to boil their water before consuming it.
Cumby Alderman Julie Isham Morris posted the notice on the city's Facebook page around 9 a.m. that "Water on Grove Rd and 275S will be shut off this morning to do repairs. The city will be issuing a boil water notice as soon as the repairs are done."
The boil water notice was posted about an hour later.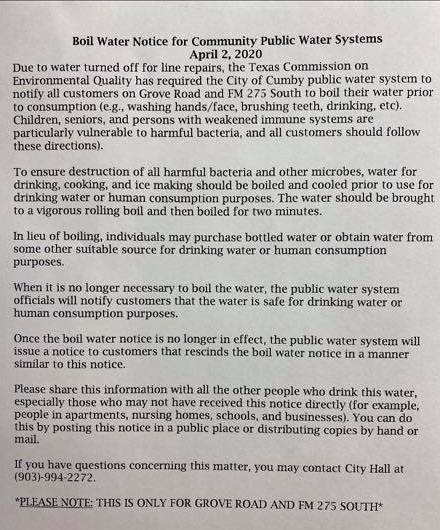 Cumby City Council in late February began discussions of about the possibly pursuing a connection with Cash Special Utility District for emergency situations and providing possible water supply. The City Council agreed to continue the process to find out the possible costs, but did not commit to decisions regarding CSUD, city staff reported.