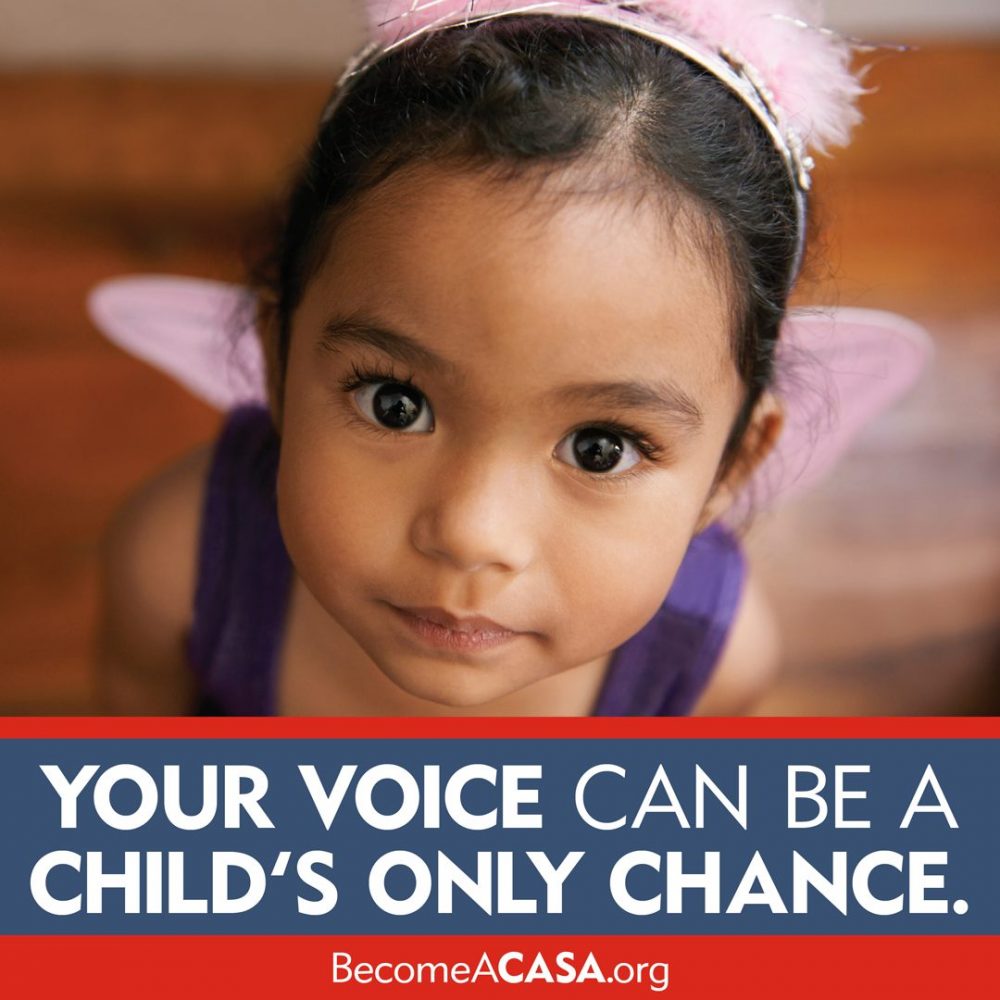 April is National Child Abuse Prevention Month, a month of great significance to CASA, a national organization of volunteers which judges appoint to speak for the safety and well-being of abused and neglected children. April is a time when the CASA organization seeks to make the public more aware of what they do, and the growing need for volunteers. Blue Sunday is a day set aside for prayer for victims of child abuse and those who are dedicated to helping them.
What is a CASA? When a child enters the child welfare system because his or her home is no longer safe due to abuse or neglect, a judge may appoint a committed volunteer to advocate for the best interest of the child in court and other settings. That volunteer is called a Court Appointed Special Advocate, or CASA. Each year, thousands of children in Texas are removed from their homes because of evidence of abuse and neglect. Lake Country CASA, a part of the Texas CASA non-profit organization, serves cases of child abuse and neglect reported in Hopkins, Rains and Franklin Counties. It's volunteers work to ensure that every child who needs an advocate to speak for his or her best interests before the courts has a caring, trained adult to help them with this difficult period of his or her life. In 2019, there were 24 CASA volunteers serving 138 children within the three counties.
Where is the CASA office? Headquartered in Connolly Street in Sulphur Springs, Lake Country CASA Director is Gena Law who shares, "more CASA volunteers are needed! You can become an advocate to a child in foster care by volunteering as a Court Appointed Special Advocate. Over 50 children enter state care each day in Texas. There are Hopkins County (Franklin and Rains Counties, too) children right now that need a CASA advocate. Every child deserves a safe, happy future". The volunteer status of the CASAs ensures that the children's well-being remains the sole objective of the CASAs. Contact Lake Country CASA to learn how you can be a voice to make a difference in a child's life. To learn more about volunteering, Call: (903) 885-1173 or email them at: [email protected]
What is Blue Sunday? According to Sarah Goggans, Volunteer Recruiter for Lake Country Casa, Blue Sunday 2019 will be April 26, a day set aside to pray for child abuse victims and the people dedicated to helping them. Local churches are among those which are publicizing the importance of Blue Sunday for CASA. Everyone is encouraged to join in.
Lake Country CASA Mission
To be a voice for abused and neglected children through the power of volunteer advocacy and change in the child protection system.
Volunteer Training
Volunteers get to know the child by talking with everyone in that child's life; parents and relatives, foster parents, teachers, medical professionals, attorneys, social workers and others. They use the information they gather to inform judges and others of what the child needs and what will be the best permanent home for them.
CASA trains and supports passionate adults who fight for a child's right to be safe, to be treated with dignity, and to learn and grow in the security of a loving family.