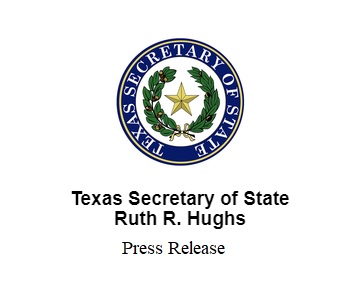 AUSTIN – The Office of the Secretary of State today announced that Texas will become the 30th state to join the Electronic Registration Information Center (ERIC), a non-profit consortium of member states. ERIC's mission is to assist states in increasing voter participation and improving the accuracy of America's voter rolls. ERIC is governed and managed by the member states, and was formed in 2012 with assistance from The Pew Charitable Trusts. During the 2019 session, the 86th Texas Legislature appropriated $1.5 million for Texas to join the consortium.

Participation in ERIC will assist Texas elections officials in identifying and conducting outreach to eligible but unregistered voters to encourage them to register to vote. The program will also help the State identify voters who have moved within Texas, voters who have moved out of Texas, voters who have died, and voters with duplicate registrations in Texas.
"Today's announcement that the Lone Star State will join ERIC is an important next step as we strive to identify and conduct outreach to eligible but unregistered voters," said Keith Ingram, Director of Elections. "Through this outreach, our state will continue to foster an active and engaged citizenry by encouraging all eligible Texans to play an active role in our democratic process."
"We're thrilled to welcome Texas as the newest member of ERIC," said Shane Hamlin, Executive Director of ERIC. "Membership in ERIC will improve the accuracy and integrity of Texas' voter rolls, while helping the state more efficiently reach out to millions of eligible but unregistered Texans to give them information on how to register."
"The League of Women Voters (LWV) of Texas is very pleased to hear that Secretary Hughs is moving Texas forward by joining ERIC," said Grace Chimene, President of LWV Texas. "We advocated for Texas' participation, and we applaud the bipartisan legislative effort that funded this program."
Current ERIC member states include Alabama, Alaska, Arizona, Colorado, Connecticut, Delaware, Florida, Georgia, Illinois, Iowa, Kentucky, Louisiana, Maryland, Michigan, Minnesota, Missouri, Nevada, New Mexico, Ohio, Oregon, Pennsylvania, Rhode Island, South Carolina, Utah, Vermont, Virginia, Washington, West Virginia, and Wisconsin. The District of Columbia is also a member.