Paris Junior College is pleased to announce that nearly 175 students were named to the President's and Dean's lists for academic achievement during the fall 2019 semester.
To be eligible for the President's List, students must earn a 4.0 grade point average, (straight A's) on a minimum of 15 semester hours. Those on the Dean's List must have a minimum of a 3.5 grade point average for at least 15 semester hours and have no grade lower than a "C." Both lists are compiled exclusive of developmental hours.
Students on the President's List from the area:
Brashear: Anthony Myers
Cooper: Ashlee Harvey, Joseph Manners
Dike: Valeria Duran
Klondike: Ray Chupp, Kia Lutherbeck, Jansen Roam
Ladonia: Elizabeth Chesson
Lone Oak: Levi Smith
Mount Vernon: Jennifer Hess
Sulphur Springs: LaShey Almager, Angel Cedillo, Christopher Ledezma, Donald McCallum, Caleb Wyatt
Winnsboro: Patrick Dowell, Anthony Van Dieden
Yantis: Kayla Carney
Students on the Dean's List by their hometowns in Texas:
Brashear: Rene Aguilar
Cooper: Harley Briggs, Ashley Myers, Amani Whitaker
Dike: Amanda Cochran
Ladonia: Amber Childress
Mt. Vernon: Thomas Wisinger
Saltillo: Destiny Welch
Sulphur Springs: Adrian Banuelos, Clayton Brandenburgh, Job Escobar, Callen Hurley, John Koonce, Arlyn Negron, Janie Parker, Joselyne Sanchez Ambriz, Kenneth Wilks
Wolfe City: Payton Hammonds, Elijah Samples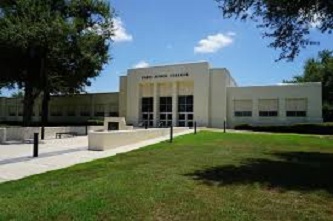 ---
Paris Junior College — located in Paris, Texas, about 100 miles northeast of Dallas — has been a part of the Lamar County community since 1924.
Paris Junior College offers Associate in Arts, Associate in Science and Associate in Applied Science degrees, as well as Certificates of Proficiency in technical/workforce fields. The college has expanded its academic curriculum through the years to encourage associate degree and university transfer candidates. Since establishing its first vocational program — jewelry and watchmaking in 1942 — the college has been aggressive in adding technical/workforce programs that will benefit students entering the workforce.
The campus of 54 tree-shaded acres includes 20 major buildings and residence halls and provides students a unique and pleasant environment for learning.
Paris Junior College also operates centers in Sulphur Springs, Texas, and in Greenville, Texas.
Vision
To be the educational provider of choice for the region.
Mission
Paris Junior College is a comprehensive community college serving the region's educational and training needs while strengthening the economic, social and cultural life of our diverse community.