Dr. Fred Fuentes to Shine a Light on LAMP at Harvard Presentation
COMMERCE, TX— Dr. Fred Fuentes, executive director for enrollment management at A&M-Commerce, will present "Borders, Bridges and Bad Hombres: The stereotypes and realities of being LatinX in 2020" at the National Diversity in Leadership Conference in Cambridge, Massachusetts. His presentation will be held at the prestigious Harvard University, where Fuentes says he will hope to open some eyes about what it means to be LatinX in modern society.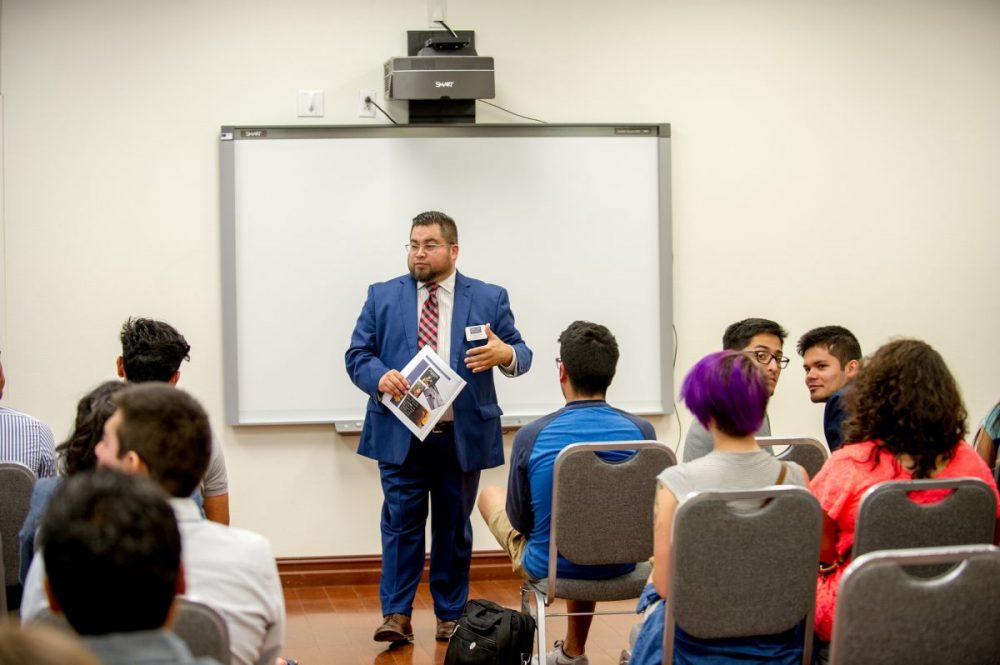 "I'm going to a part of the world where there are stereotypes about our state and our region," Fuentes said. "I want to share these phenomenal students and their successes with the world."
Fuentes was the first in his family to graduate from high school, and after a stint in the Army, he says he felt compelled to try and help empower others.
His work inspired him to create the Latino American Mentorship Program at A&M-Commerce almost five years ago. LAMP strives to help young Latinos not only graduate from college but further their careers by building connections and developing lifelong skills.
According to a 2017 report by the U.S. Department of Education, less than 50% of Hispanic students who start their four-year college experience will graduate. Fuentes says that students in the LAMP Residential Living and Learning program graduate on time at a more than 90% rate, far exceeding national standards.
Fuentes adds that there is also an emphasis on physical health within LAMP, with 96% of program members able to pass a military physical fitness exam. He also touted the group's 3.25 grade point average, which is significantly higher than the 2.84 average for Hispanics, as referenced in a United States Department of Education High School Transcript Study.
"They are also largely first-generation students. 88% of our members self-identify as first-gen; whereas, in the U.S., this number is below 50%, so our members have significantly more need for resources than any other minoritized group on campus, yet they continue to excel in their academics," Fuentes said.
LAMP will be a central focus of Fuentes' presentation at Harvard, with the many success stories being highlighted. He will travel to the conference with former student and LAMP President Cesar Quezada as well as current student and LAMP President Danny Reyna.
"The Harvard audience will really benefit from hearing the students," Fuentes said. "But our students will also benefit from making connections with the people at the conference."
LAMP has been honored multiple times in the last few years: In 2018 as a "Program to Watch" by Excelencia in Education, and in 2019 as a finalist for that organization's "Examples of Excelencia" initiative. The National Diversity in Leadership Conference is scheduled for April 1 and 2. Learn more at the NDL website
###
About Texas A&M University-Commerce: A&M-COMMERCE serves rural and metropolitan East Texas with distinction, consistently delivering on a promise that our founder, Professor William Leonidas Mayo, made more than a century ago: "No industrious, ambitious youth shall be denied an education if I can prevent it." We are committed to our university's mission: Educate. Discover. Achieve.
Programs are delivered on-site at the Commerce campus as well as in Corsicana, Dallas, McKinney, Frisco and Mesquite. Many courses are also available online. Students may choose from more than 135-degree programs at the bachelor's, master's and doctoral levels. A vibrant student life experience includes 14 NCAA Division II athletic teams, a thriving Greek system and more than 120 student organizations.
About the A&M System: The Texas A&M University System is one of the largest systems of higher education in the nation with a budget of $4.69 billion. Through a statewide network of 11 universities and seven state agencies, the Texas A&M System educates more than 150,000 students and makes more than 22 million additional educational contacts through service and outreach programs each year. System-wide, research and development expenditures exceeded $996 million in FY 2017 and helped drive the state's economy.
If you prefer not to receive future press releases from Texas A&M University-Commerce, please email [email protected] to remove this address from our list.