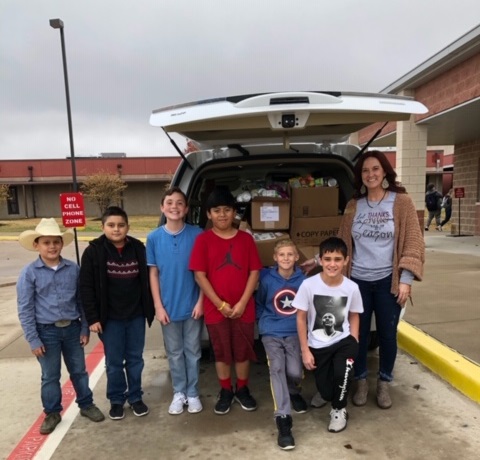 By Jan Vaughn
The Tira City Council will meet at 6 p.m. on Monday, Dec. 2, for the regular quarterly meeting and to decorate the Community Center for the holidays. The public is always welcome and encouraged to attend.
The Tira Volunteer Fire Department was recognized for their service to the county during the Hopkins County Commissioners Court meeting on Monday, Nov. 25. We appreciate our volunteer firefighters.
North Hopkins Elementary students collected canned foods for the Tira Food Pantry. Students Braylon Rhudy, Yariel Mendez, Brayden Buchanan, Jairo Torres, Cale Minick and Mason Icenhower helped load the 873 items into Sherry Smiddy's vehicle. Cooper Adams helped Sherry unload the items at the Tira Community Center on Friday. We appreciate Principal Mrs. Kodi Wright and her students and staff contributing to this cause.
Our great-granddaughter, Dixie, was baptized at Journey Community Church in Lumberton, near Beaumont on Sunday. Our daughter and granddaughter, Tiffany and Jaidyn, came in from Malvern, Arkansas on Friday night and went with Chip and me to Beaumont on Saturday. We took Dixie and Jaidyn to see Frozen 2 that evening and we enjoyed a meal at Steak-n-Shake afterward. We met Dixie and several family members at the church on Sunday, and then we gathered with them at Mi Pueblo's for lunch, before returning to Tira. Landon, Laiken, and the boys had planned to go, too, but Rylan was not feeling well on Friday and Saturday.
Jaidyn spent Sunday night with her friends, Maygan and Bella, and then she and Tiffany left on Monday afternoon.
The Tira Community Christmas Party is scheduled for Saturday, Dec. 14, at 6 p.m. at the Community Center. Brisket will be provided. Please bring a side dish and/or dessert and come enjoy a time of visiting with your neighbors. Santa will be stopping by to visit with the kids! Also, we will be collecting canned goods for the Tira Food Pantry.
I always need and appreciate input from my friends to help keep me informed of news in our community. If you have any news pertaining to Tira residents, past or present, please contact me, Jan Vaughn, at 903-438-6688 or [email protected]