Karon Weatherman sends a reminder about the 3rd Annual Chili Cook Off
inside the Sulphur Springs Senior Citizens Center on
Thursday, November 14th at 12:00 Noon. Five Judges are lined up to taste and rate the Chili. All the Seniors who attend get to come and sample all the Chili you can eat! There will be Crackers and Cheese to go with
your Chili plus tea and dessert, too. Come and Enjoy all the Wonderful Chili. It will be a great day to come get your tummy warmed up! There should be plenty, below are the Chili Cooks who have signed up already! Take advantage of this delicious indoor event for the Senior Citizens of Hopkins County!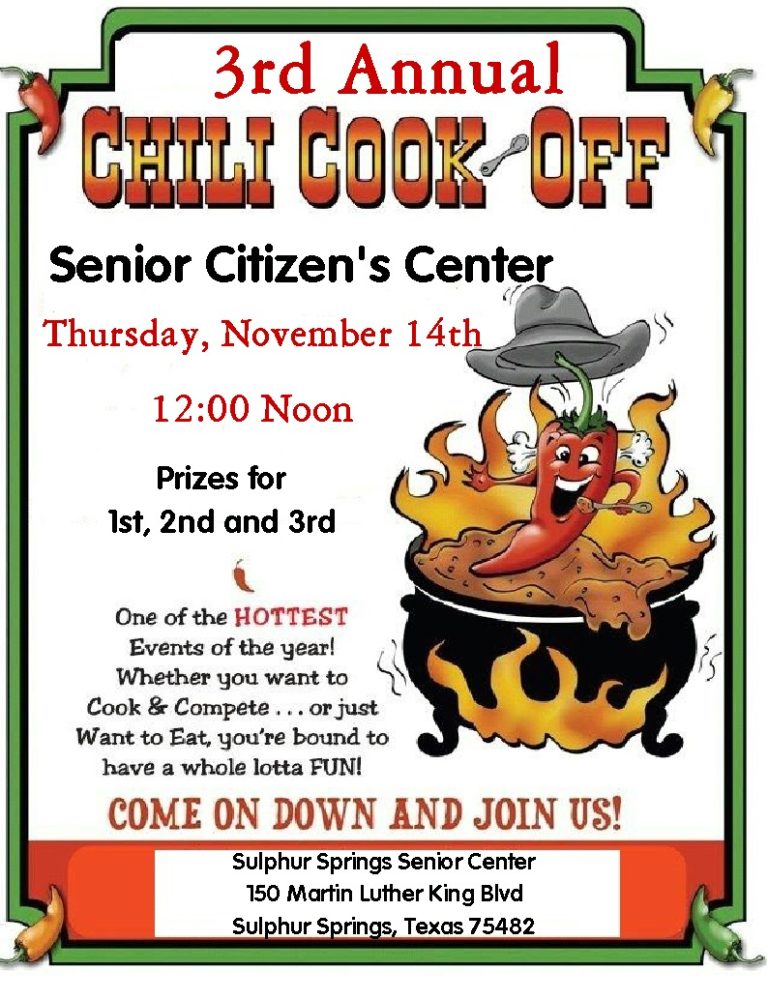 Sulphur Springs Imaging – Stacey Wetzel
East Texas Physical Therapy
Hopkins Place – Shelby Romans
Wesley House/Wesley Oaks – Judith Beck
Heart To Heart Hospice – Brandi Raley
Sunny Springs – Amber Gilbert
Sulphur Springs Health and Rehab – Debbie Jones
Rock Creek Health and Rehab – Richelle Johnson
Cypress Basin Hospice – Niki Huffman
Grocery Supply- Vickie Pickle
Linda Pickle-Hill and Stella Bagley
Jimmie Bell and Fay Pool
Vender Wright – 2019 Ms Hopkins County Senior
Patsy Crist – Senior Entertainers
Mary and Loyd Ivey
Mary Ann Stevens – Signature Dialysis
Dell D'Lizarraga
Jimmie Bell and Fay Pool
Heritage Hospice – Leslie Forshee