Ridge Properties LLC DBA Pain Relief Naturally is voluntarily recalling four lots of 4 percent lidocaine topical cream and liquid gel products sold at the consumer level. FDA analysis has found these products to have microbiological contamination and the potency is higher than the labeled amount for lidocaine, according to
The risks from a contaminated pre-tattoo product are greater since the skin is being traumatized immediately after application and tattooing is known to have infectious complications. Additionally, use of lidocaine greater than the label claim may increase the risk of methemoglobinemia, a blood disorder in which an abnormal amount of methemoglobin is produced. To date, the company has not received any reports of adverse events related to this recall.
PRE-TAT is marketed as a numbing agent/topical anesthetic used prior to tattoo application. Soothing Sore Relief is marketed for soothing relief of pain and/or itch associated with hemorrhoids and bedsores. Superior pain and itch relief is marketed as a numbing agent/topical anesthetic. Lots and expiration dates are listed on a gold colored expiration sticker on the back of the products.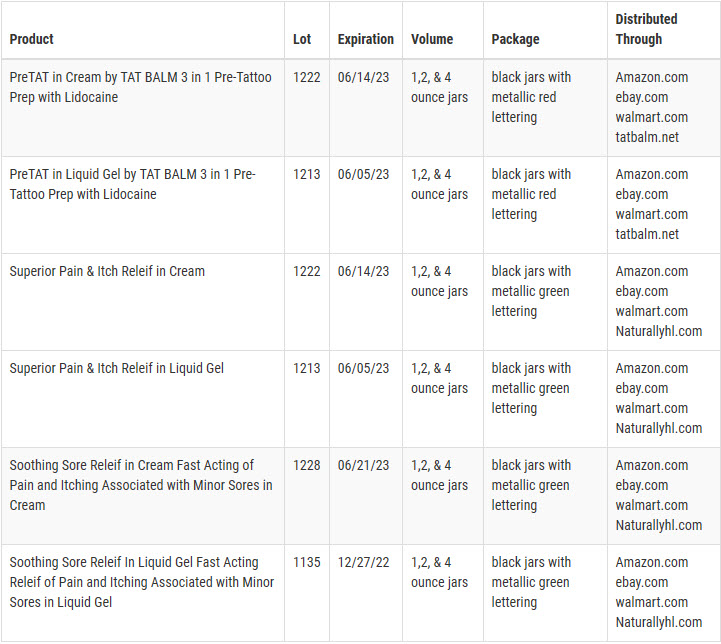 Products were distributed nationwide through online sales at the following websites: amazon.com, ebay.com, walmart.com, tatbalm.net and naturallyhl.com.