May 24, 2019 – K'Lah Skidmore and Maria Lara were honored this week as the top students in the Como-Pickton High School Senior Class of 2019.
K'Lah Skidmore, daughter of Lee Skidmore and Kris Brown of Pickton, graduates first in the class of 63 students Friday with a 3.8 grade point average. She has attended Como-Pickton CISD for 13 years.
The valedictorian has been active in sports, and involved in National Honor Society and FCCLA.
Skidmore was on the varsity cross country and track teams for one year. She was on the varsity volleyball and basketball teams all four years of high school and even received MVP and Defensive MVP awards, and was named Academic All State. She also served as captain of sports teams. She was involved with Little Dribbles, serving as an assistant coach.
Outside of school, she too was has gone on a mission trip and was a vacation Bible school helper.
Skidmore plans to attend LeTourneau University, where she will major in sports medicine. She already has 21 hours of college credit, thanks to the dual credit classes she has taken.
She was awarded a $64,000 LeTourneau University Founders Scholarship as well as a $500 Como-Pickton Little Dribblers scholarship, a $300 Como-Pickton PTO scholarship, and a $500 Como-Pickton Athletic Booster Club scholarship.
Skidmore credits her successes to hard work, trustworthiness, never giving up and being a problem solver.
Her advice to other students is to "Always try your hardest and make sure you have a good support system. Your support system will be the only people who actually care where you end up."
Skidmore credits her dad as her biggest supporter.
"Dad always supported every decision I made and made sure I was where I needed to be," she said.'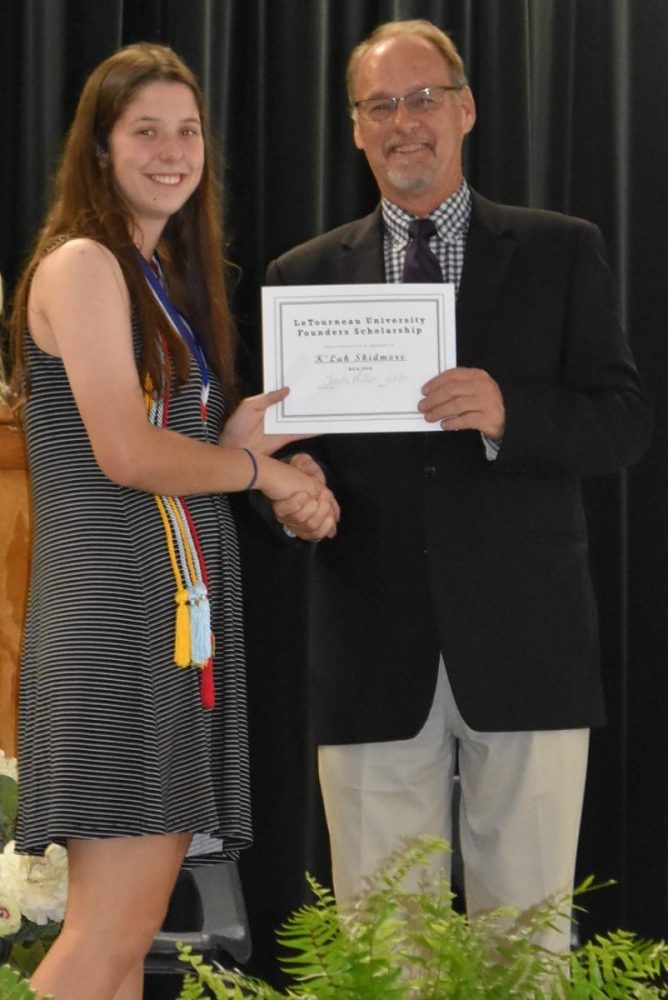 Maria Lara, daughter of Mario and Reyna Lara of Pickton, will graduate second in the Como Pickton Class of 2019 with a 3.79 GPA. She has attended CPCISD since Head Start.
The salutatorian has been involved and had leadership rolls in school organizations. She has been in FCCLA, Spanish Club, yearbook and National Honor Society through all four years of high school. She served as secretary of Spanish Club her sophomore year, class vice president her junior year and this year has been president of the National Honor Society.
Lara is excited to see what the future holds for her.
She plans to attend Paris Junior College to obtain an associate's degree in nursing, then, later transfer to Texas A&M Commerce to earn a bachelor's degree in nursing.
"Ever since I was a young child my passion has always been assisting others and trying to improve the quality of life," Lara said of her career plan.
She was awarded a $1,000 Como-Pickton Administrators' Scholarship and a $300 Como-Pickton PTO scholarship to apply toward her future studies.
Lara credits her mother as her biggest inspiration.
"I could not thank her enough for all she has done for me. If it wasn't for her support, I don't know where I would be now," she said. "I am proud to say that I will be the first one to graduate high school from my family due to the fact both my parents had the need to drop out at a very young age to help support their families. I will continue to work hard to make the person who gave me everything proud of me."
She advises other students trying to be successful to "never give up."
"Someone is always looking up to you although you may not know. Always stay positive although hard times arise throughout the journey; there is always a way out. From personal experience I know it can be difficult but with determination and willingness to move forward everything is possible," the salutatorian said.
Both were recognized along with the other members of the top 10 seniors Monday evening during a special program in which they were encouraged to invite their parents and a special teacher who had an impact on them.
Also among the top 10 students having the highest cumulative averages were Kaylee Butler, third place; Daisy Camacho, fourth; Ernesto Murillo, fifth; Joey Walker, sixth; Kayleigh Brewer, seventh; Kobie Miller eighth; Jaden Coppedge ninth; and Lyndee Mitchell 10th.
The 10 students with the highest cumulative averages in their class were also recognized during the Senior Academic Awards Assembly Tuesday evening.