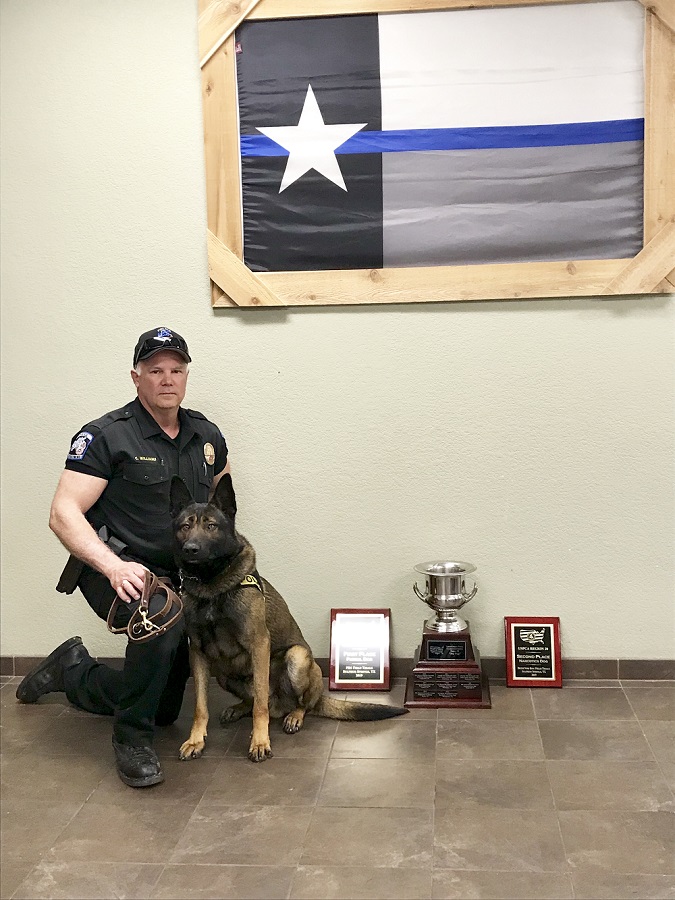 Sulphur Springs Police Officer Cleve "Buddy" Williams and his canine partner Kilo recently earned the "Top Dog" award based on the police canine's overall performance during the United States Police Canine Association Region 20 Trials and Certifications held recently in Sulphur Springs.
Williams and Kilo took first place honors in the patrol contest, and initially tied with Donny Tarter and canine Dieks of McKinney Police Department for first place in narcotics. However, Dierk's time was better than Kilo's so top honors in the category went to the McKinney PD team, with the SSPD pair in second.
However, because Kilo's overall points total was the highest, so the SSPD team went home with the Top Dog award.
This was quite an accomplishment for veteran canine handler and interdiction officer, who has won first place in patrol and narcotics competition several times in the past, competing with five different canine partners over the years, counting Kilo. However, this is the first time Williams and his police dog have captured the Top Dog award.
Another local canine-handler pair also was recognized for their skills. Hopkins County Sheriff's Deputy Zach Poindexter and canine Chiv were named Rookie Dog of the Year, according to Williams.
The competition is held alongside annual USPCA trials, designed to allow canine handlers to put their dogs through the paces to earn annual certification required for officers to use the dogs in the line of work. Each canine-handler pair must first scored 70 percent or higher on the obedience test, administered first, in order to advance to the trials. That's coupled with a friendly competition among participants.
Which of the events the police dog competes in various depending on the canine's job. Dogs are judged on agility, evidence search, criminal apprehension with and without gunfire, narcotics and bomb detection.
In the suspect search event, six large wooden boxes are spaced out in one general area. Each box contains human scent. However, only one person will be hidden in one box, and the police canine has to figure out which box the person is in and alert their handler by whatever means the dog is trained, whether it be barking, scratching at the box or sitting down in front of it.
Tracking, Williams said, is another separate event not typically counted toward the overall points.
For the narcotics contest, substances are hid in two of five different vehicles. The police canine has to find and alert on it.
Another requires the canine to find the narcotics or "bomb" hidden in one of three 300-square foot rooms.
Kilo's primary duties are criminal interdiction. Williams utilizes him for narcotics detection as well as handler protection.
Williams says the half Malinois and half Shepherd, like his four other canine partners and most police dogs, lives with him and has become part of the family, and is very protective of family members. However, Kilo knows when to switch off family playtime and go to work. When put into the patrol unit, he knows it's time to be serious, Williams said.