Wildcats Baseball 9, Greenville 2
Wildcat Jaxon Chaney pounded a grand slam home run and a three-run homer to power the Wildcats' baseball team past Greenville, 9-2 in their home district opener at Wildcat Park Friday night (March 15). Chaney's three-run shot was a part of a five run first inning that put the Wildcats up 5-0. His grand slam in the bottom of the sixth made it a 9-1 game. Jace Burchfield also drove in a run for the Wildcats in the first inning. Kaden Argenbright had a 2 hit game including a double. Austin Dodd, Jace Thompson and Kamren Harrison also had hits for the Wildcats who had 7 hits in all. Burchfield got the win going a complete game 7 innings allowing 2 runs and 7 hits while issuing 1 walk. The Wildcats made no errors. The Wildcats improve to 1-2 in district play and they are 9-3 for the season. The Wildcats continue district play at Mount Pleasant Tuesday night.
Mount Pleasant 1, Wildcats Soccer 1 (Mount Pleasant wins on shootout penalty kicks, 4-1)
The Wildcats' soccer team picked up a valuable point in a physical battle with Mount Pleasant Friday night (March 15) at Gerald Prim Stadium. The two teams ended up tied at 1-1 after regulation and two halves of overtime. The Tigers got two points by making all four of their penalty kick shots while Omar Hernandez made the Wildcats' only one. The big point for the Wildcats puts them into third place in the district standings ahead of Lindale. In the first half, Mount Pleasant scored first at 30:12 on a penalty kick after a Tiger forward was fouled in the box by the Wildcats. The Wildcats got the equalizer from Andrew Escobar assisted by Kevin Yanez at 8:17 in the second half. Wildcats Coach Alexi Upton said he was so incredibly proud of his team. He noted that Mount Pleasant is ranked #2 in our region. Coach Upton said the Wildcats are growing into such an incredible group. The Wildcats have a tough final district game as they travel to Royse City Tuesday at 7 p.m.
Lady Cats Soccer 2, Mount Pleasant 2 (Lady Cats win on shootout penalty kicks, 3-2)
An incredible night Friday night (March 15) for the Lady Cats' soccer team on the road as they battled back to tie Mount Pleasant, took a second half lead only to see the Lady Tigers tie it up, played a scoreless two halves of overtime, but then outscored them in shootout penalty kicks to get 2 big points to 1 for Mount Pleasant. The result puts the Lady Cats right back in the picture for a playoff spot. Mount Pleasant scored a first half goal to lead at halftime 1-0. The Lady Cats got an equalizing goal and then a go ahead goal in the second to take a 2-1 lead. Mount Pleasant was able to tie the match at 2-2 by the end of regulation. There were no goals scored in two halves of overtime. Then the Lady Cats came out on top winning a PK shootout, 3-2. The Lady Cats are 4-5 in district play. Two of the wins have come from penalty kick shootouts. The Lady Cats complete district play Tuesday night at home on Senior Night against the district's top team, Royse City.
McKinney North 9, Lady Cats Softball 8
The Lady Cats' softball team lost a non-district slugfest to McKinney North, 9-8 Friday (March 15) at Lady Cat Park when a final inning rally fell just short. The Lady Cats started out well scoring 2 runs in the bottom of the first to take a 2-0 lead. The Lady Bulldogs put a big 5 runs on the scoreboard in the top of the second to take a 5-2 lead. The Lady Cats pulled close with 2 more runs in the bottom of the third to trim the lead to 5-4. Both teams scored single runs in the fourth inning and McKinney North led 6-5. The Lady Bulldogs scored three times in the top of the fifth to go up, 9-5. The Lady Cats got three more runs in the bottom of the seventh but came up just short at 9-8. Nylah Lindley drove home 2 runs and Alli Fite 1 in the seventh. The Lady Bulldogs pounded out 12 hits and the Lady Cats had 10 hits. McKinney North made 2 errors and the Lady Cats 1. Lindley was 1 for 2 with 2 runs scored, 2 RBIs and a double. Fite was 2 for 3 with a run scored and an RBI. Kelsey Wallace was 3 for 5 with 2 runs scored. Brinklee Driver was 2 for 4 with a double. Sadie Stroud was 1 for 4 with 3 RBIs. Colbria Harrison was 1 for 1 with a run scored. The Lady Cats stole 4 bases. Bailey Haggerty took the pitching loss going only 1 1/3 innings allowing 4 hits with 5 runs and a walk. Addison Caddell finished the game pitching 5 2/3 innings allowing 8 hits, 4 runs only 3 which were earned and striking out 4 and walking 3. The Lady Cats are now 13-4 for the season. They open district play Tuesday night at 6:30 p.m. at Royse City.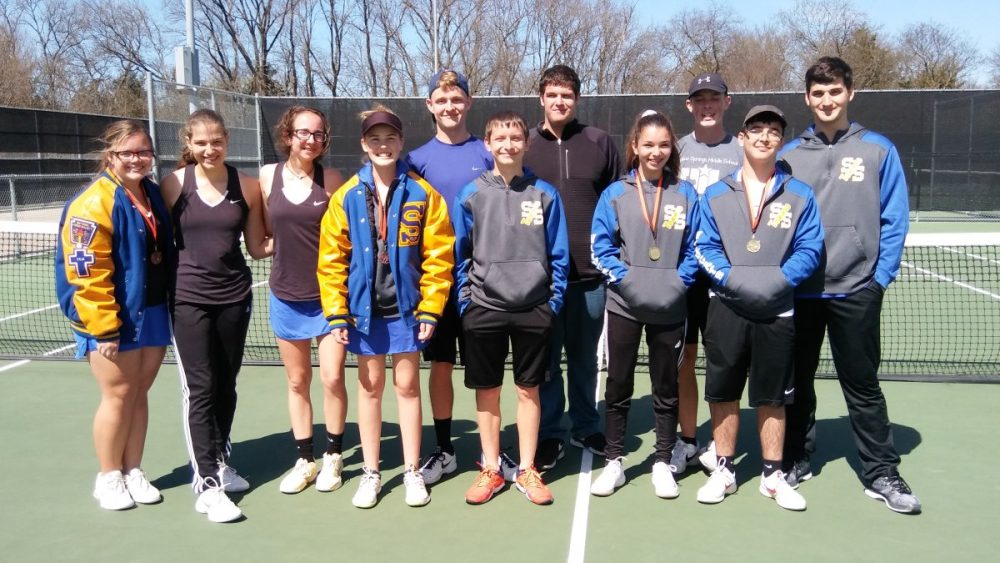 Wildcats Tennis Team Girls Do Well at Commerce Tournament Friday at Wildcat Tennis Center
After the two-day Commerce tournament ended on Friday (March 15), the Wildcats finished in first place in both the Boys and Girls Division. Boys played Thursday and the girls Friday. The Wildcats mixed doubles team of Carlos Lopez and Jeauxleigh Cantu took first place Friday. The all-freshman team of Paige Miesse and Savannah Lilley got first place in consolation girls doubles. Emily Dick was first in consolation girls singles. Zoe Wilson was third in girls singles. The Wildcats play next in an Argyle tournament on March 28-29.
North Hopkins Baseball 10, Excell 0
The North Hopkins Panthers won at home in dominating fashion defeating Excell, 10-0 on Friday (March 15). Wyatt Wharton had quite a game for the Panthers. He was near perfect on the mound pitching a one hit shutout while striking out 12 and walking only 1. At bat, Wharton hit a home run and also drew three walks. The Panthers had 11 hits. Brycen Gillespie was 1 for 4 with 3 RBIs and a stolen base. Branson Thomas was 2 for 2 with 2 runs and 2 RBIs with a stolen base. Geoffrey Stewart was 1 for 3 with 2 RBIs. Kevin Clement was 2 for 2 with 2 runs scored. Victor Rojo was 1 for 4 with a double and an RBI. Caleb Wyatt was 1 for 4 with a run scored and an RBI. Jessie Rivera had a RBI. Colby Cameron hit a double and stole 2 bases. North Hopkins scored runs in every inning but one. They had 3 in the bottom of the first, 2 in the third, 3 more in the fourth and 2 more in the fifth. The Panthers play a doubleheader Saturday at home against Sam Rayburn with games at 11 a.m. and 1:30 p.m.