KSST has Two Sets of FOUR Tickets each to go to the "Day Out with Thomas The Steam Tour" in Grapevine at the Grapevine Vintage Railroad. The tickets are for Friday April 5th at 12:15 Only. Please ONLY enter if you are able to use these tickets on the specified date and time. Two winners will be selected for four tickets each.
Rules and Information:
Winner will be need to provide email address and will be emailed tickets.
The tickets must NOT be resold!
Unclaimed tickets will be dispersed by KSST.
Employees of KSST/KRVA can not win.
Winner's names will be posted on Facebook.
Winners will be notified via Facebook.
How to enter: Like KSST on Facebook, AND like this Post on Facebook.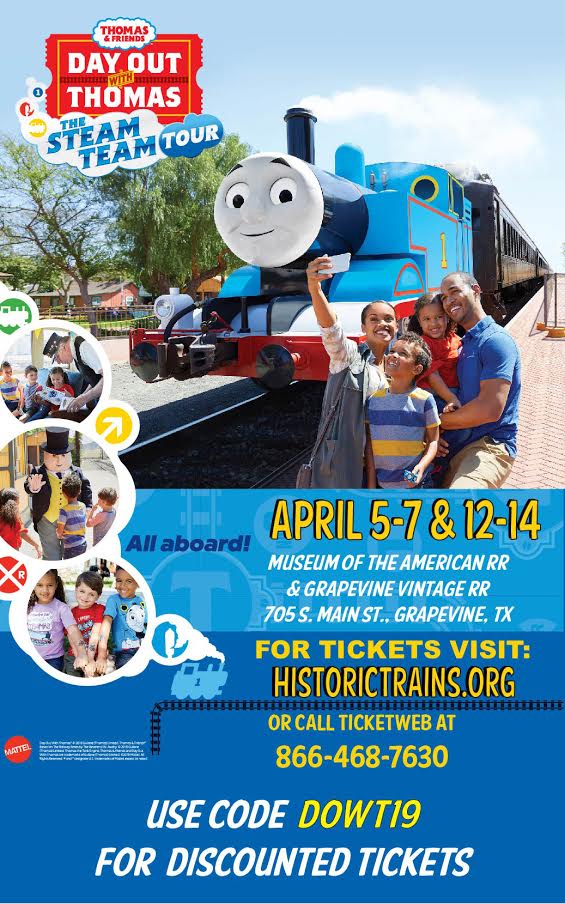 Information below about the event provided by the 'Thomas & Friends' website: Click Here for more info
All Aboard! The big day has arrived! Your little engineer is spending a Day Out With Thomas. There is so much to do and see. Time to go full steam ahead!
Take a train ride with Thomas the Tank Engine™

Check the time on your ticket for your train ride. Make sure you locate and enter the boarding area at least 15 minutes before your train departure time. Feel free to arrive at the event site itself early to enjoy other activities before your train ride!
To add some learning to your day, count the train cars with your child. Take a best guess on how many train cars Thomas will be pulling and see who can get the closest.
Listen for Thomas who says Hello and Goodbye as he arrives and departs the station. Make sure to wave to Thomas and the conductors as they pass you throughout the event.
Don't forget to accept your Junior Engineer Certificate while enjoying your ride with Thomas.
After your train ride, you can get in line and have your photo taken with Thomas. Photos and frames are also available to purchase at the event through JED Photography

Meet Sir Topham Hatt, the Director of the Sodor Railway

Sir Topham Hatt is available for photos throughout each event day. He always tries to be On Track and On Time. Schedules may be posted for specific times to Meet Sir Topham Hatt.
As Controller of the Railway, Sir Topham Hatt knows all the engines but we know who his favorite is. Be sure to have your child tell him who their favorite engine is as well.

Pick up your Day Out With Thomas Passport to Adventures upon arrival and visit each of the 4 Map Stamping locations. Once you collect all 4 stamps, you receive a free prize!
Play in the Imagination Station

Build your track and create the stories of Thomas and his friends at the Wooden Railway Play Tables.
Can Thomas go faster? Slower? Higher? Lower? The TrackMaster™ free-play zone will help you discover.
Love to build? Play with MEGA Bloks and build up your favorite structures with your friends. Keep an eye out for the new Thomas MEGA Bloks!
Get creative with arts & crafts and coloring activities.
Get a temporary tattoo of your child's favorite engine.
Play Thomas games at the Thomas Digital Play Station.

Relax with Storytelling and Entertainment

Hear stories about Thomas and his friends and their latest adventures and watch Thomas and his friends at the viewing station
Join a sing-a-long, watch a magician, or enjoy other exciting entertainment (All railroads offer additional entertainment. The type of entertainment available varies per Railroad.)

Check out the exclusive Day Out With Thomas gifts

Fill your basket with exclusive gifts that can only be found at Day Out With Thomas gift shops at each event. New items are made each year that are specific to the event and not available in stores!