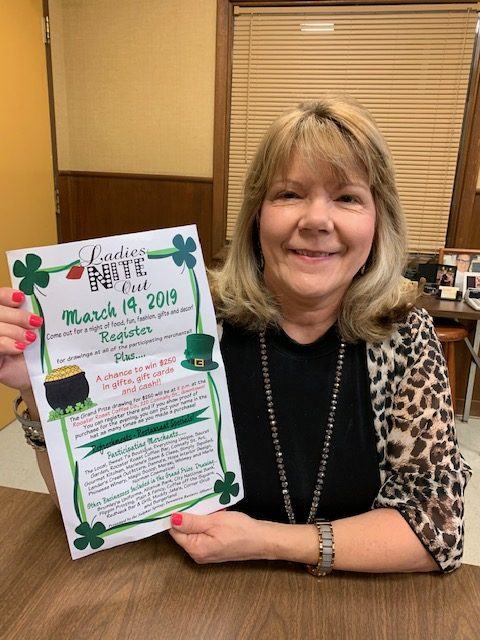 Downtown retail merchant Marlene DeYong spoke for the Sulphur Springs Downtown Business Alliance when she invited KSST listeners to Lucky Ladies Nite Out on Thursday March 14, 2019. That's when over two dozen retail merchants will stay open late and offer customer discounts, prize giveaways and refreshments inside their shops. Almost all the boutiques, fashion and decor shops, wineries, restaurants…even an art gallery/coffee shop, cosmetics spa and men's outfitter will join in the very festive evening.
Why should you take part in Ladies Nite Out? Well, it's fun, for one. And you're invited to wear green in honor of the St. Patricks Day theme. For another reason, many of the merchants are new, and there are prizes and coupons inside every participating retailer that evening. PLUS, you can qualify for at least one chance to win the Grand Prize Basket at 8pm, worth $250 in gifts, gift cards and cash. If you don't have much time, you can still take part! This is not a ticketed event but a come-and-go opportunity to browse and shop late at more than fifteen retail shops and eateries. And, if you bring proof of your purchases from downtown merchants that evening, you earn additional chances to win the Grand Prize. So, after you've browsed to your heart's content between 5 and 8pm, then hurry to the Rooster Roast Coffee Bar for the Grand Prize reveal.
There's no real shopping "map" for the event, but this route is encouraged. Start your journey by touring Danna's Buffalo Girls Boutique and The Florist at 438 Gilmer Street, then travel north on Gilmer toward the square and discover Hope Interior Design. Once at the square, stop at Everything Unique and Corner Grub House, and be constantly on the lookout for leprechauns with lucky coupon discounts for you! Now, on to Main Street to stroll The Secret Garden, The Local (new!), Simply Spoiled, Marlene's Sass and Class, Landers Creek Outfitters, Phinesse Winery, Sweet T (new!) , Meraki, and Redneck Bar and Grill. Don't forget to sign up in every shop! A few more steps will lead you to North Davis Street where you can pop into Muddy Jake's, the Whimsey Boutique (new!) and the Merle Norman Cosmetics Studio and Spa (new!). And don't leave out Connally Street! A stop at Potato House (yes they have Irish potatoes!) will lead you to The Magic Scoop (Mint Chocolate Chip ice cream, anyone?) and to the Rooster Roast Coffee Bar and Connally Street Gallery which is also the (new!) home of Gourmet Kitchen and Company offering tastings and sippings that evening, The Rooster Roast Coffee Bar will have a special Irish Green Cream coffee on the menu that evening. Now, you have found the spot where the Grand Prize winner will be discovered at 8pm. Everyone who is on hand gets at least one opportunity to win!