Sulphur Springs Middle School was well represented at the March 22-24 State Destination Imagination Competition in Corpus Christi,with three teams competing against teams from 17 other regions across Texas.
The Scientific DI Team consisting of Aiden Riley, Aubrey Williams, Jonah Foster, James Goggans, Kami White, Carter Charlton and Brody Emmert; and coached by Bryan Cole and Gerson Salvatoreh, advance to state after earning first place and award for technical element at the regional contest. At state, the team scored high enough to advance to the DI Global Finals.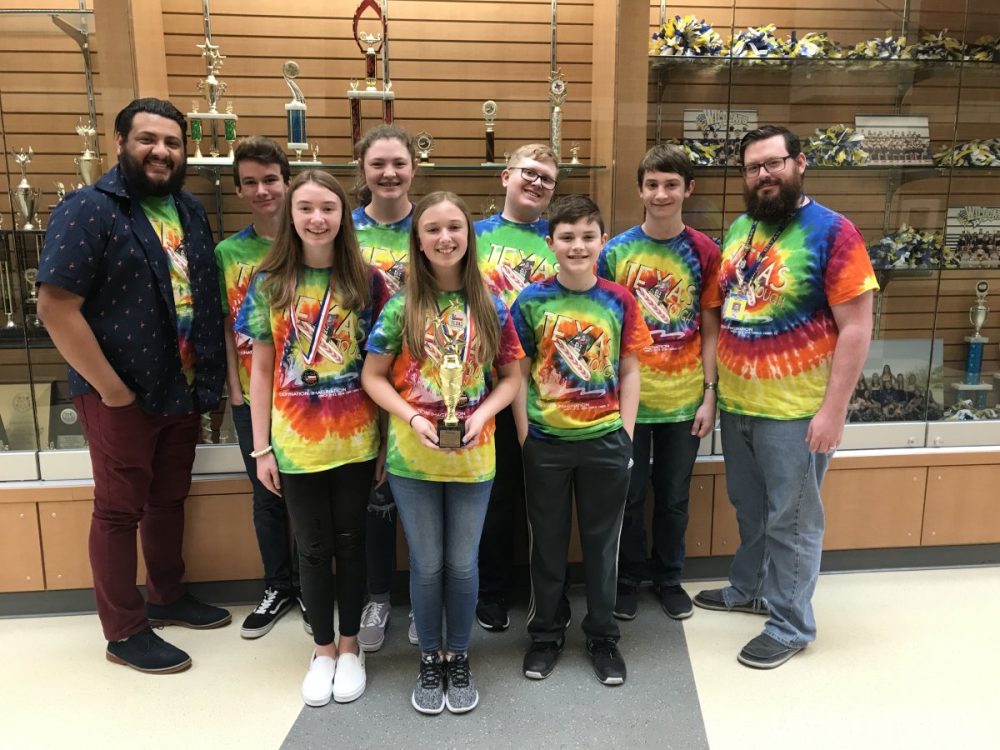 "We will be traveling to Kansas City May 20-26 to compete against students from all over the USA and over 15 other countries. These kids have worked so hard and we are so proud of them!," said Brooke Howard, SSMS teacher and DI coordinator.
For the Scientific Challenge, called Medical Mystery, teams were tasked with depict a human character that displayed symptoms of the medical mystery that they researched. They also had to present the mystery from two different perspectives and make a symptomatic that uses technical elements to show the part of the body affected by the ailment.
"They have been working since October on the solution that earned them this right. Though our school district supports us wholeheartedly and covers all the costs of the competition, lodging and travel, there are added costs that make this trip the best it can be for these worthy kids," Howard reported.
To help fund extra costs associated with the trip, Howard started Go Fund Me account with a goal of raising $3,000 for the Scientific Team. As of Friday night, the team had received $740 in donations on their page: gf.me/u/rtmcug , where donations may be made.
While they did not advance to the global contest, two other SSMS teams also earned the right to advance and represent their school and town at the state DI contest March 22-24.

The Engineering team consisting of team members Grace Johnson, Lane Hunt, Piper Cooper, Aiden Woodard, Gavin Johnson, Dylan Shumate and Jake Jumper, and coached by Jamilyn Hunt and Rachael Johnson, won first place and a special award for their Venus Fly Trap at the regional contest, advancing them to the state meet.
The technical consisting of Camron Carter, Ben Brown, Annalissa Tanton, Ian Westlund, Coen Bell, Madalyn Sherman and Lexi McCoy, and Coached by Chip Vaughn and Brooke Howard, won second place at regionals, but ended up getting a bonus slot for state.