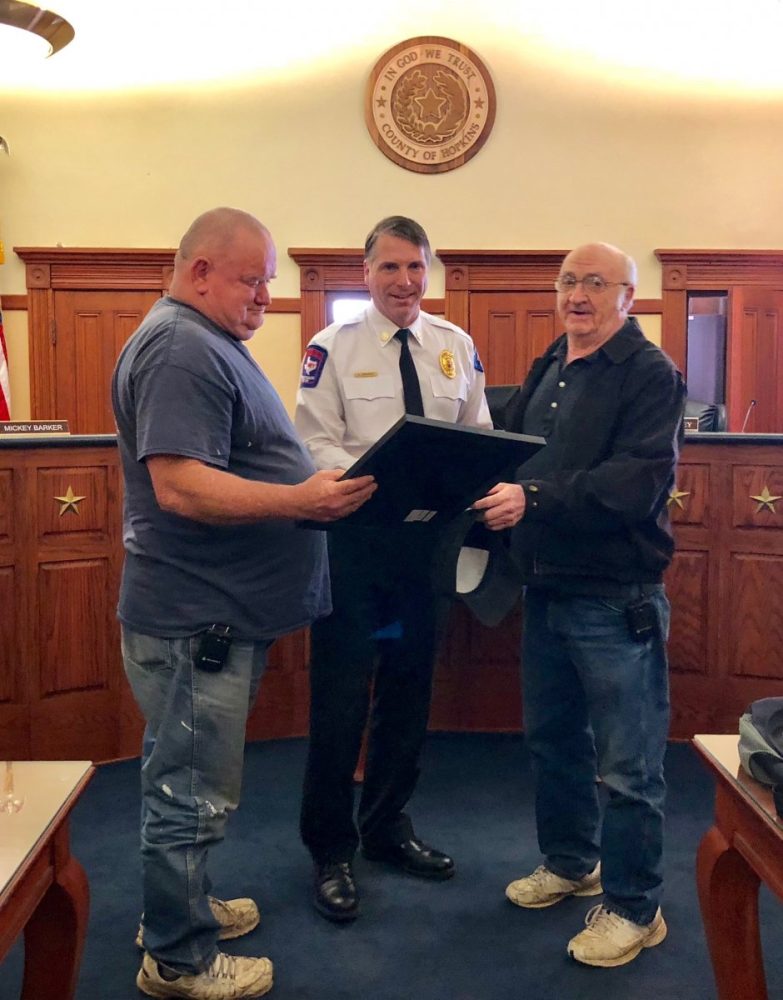 Hopkins County Commissioners' Court honored the Como Volunteer Fire Department with a proclamation that reviewed the history of the department and called on county citizens to celebrate the dedication of the department in serving to protect the citizens and property. County Volunteer Fire Departments serve not only their specific area but are always on call to assist other departments in the county.
The Proclamation was read by County Commissioners and presented to the department by County Fire Chief Andy Endsley Monday morning during the court's regular session.
P r o c l a m a t i o n

WHEREAS, On January 28, 1975, the Como Volunteer Fire Department was established with twenty six members; and
WHEREAS, Paul Lawrence served as President, Sonny Moss served as Chief, Danny Hopkins served as Assistant Chief, Richard Teer as Secretary/Treasurer along with Jimmy Rushing, Mike Glenn, Travis Rasberry, John Folmer, Darrell Hopkins, Jerry Petty, Robby George, James Humphrey, Ed Arnold Sr., Eddie McGreger, Bill McGlamery, Nathan Bachelor, Jerry Bitman, Freddie Rowell, John Beezley, Eddie Flora, Kenneth Hopper, Paul Lawrance, Charlie George, Bill Evans, Don Collins, Jerry Caddell, Herbert Flora, Eldon Chester and Carroll Meeks; and
WHEREAS, In March 1975, the installation of fire phones in the homes of ten members served as a fire call notification by a constant ring until someone answered the call; and
WHEREAS, On April 17, 1975, property for the fire station was donated to the Como Volunteer Fire Department by Como Industries and remains as the site today for the fire station which was built by its original members; and
WHEREAS, At present, the Como Volunteer Fire Department has eleven members supporting four fire apparatuses. Chief Darren Harris, Assistant Chief Ted Joiner and Former Fire Chief Roy Darby who currently serves as Secretary/Treasurer along with their fellow fire fighters, Ron Walker, Kaleb Kaslon, Darrell Meeks, Russell Bearden, Calvin Ray Runyan, Darren Harris, Kevin Benson and Mike Darby provide fire protection for the Como community; and
NOW THEREFORE BE IT RESOLVED, that the Hopkins County Commissioners Court urges all citizens of Hopkins County to celebrate the outstanding efforts of the firemen of the Como Volunteer Fire Department, to recognize the dedication in their perseverance to provide protection for the citizens of Hopkins County and their property and, offer sincere appreciation for the servanthood of each one.