FORT WORTH, Texas – Dec. 4, 2018 – The Whataburger Basketball Tournament, hailed by USA Today and Sports Illustrated as one of the nation's top holiday tournaments, returns to the Dallas-Fort Worth Metroplex for its 61st year. The tournament kicks off Thursday, Dec. 27 through Saturday, Dec. 29.
With humble beginnings dating back to 1958, the Whataburger Basketball tournament has grown from just eight teams to a 48-team basketball showdown featuring talent from across the state and beyond, including out-of-state competitors from Little Rock Parkview.
More than 30,000 spectators, including college scouts and coaches, are expected to take part in the action-packed three-day tournament at three area high school gyms. The 5,000-seat Birdville Independent School District's W.G. Thomas Coliseum will host the Boys Orange Division, the 1,700-seat Chisholm Trail High School arena will host the Boys Blue Division and the 2,200-seat Saginaw High School arena will host the Girls Blue Division.
In its storied history, the Whataburger Basketball Tournament has provided a national spotlight for players that went on to professional careers as players and coaches with the NBA. Tournament veterans include Sam Cassel, assistant coach for the Los Angeles Clippers. In addition to going home champions, the winning team in each division will also earn a $1,000 scholarship from Whataburger.
"We're proud to bring families and fans together to witness the rising stars in the Whataburger Basketball Tournament," said Whataburger Director of Operations Scott Phillips. "We know how much hard work and dedication the athletes put into this game, and Whataburger couldn't be happier to see them succeed."
Fans interested in witnessing history can purchase tickets at each of the tournament's three venues. Tickets are $9 for a single day pass on Dec. 27 and 28, $10 for a single day pass on Dec. 29, $24 for a three-day pass at a single venue, $36 for a three-day pass at Chisholm Trail and Saginaw venues and $55 for a three-day pass for all games and venues throughout the competition.
"This year's tournament is jam-packed with incredible talent from Texas and beyond," said Tournament Director Tom Rogers. "The Whataburger Basketball Tournament continues to set the stage for players to showcase their skills. We're excited to see a little friendly competition and end the year with some great basketball."
For additional information including brackets, rankings and specific player statistics, visit Whataburger-BBT.org. During the tournament, updated scores and game schedules will be posted in real time on Facebook. Here are the participating teams: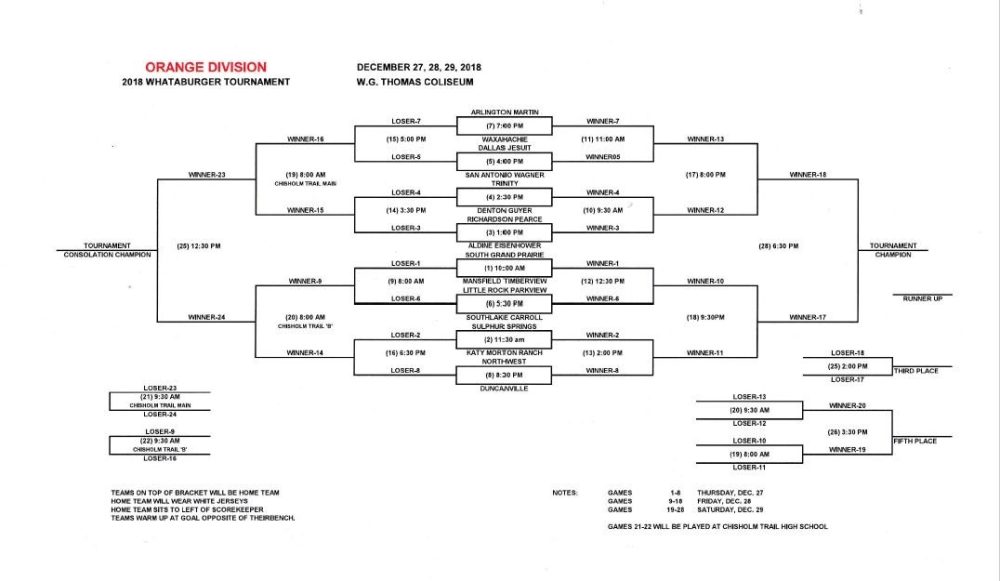 BOYS ORANGE
Aldine Eisenhower
Arkansas Little Rock Parkview
Arlington Martin
Dallas Jesuit
Denton Guyer
Duncanville
Euless Trinity
Fort Worth Northwest
Katy Morton Ranch
Mansfield Timberview
Richardson Pearce
San Antonio Wagner
South Grand Prairie
Southlake Carroll
Sulphur Springs
Waxahachie
BOYS BLUE
Argyle
Argyle Liberty Christian
Bowie
Brock
Burkburnett
Center
Decatur
Grandview
Kennedale
Levelland
Liberty Hill
Nazareth
Peaster
Ponder
Seminole
Wall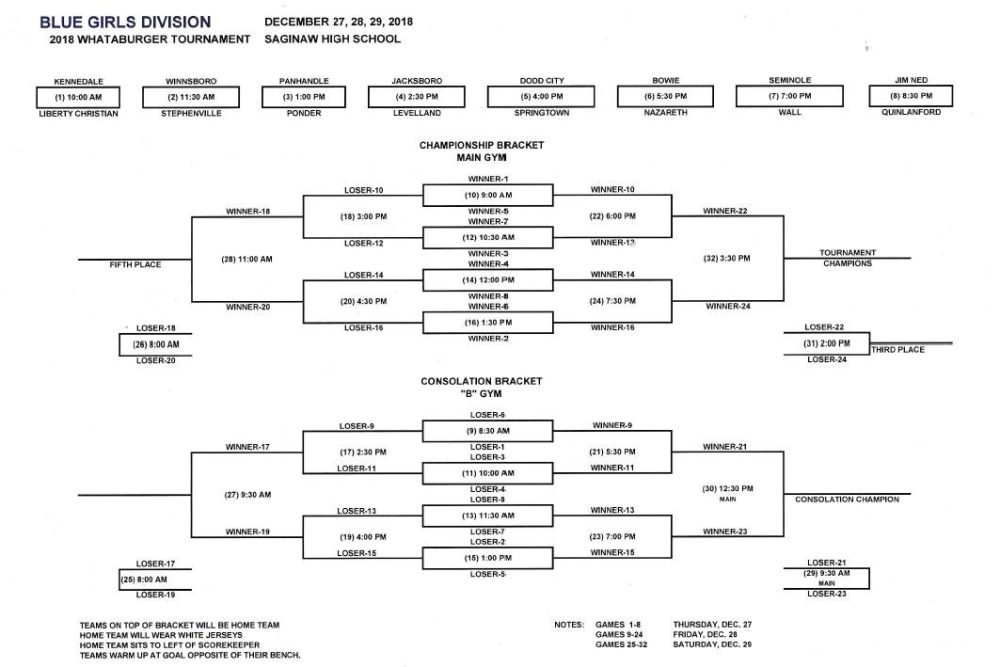 GIRLS BLUE
Argyle Liberty Christian
Bowie
Dodd City
Jacksboro
Kennedale
Levelland
Nazareth
Panhandle
Ponder
Quinlan Ford
Seminole
Springtown
Stephenville
Tuscola Jim Ned
Wall
Winnsboro