Thursday at noon in North Hopkins School Cafeteria, Hal Roberts and Blake Cooper, both retired school superintendents, addressed the administrators, teachers, and staff at the Christmas luncheon for North Hopkins ISD personnel. Dr. Darin Jolly, Superintendent of NHISD introduced the speakers and served as Master of Ceremonies for the event.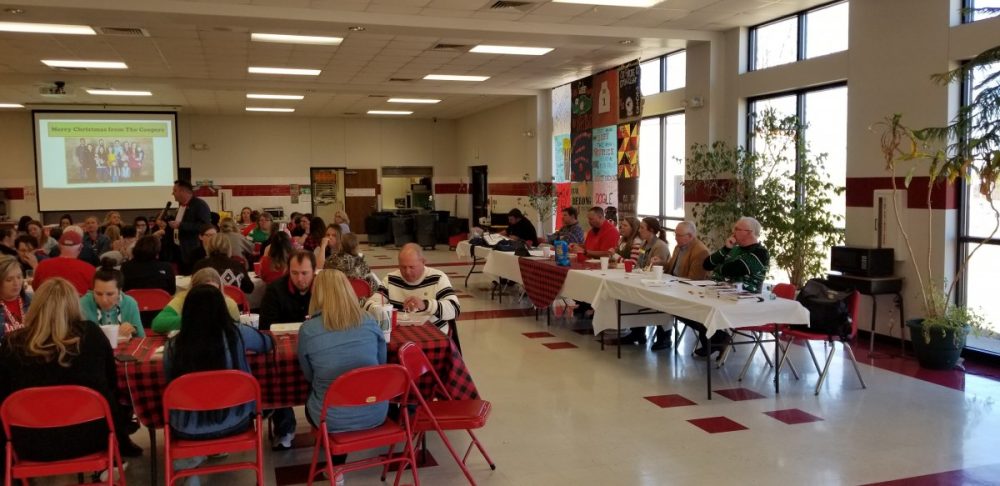 Roberts, who taught grades 4-8, was a coach, principal, and superintendent, addressed the educators regarding attributes that teachers need to model and impart to students. He told KSST News that passion, perseverance, and hope were among the traits needed by teachers. Drawing from a book he has recently written and that was presented as a gift to educators present for the event, he used an acrostic for his presentation. He noted that if teachers can kindle hope for students, it will go a long way in building the student's future. He said passion for teaching is a must for educators.  
Cooper, a retired superintendent who had been in education for 32 years, is now Executive Director of Friends of Public School. The non-profit organization is an advocate for public education in the state of Texas. He also has a ministry called Educators Christian Fellowship, which encourages and equips teachers to walk their faith every day when they are out and about and in the classroom. He said he takes offense when people say God is not in the classroom. He said sometimes when the Ten Commandments is posted in a classroom it does not mean that God is there. He said students know God's love through actions. He said the character and spirit of a teacher's life is known to their students by the actions of the educator.