With an additional donation delivered shortly after Tuesday's weekly Hopkins County United Way report meeting, campaign pledges received  for the day totaled $28,243.38.  This is the highest pledge total for Report Meetings so far this year and brings a grand total to date of $77,801.58. The 2018-2019 Hopkins County United Way Goal is $165,000.  
The next report meeting is set for Tuesday, October 30th at 9 a.m. A list of those joining the 100% club Tuesday, October 23rd is found below.
A give back day is Thursday, October 25th at Panda Express in Sulphur Springs. In order for HCUW to receive credit for purchases, Panda patrons are asked to please show a digital or paper copy of the attached flyer.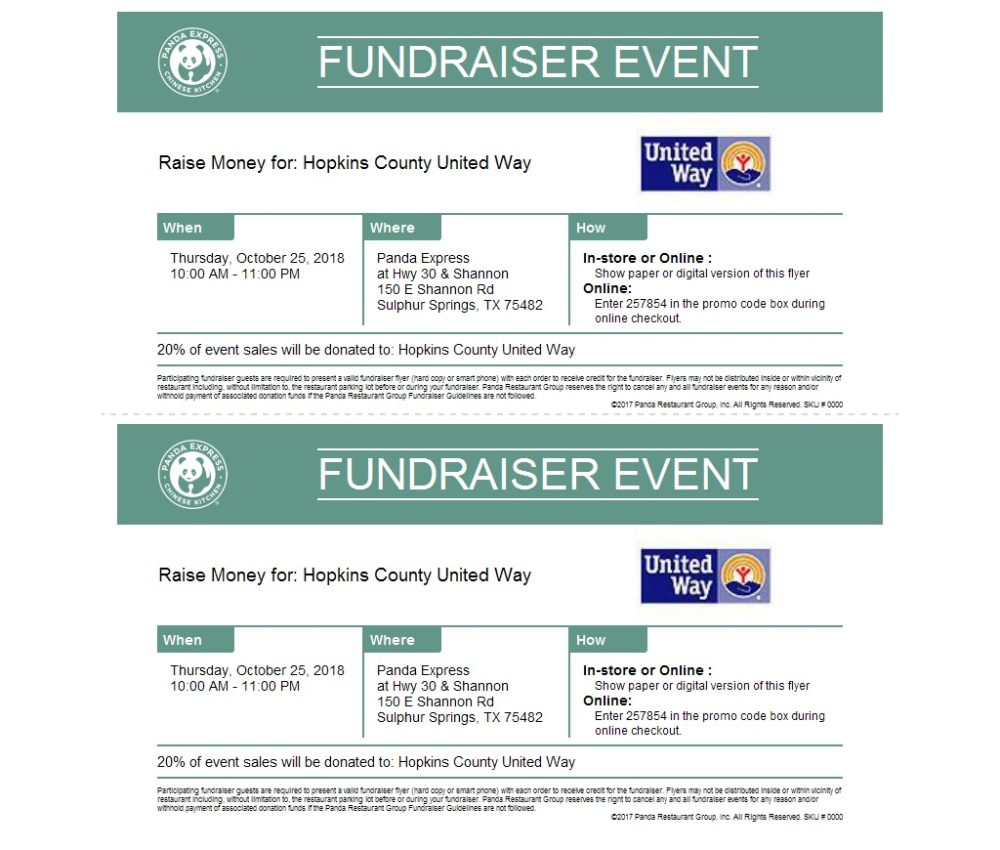 100% Club for October 23, 2018; companies meeting or exceeding the posted goal
Grocery Supply Co.
Civic Center Staff
Tire Town
Payne Electric
Sulphur Springs Dodge
Sulphur Springs Muffler Center
Texas Trading Co.
Briley Barber Shop
Nation's Lending
4 Paws Pet Grooming
Everything Unique
Brumley's Uniforms
Jay Hodge Chevrolet
Smith and Smith Law Firm
Interstate Body Shop
East Texas Line X
Commercial Glass and Mirror
West Oaks Funeral Home
Hall Oil Co.
Guaranty Bank and Trust Corp.
Juan Pablo
Lone Star Bail Bonds
Pizza Inn
The Magic Scoop
Flippin Printing and New Millennium Shopper
Don Lalos
Johnson Law Firm
Powers and Blount
Carl D. Bryan
J Brian Allen
Dr. Shetty
Schlotzsky's
All World Travel
Legacy Ag Credit
Nor-Tex Tractor
Mitchell Fitness
Northeast Texas Farmers Co-Op
Rotary Club of Sulphur Springs
Sulphur Springs Lions Club
The Shoe Inn
Fieldhouse
Super Handy Corp. Office
Super Handy Store #5
Super Handy Store #6
Super Handy Store #7
Nationwide; Jason Tully Insurance
Toliver Ford
Wayne Cooper Construction, Inc.
County Clerk Debbie Shirley
Hopkins County Sheriff's Office
Constable Bill Allan
County Auditor Shannah Howle
County Commissioners Barker, Bartley, Evans, and O'Dell
County Judge Robert Newsom
County Tax Assessor Debbie Mitchell
County Court at Law Amy Smith
Constable Norman Colyer
Justice of the Peace BJ Teer
Veteran's Service Officer Danny Davis
District Adult Probation Office
Juvenile Probation Office