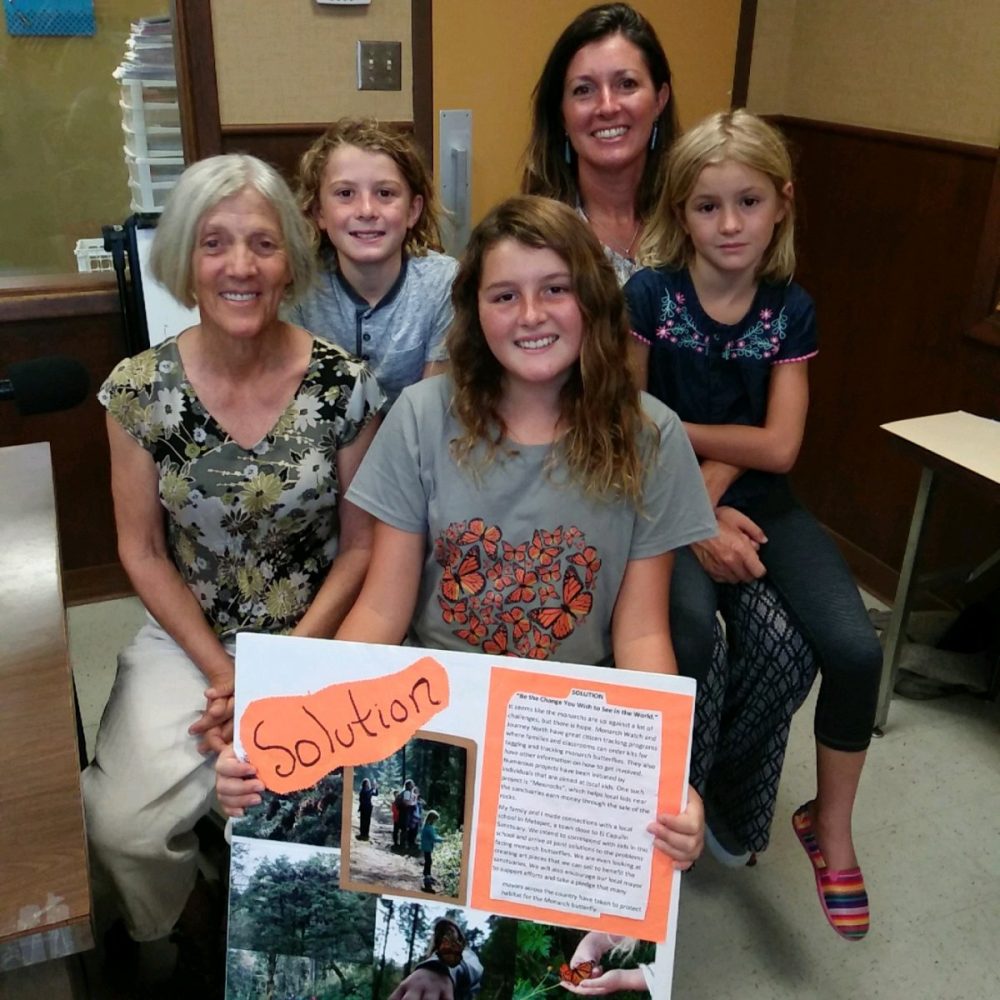 Miss Kasey Rhodes, an 11-year-old home-schooled student living with her family at Yantis, Texas started the ball rolling when she arrived home from a family trip to Mexico this Spring to begin a campaign to preserve habitat for migrating Monarch butterflies. Now, in keeping with her interest in nature, Kasey has been instrumental in the creation of Yantis Prairie Day, set for September 29, and a ribbon-cutting at the new Outdoor Community Classroom located on donated land adjacent to Yantis ISD.
According to Kasey, the natural prairie habitat that once covered this part of North Texas was the perfect environment for a host of bird, insect and mammal species that are now close to extermination. The reason? Destruction of their natural habitat. Kasey states "For Monarch butterflies, it is specifically the milkweed plant that they use in their cycle of life. The butterflies migrate from Canada southward through the middle part of the United States, where prairies were once prevalent. The milkweed plant is their host, providing food and a place to lay their eggs and hatch their larvae. Once plentiful, now milkweed is more and more rare due to land and homeowners mowing this down as they cultivate their lawns and hay meadows. If people would just leave little patches of natural growth on their land, the butterflies can find the milkweed and continue their life cycles. It is a similar story with many other species which are now threatened with extinction". Kasey has presented her "Mayor's Monarch Initiative" to several city goverments during 2018, hoping to gain more and more support for Monarch habitat.
Next, she met Julie Maddox, a landowner in Wood County who has a background in research and preservation of natural "tall-grass prairies" and the creatures that inhabit them. Julie recently donated a 5-acre plot of land adjacent to the Yantis ISD to create a "Prairie Community Classroom" for students and the public alike. With assistance from Parks and Wildlife and Fish and Game departments, Julie has already made a start in returning her lands to it's original eco-system with some success. "It takes about five years and sometimes more for prairie land to recover from hay planting, fertilizing and over grazing, and to allow for a return of the birds like quail, harriers and certain sparrows, but it will. It's amazing what the earth can do". 
Families like the Rhodes and Maddox families are being joined by others who are generously offering volunteer time as well as money to help build garden beds and birdhouses, and to purchase native grass seeds and pollinator-friendly plants. If you would like to get on board, make a start by attending the Yantis Prairie Day on the afternoon of Saturday, September 29, 2018 with participation from Texas Parks and Wildlife, U.S. Fish and Wildlife and Yantis City Council.