Named Ms. Downtown on Billie Ruth Standbridge Day…This Senior Businesswoman is a Hopkins County Native
June 4, 2018 – Billie Ruth Standbridge loves Sulphur Springs so much, she built her new home on Main Street downtown! In fact, when she moved into the retail/residence space during May 2018, she knew she had made the right decision as she viewed the busy street from her apartment balcony.  The vitality of downtown Sulphur Springs still provides an exciting attraction to this veteran businesswoman. In deciding how to celebrate her 85th birthday, she invited friends to an informal afternoon gathering at one of her favorite downtown places, The Magic Scoop Soda Shoppe and General Store on Connally Street, owned by Lara and Adam Colby.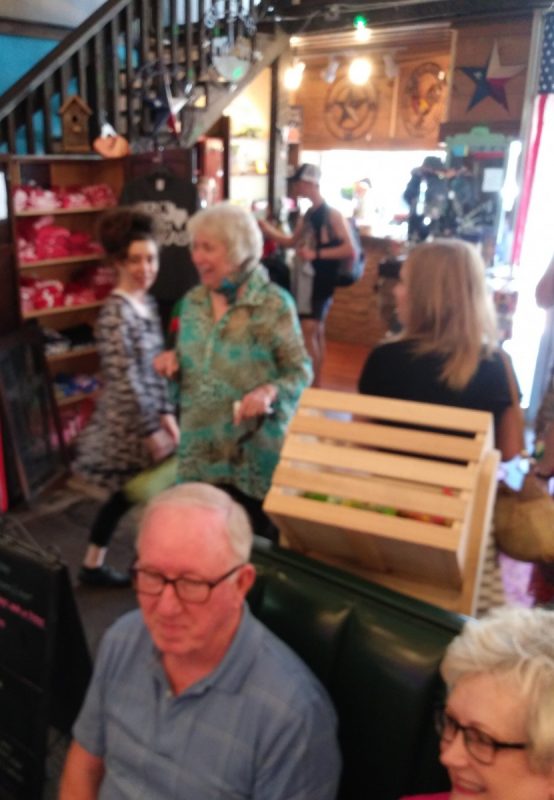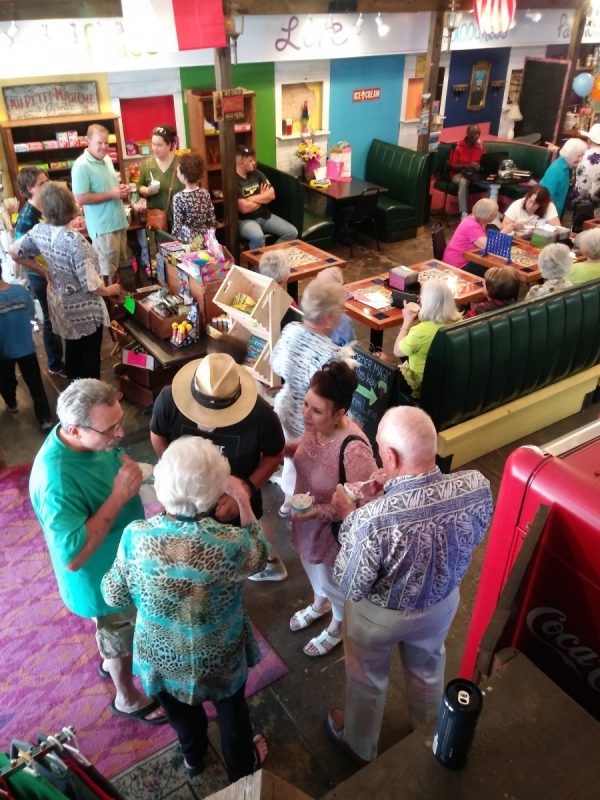 Billie Ruth was greeted by a wide circle of friends and business associates when she made her entrance with her daughter Mikel. Local musician "Pitty Pat" Guidry was keeping the music going for the crowd. And though the party was no surprise, there were some surprises in store, as the City of Sulphur Springs issued a proclamation of Billie Ruth Standbridge Day for June 2, 2018, read by City Councilwoman Emily Glass. And, the Downtown Business Alliance presented her with a certificate naming her "Ms. Downtown", read by DBA Vice-President Joy Wilson. There were flowers, birthday cards and lots of hugs and laughter. Also attending were new business owners J.B. Mosely and his son Mason, who will be opening a sporting goods shop this summer in the downstairs retail space in the new Standbridge building on Main Street.
Billie Ruth Mote was born in the Starr Ridge community of Hopkins County in 1933, was raised on South Davis Street and got her early education at Austin Elementary School. Although not raised on a dairy, she claims a place in dairy industry history through her father, whose job in Odessa brought the first "cartoned" milk to consumers in West Texas. She entered college at Texas State Women's University (now TWU) and also taught dance and drill team.  After she entered the University of Redlands in California, she met and married George Standbridge. The couple enjoyed traveling, especially by motorcycle, and had two children, Morgan and Mikel. Their California-raised offspring sought international educations and careers, with Morgan traveling, after Coast Guard service, with the Boeing Company for 30 years and Mikel studying in the US and abroad and completing Art and French degrees. Today, Morgan and his wife Angie have one son, Cedrick, whose interests include the Pacific Crest Trail hike and international travel. Mikel met her husband Simone Rizzi while studying for he Masters degree in Chicago. They make their home in Milan, Italy and visit Sulphur Springs once or twice each year.  Photographic artist Mikel is opening a boutique hotel/Arts resort, and has a special interest in helping her local friends discover Milan, Italy.
A few years ago, Billie Ruth and George decided to move back and make Sulphur Springs their permanent home. Billie Ruth quickly got into the business scene of her hometown. In the Spring of 2018, following a lengthy illness, George unfortunately passed away just after they had become installed in their newly completed home in the Standbridge Building. Billie Ruth feels blessed to have a large circle of friends, and is eager to enlarge her share in the downtown business community.  She also looks forward to spending more time with her two children, their spouses and her grandson, as well as socializing with friends "at home" downtown.