By Jan Vaughn
Joyce Dodd reports that we've had some activity at the Tira free food pantry recently. She shared that we have lots of canned vegetables on hand, but need more canned meat and other non-perishable proteins. Donations for the pantry are always needed and very much appreciated.  If you would like to help out, you can contact any of the Tira Council Members, Powell Vickery – Mayor, Joyce Dodd, Tami Joslin, Janie Lewis, Sherry Smiddy, and Yvonne Weir, or let me know. My contact information is always shown at the end of the column.
The North Hopkins Cemetery Association will hold its annual Memorial Day Service at the North Hopkins Cemetery Chapel on Sunday, May 27th, at 11:00 a.m. They would like to "encourage all interested parties to come to honor our veterans and loved ones that have been buried there."  Lunch will be served for a $10.00 donation to help offset the cost of the food. Please bring your card table and lawn chairs. If you can't attend, you may make a donation to the
North Hopkins Cemetery Association, c/o Charlene Stewart, 128 S. Davis St., Sulphur Springs, Texas 75482.  Charlene adds,  "All donations are appreciated to help with the upkeep of the building and grounds."
The regular quarterly meeting of the Tira City Council will be coming up on Tuesday, June 5 th , at 6:00 p.m. The public is welcome and encouraged to attend. You may bring donations for the food pantry to any council meeting.
The annual Aiguier Cemetery Association meeting will be held on Sunday, June 3 rd , at the North Hopkins School Cafeteria. Please note the change in location. A covered dish lunch will be shared at noon, followed by the meeting.
Colbie Weatheread, daughter of Dylon and Brittni Weatheread, celebrated her 1st birthday at their home in the Pleasant Grove area. Colbie is the granddaughter of John and Melissa Weatheread of Tira and Sandy and Steven Bindeman of Sulphur Springs.
Minnie (Hillis) Reagor reports, "Reunion Time again! Hope you will join us, as we gather with kinfolk from near and far… close relatives and extended families! We hope we will see you at the reunion, Saturday & Sunday, June 16th & 17th, 2018, at the Tira Community Center. (Annually, the 3rd full weekend of June.) Any Hillis descendent from any branch is welcome! Our branch descends from Andrew "Jackson" Hillis (1815/17 – 1878) who married 1) Aliza Elizabeth Hawkins, and 2) Mary Ann Shelton, branching out from the Lauderdale County,
Alabama and Giles County and Lawrence County, Tennessee regions… spreading out across various States." For more information you can visit their Reunion Webpage: https://www.facebook.com/hillisfamilyreunion or e-mail [email protected] She adds that you can contact her by mail at "2018 Hillis Reunion – 339 Greathouse – Vidor, TX 77662."
Be sure you have the Tira Homecoming on your calendar. It is held annually on the first Sunday in July, which is the 3 rd this year. There will be a program and Tira Cemetery Association meeting at 11:00 inside the Tira Methodist Church, and then the group will share a pot-luck lunch at the picnic tables on the grounds.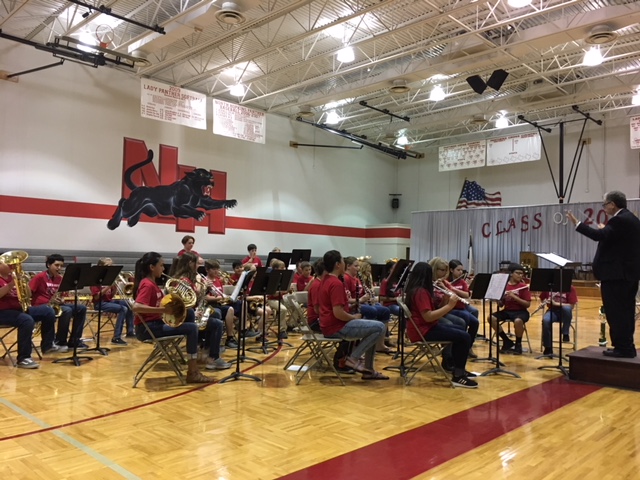 North Hopkins School has begun a band program and had its first concert on Friday, May 18th. The band is made up of 6th and 7th grade students and their director is Monte Ashcraft. It's exciting to see the students have this additional opportunity to develop their talents.
North Hopkins Seniors will be graduating on Saturday, May 26th, at 3:00 p.m. 8th Grade Graduation is on Friday night, May 25th, at 7:30 p.m. Kindergarten students graduated at 9:00 a.m. on Thursday, May 24th. I hope everyone has a safe and fun summer!
I always need and appreciate input from my friends to help keep me informed of news in our community. If you have any news pertaining to Tira residents, past or present, please contact me, Jan Vaughn, at 903-945-2190 or 903-438-6688 or [email protected]