By: Savannah Owens
The 6th Annual Heritage Park Youth Art Show Exhibition is on display at the Heritage Park Chapel, Today, Saturday April 21st, from 10:00 am to 3:00 pm. Susan Carey, Hopkins County Historical Society Member, is leading the exhibit.  The exhibit is completely free for the public to view. "This is one of the few times it is totally free to visit the park" Carey said. The art is inspirational, thought provoking, and fun to view.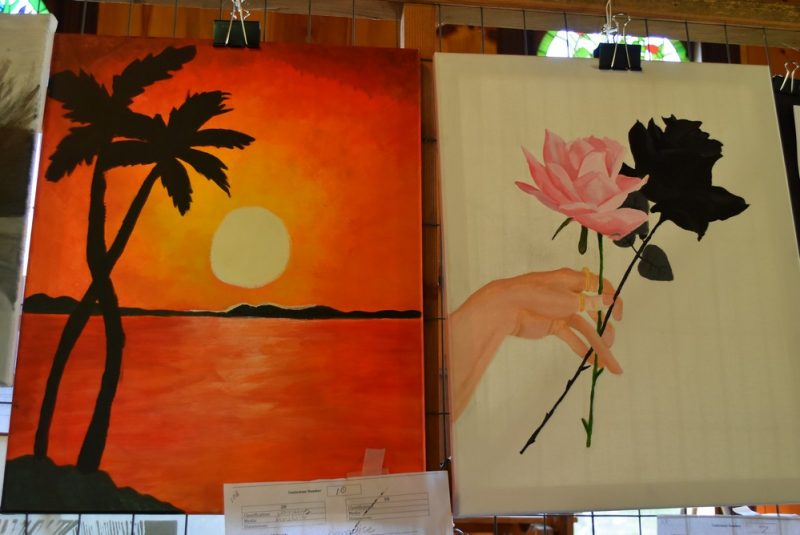 The artwork, submitted by middle and high school art students from all over Hopkins County and open to all students. The schools represented include: North Hopkins, Cumby, Brightstar, Como-Pickton, Sulphur Springs, Sulphur Bluff, Miller Grove, and some home schooled students.  Many of the students are involved in an AP art class. Carey mentioned "The Brightstar art teacher, Sarah James, is just getting started with the art [program] but Brightstar almost gives Sulphur Springs a run for their money. North Hopkins and Sulphur Springs already have strong programs but the other schools are catching up fast!"
Stop by to see even more of the artwork not captured in these photographs!
There are many different categories ranging from charcoal drawings, to 3D painted sculptures. Carey said that some years they've even had "ceramics, jewelry, wood things, [and] mosaics." This year they had some beautiful submissions in photography. "You never know what's gonna come through the door." Carey joked. They are hoping to continue to expand the program if the Society can raise enough funds for the new building, which will include a banquet/exhibit hall which will allow them to host an even bigger show next year!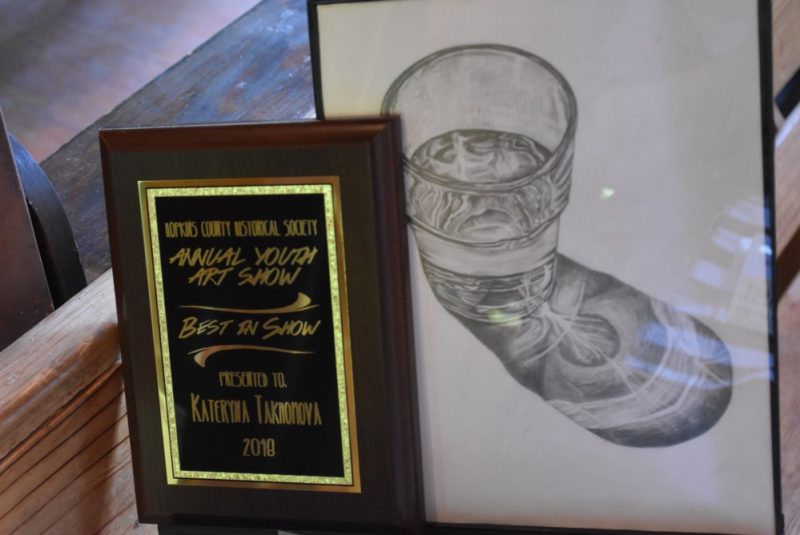 This Year Best in Show goes to Kateryna Takaromoya, 10th grader, for creating this drawing. Her technique impressed the judges as the light reflecting in the shadows is "very advanced and difficult to do well." Congratulations Kateryna.
There are usually 2-3 judges that are all professionals in the industry, sometimes it's an art teacher, professional painter, or gallery dealer.  Carey explained that Jerry Lee and Mike Elliot have been "very generous with their time and advice" on this exhibit.
Carlie Penson, Treasurer, exclaimed "The artwork is amazing!" The descriptions on the artwork provide more information to the thought behind these creative pieces. The attention to detail in all of these pieces is wonderful! There are portraits, landscapes, still life paintings, drawings, sculptures, and more!
This sculpture is called "Sewing Tractor" and was created out of an old sewing machine, a spoon, and gears.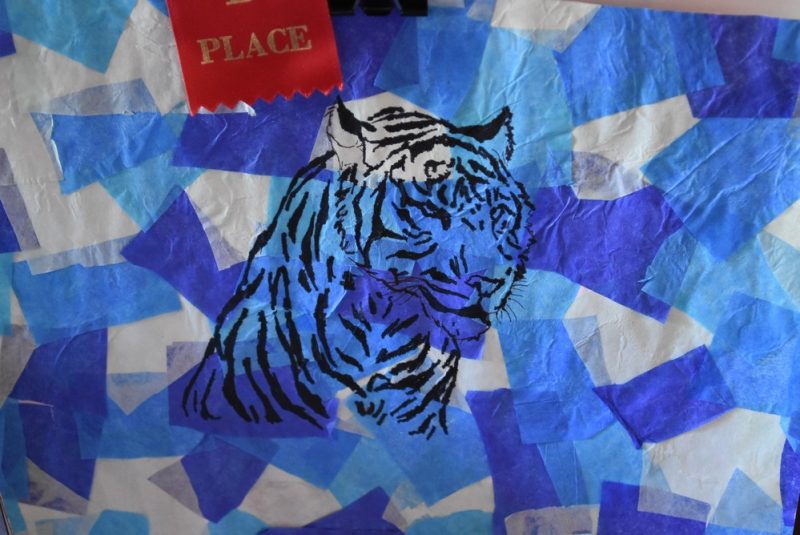 This piece was created to combine the artists "favorite color and favorite animal".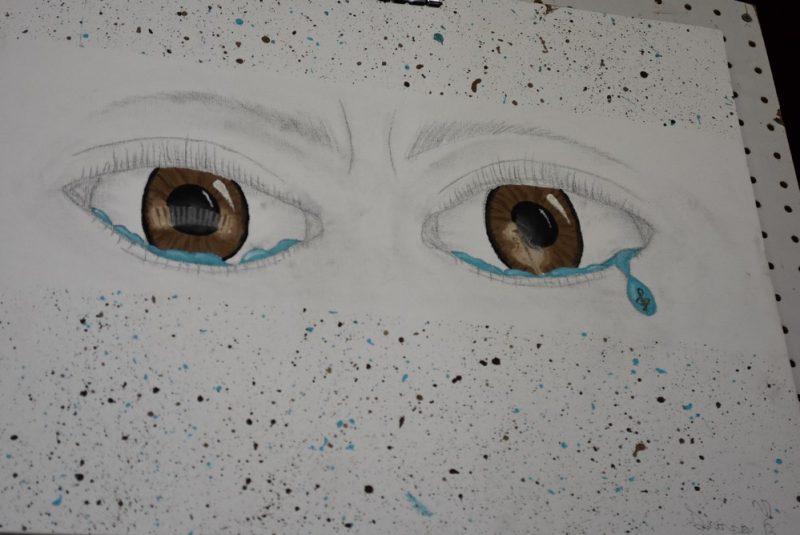 A secret about this piece is the small reflection of a piano, and violin in the eyes.
Students may pick up their art pieces until 5:00 pm Saturday, April 21st.