Wildcats Baseball Coach Jerrod Hammack said he couldn't have asked for a better start to the district season or at a new field after his team defeated Pine Tree, 12-2 Tuesday night at sparkling, new Wildcat Park. The game was called with two outs in the bottom of the sixth inning because of the ten-run rule.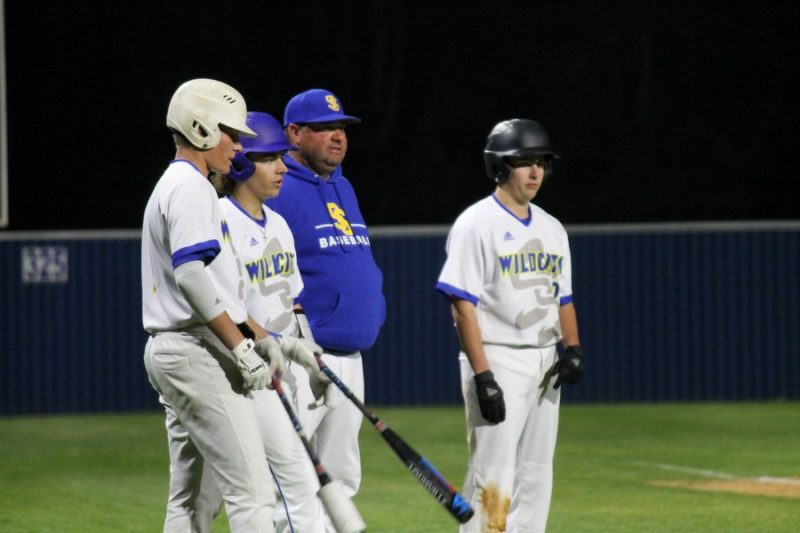 Coach Hammack said it was big for the Wildcats to put four runs on the new Wildcat Park scoreboard in the bottom of the first inning and then to build on the lead later. He acknowledged his team hit better in their last tournament of the season than they did Tuesday night but he said the Wildcats did get some timely hits and did enough to score 12 runs. Coach Hammack said the team's adrenalin was really flowing at the start of the team's first district game. He said the team had to settle down some.
Coach Hammack said Wildcat Park might be a better field next season after a year of working on it and getting it sanded after the season. Still he was pleased with how it is right now. Coach Hammack said most of the grass was nice and thick and green and he said the park looked good. He also liked the good crowd and the atmosphere during the game. Coach Hammack said the larger field should benefit the Wildcats and their style of play. He said Pine Tree's outfielders seemed to play deeper than usual in the bigger park and he said several Wildcats' hits fell in front of them.
Coach Hammack said one key to the win was how the Wildcats stymied the Pirates running game. He said catcher Kaden Argenbright shut down the running game. Pitcher Ryan Humphries also picked off a Pirate runner at second base. Coach Hammack also credited first baseman Triston McCormick for the way he handled a Pirates' attempt at a double steal as they tried to score a run in the top of the first. A speedy Pirates' runner was thrown out at the plate. Coach Hammack said if the Wildcats can eliminate errors and walks, they will be hard to beat.
After their success at home, the Wildcats will now take their game on the road. The Wildcats play at Marshall Friday night at 7 p.m.