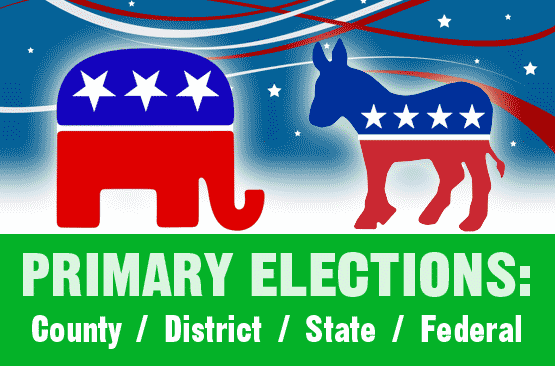 With 25.12% of registered voters in Hopkins County casting ballots, Clay Harrison was elected Judge, Hopkins County Court-at-Law. He has no Democrat challenger.
Joe Price was elected Commissioner Precinct 4 with 701 votes or 55.11% of the total. John David Jetton received 487 votes and Kevin Cole 84.
Republican Tracy Orr Smith will face Democrat Reiko Alexander in November for the Office of County Clerk. Smith received the Republican nomination with a win over Mike Dodd, 2697-1692.
In the County Treasurer race, Andrea Griggs and Danny Davis will face one another in a run-off election Tuesday, May 27th. Incumbent Jim Thompson fell short with 1381 votes or 30% of the vote. Griggs received 1752 votes or 38.12% and Davis 1463 or 31.83% of the vote. There will be no Democrat opponent in November.
Greg Anglin will face Edward (Ed) Moore in the race for Commissioner Precinct 2. Anglin received 398 votes or 40.82% and Moore 320 votes or 32.82%. John Wilburn received 257 votes. There is no Democrat for Precinct 2 Commissioner in the November General Election.
Cindy Burkett carried Hopkins County with 2542 to incumbent Bob Hall's 2197 in the District 2 State Senate race. Incumbent Dan Flynn out polled Bryan Slaton for the State Representative District 2 race in Hopkins County. Flynn received 2535 votes and Slayton 2174.