Great news!!! It is time for the 29th Annual Chamber of Commerce Golf Tournament held at the Sulphur Springs Country Club.  This year's tournament will be held on Friday, April 13th.  Just like last year, we will have morning and afternoon tee times.  Please consider bringing a team and enjoying a very fun day of golf and prizes!  We have limited availability, so let us know as soon as possible if interested.  Teams are already signing up!  Give us a call at (903) 885-6515 for additional information!
Clayton Homes is hosting a Tax Season Savings Event
Clayton Homes is hosting a Tax Season Savings Event on Saturday, March 3rd from 9 a.m. to 5 p.m. It will be located at Clayton Homes, 2600 Industrial Road in Sulphur Springs.  Come meet the team that can make your dream a reality!  There will models open for viewing, free food, a chance to win a 55" television, and free home buyers protection with purchase of a home.  Make plans to stop by and check out this great opportunity!
The Muddy Lotus is hosting their Ribbon Cutting Celebration
The Muddy Lotus, a new yoga experience in Sulphur Springs, is hosting their ribbon cutting celebration on Wednesday, March 7th at noon.  They will be holding the ribbon cutting at East Texas Gymnastics, located at 1402 Mockingbird Lane in Sulphur Springs.  Please make plans to come by and welcome this new business to Hopkins County!
Sulphur Springs Elementary School is hosting the Harlem Wizards!
For the first time ever, Sulphur Springs Elementary School is hosting the Harlem Wizards!  They will be coming to town on March 19th at the SSHS gymnasium. The SSES PTO is excited to announce that the "Wacky Wildcats" will be taking on the Wizards.  There are two easy ways to purchase tickets.  You can stop by the SSES office located on Bell Street in Sulphur Springs, or you can purchase online at www.harlemwizrds.com. general admission is $10.00, VIP tickets are $20.00, and courtside plus backstage passes are $30.00.  Make sure and join in on this fun night!
Hunt Regional is offering January Mobile Mammography Coach in Sulphur Springs
Hunt Regional Hospital is offering the Tubby Adkisson Memorial Mobile Mammography Coach on Thursday, March 22nd in the Spring Village Shopping Center in Sulphur Springs. All insurances accepted at Hunt Regional are also accepted for the Mobile Mammography Coach, including Medicare and Medicaid. They can also help with payment resources for uninsured/income-eligible women or those who choose to pay cash. For help with payment resources please call The Bridge Breast Network at (214) 821-3820 x 21. To schedule individual screening mammograms, please call (903) 408-5010. Appointments and pre-registration are requested.
 AgriLife Extension offers Rebalancing Work & Life Webinar
The Military Families Learning Network (MFLN) is providing a free monthly webinar in partnership with USDA, U.S. Department of Defense, and Extension.  The March 28 webinar will take place at 10:00 a.m.  To sign up, go to: https://learn.extension.org/events/3261.  To join the webinar, use the 'event location' link designated for each webinar and follow directions within the site.  The MFLN offers both continuing education credit (CE) and certificates of completion for webinars.  Additional webinars will take place April 25, May 23, and June 13, 2018.  For more information, call the Texas A&M AgriLife Extension Office – Hopkins County – at 903-885-3443.
 Pilot Club hosts their Spring Fundraiser
The Pilot Club of Sulphur Springs is hosting their Spring Fundraiser on Saturday, April 7th at 7 p.m. at the Hopkins County Regional Civic Center.  They are doing it "Branson Style" with music and entertainment by Robert Joe Vandygriff.  A $30 ticket includes meal and entertainment.  $5.00 also buys chances for themed gift baskets and a trip for two.  Tickets can be purchased through Pay Pal at www.sspilotclub.org.  For additional information call (903) 348-5099, (903) 243-0979, or (903) 438-7153.
Ribbon cuttings: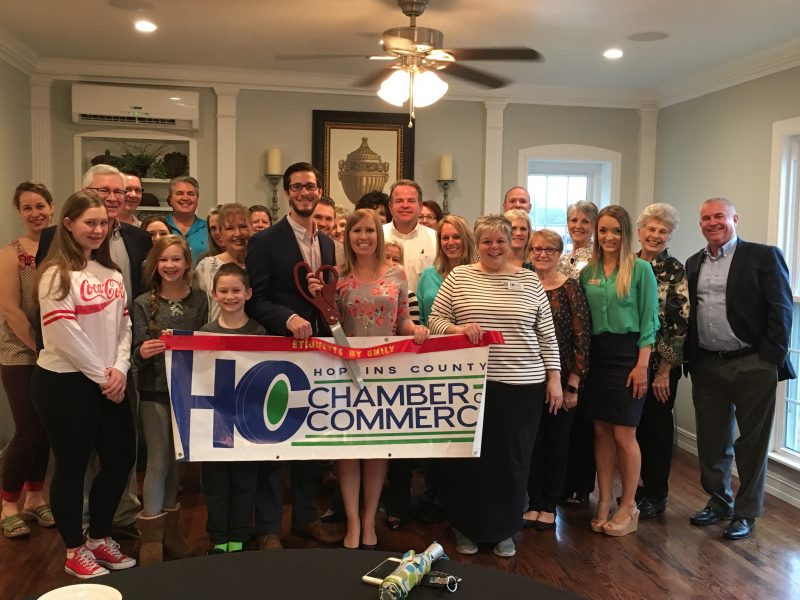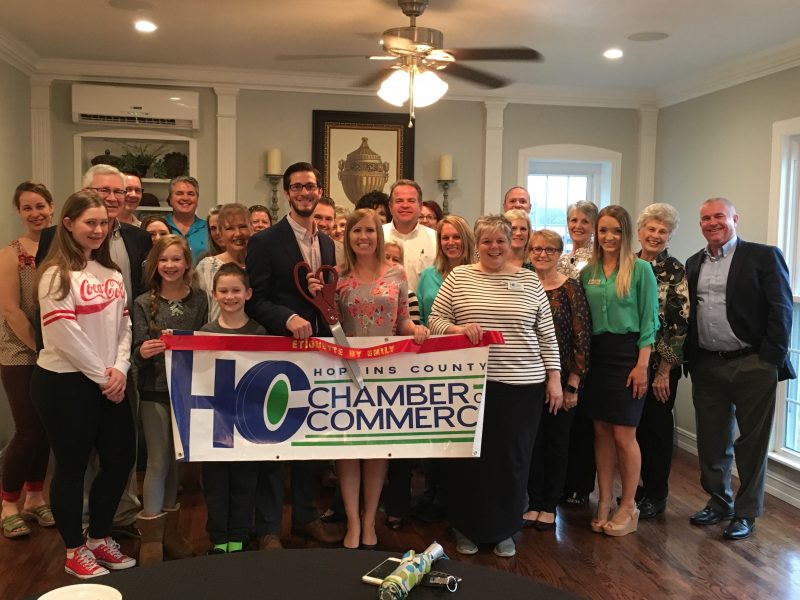 Etiquette by Emily hosted their Ribbon Cutting on Wednesday, February 28th at noon
Etiquette by Emily hosted their ribbon cutting celebration on Wednesday, February 28th at noon at The Oaks in Sulphur Springs. Emily has a blog located at EtiquettebyEmily.com.  She also offers etiquette classes for all ages, beginning kindergarten through adult.  Cotillion classes are offered as well.