By Jim Rogers
March 5, 2018 – Sulphur Springs High School band students wore their band shirts to school Monday in memory of their beloved director and SSHS Fine Arts Director Charles McCauley. McCauley died Sunday morning. Social media has been filled with pictures and comments honoring his life and work.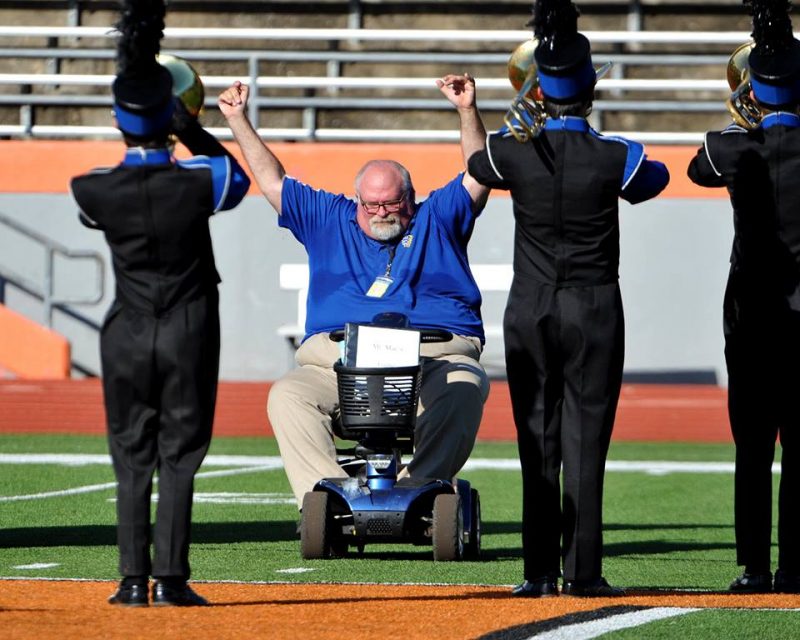 McCauley was one of those unique people who enabled all to find in him a friend. His love for his work, his students, his church, and his community brought him in contact with not just hundreds but thousands of people. He made a contribution to each life. Disciple tempered with compassion would easily describe his motivation for students. He was not turf driven in his work. He saw his leadership of the band as just one more piece of the puzzle that provides success to the various programs of the local school.
In a statement to KSST News, Superintendent of Schools Michael Lamb noted, "Sulphur Springs ISD lost an incredible family member over the weekend. Charlie McCauley, our long-time Band and Fine Arts Director, has passed. Charlie had an amazing heart and passion for our kids, their futures, and teaching them to be great citizens and leaders in our community. Over his 20 years of service with our district, he touched the hearts and lives of thousands of our students, and I know that we were blessed to have known him. Mr. McCauley has been a truly inspirational leader for our fine arts program, particularly for our Wildcat Band. My own son has been in the program for 5 years, and I have felt Charlie's positive influence in my son's maturity and leadership ability over the years. I will truly miss my friend and truly miss the service he has provided for so many of our students. He will be greatly missed."
Greg Owens, Athletic Director and Head Football Coach at SSHS, said, "I'm going to miss my friend Charlie McCauley. We had a very unique relationship as Head Football Coach and Band Director—always got along great. Charlie loved his family and the kids he taught. He had a huge heart for people. The only negative I could find was his love of the Arkansas Razorbacks, but he couldn't help that! The Band man was full of joy and loved to laugh. He made a huge impact in our school and to all he taught. We are going to miss our friend.
KSST News and Sports shares the loss. Charlie was always ready to accommodate an interview and prepared information regarding the band, blazes and half-time shows for us for Football season.
We shall all, and I personally, shall miss him…
A video tribute to McCauley by Channel 18 News will soon follow.